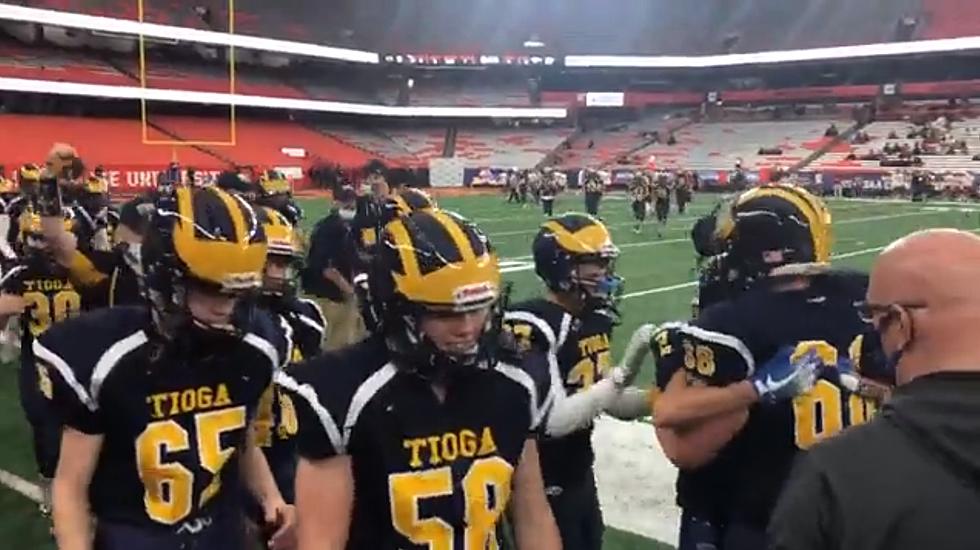 Tioga Blanks Opponents On The Way To Second State Title
NYSPHSAA via Twitter
If there was any doubt before that the Tioga Tigers were a Southern Tier high school football powerhouse, those concerns were put to bed following a dominant victory Friday to bring home the district's second state title.
The game got off to a slower start than the final score would indicate. The two teams went into halftime separated only by a 7-0 Tioga lead after a 75-yard touchdown run by Caden Bellis. Moriah made some headway to get in to the game, scoring a touchdown on a lateral to tie the score, but the touchdown was called back. From there, it was all Tioga. Tioga's Gavin Godfrey then scored on a catch and run for 51 yards to extend the lead, and then in the fourth quarter, star back Emmett Wood made his mark. Wood punched the ball into the endzone from six yards out and scored the subsequent two-point conversion to take the score to 21-0, then put the game beyond all doubt with three-yard touchdown run to extend it to 27-0.
Tioga now joins Maine-Endwell, Chenango Forks, Susquehanna Valley, and Walton as the only Southern Tier schools since 1993 to have won multiple state football titles.
Will We See Any Tioga Players On This List Of Athletes That Have Played In Our Area? Check Out 40+ Of The Best Ones
PLAY BALL! The Top 7 Sports Venues in the Southern Tier
OUT OF BOUNDS: The Worst Uniforms In NFL History
Best Uniforms In Each NFL Team's History
[via NYSPHSAA]