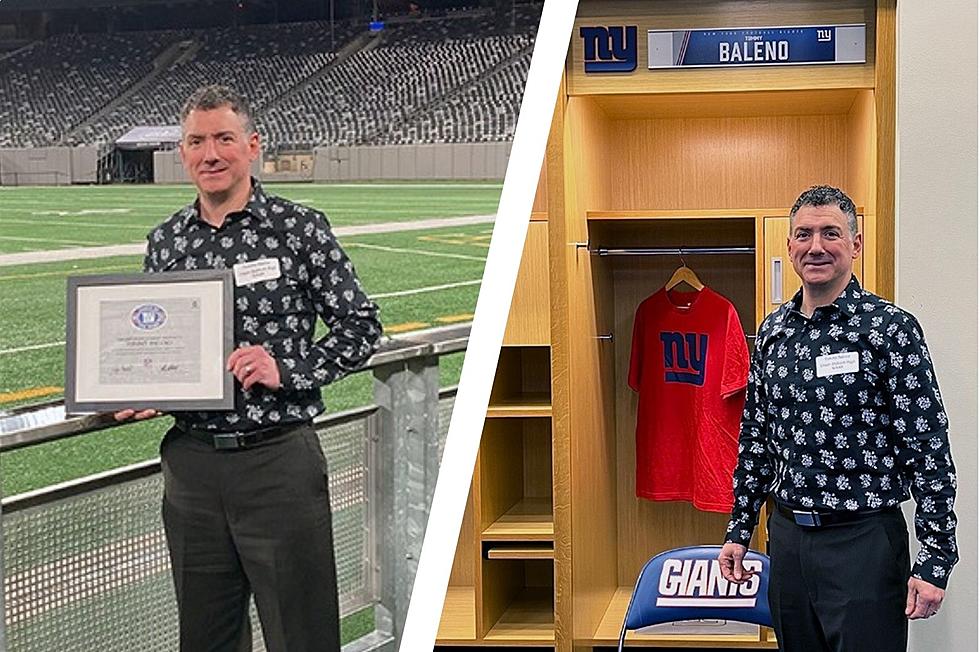 U-E Football Coach Wins Award, Gets 'His Own Locker' At MetLife Stadium
Tom Baleno/Union Endicott School District via Facebook
Congratulations to Union-Endicott Head Football Coach Tommy Baleno on receiving the Lou Rettino High School Coach of the Week for Week 5 of the 2021 season.
Each week during the high school football season, the Giants pick one area high school coach as the coach of the week winner. In October, Coach Baleno was selected as the Week 5 winner for the 2021 season. And got the tour of a lifetime at the home of the New York Football Giants.
It was a great week for Coach Baleno and the U-E Tigers team as they defeated Maine-Endwell 8-0 in a battle of two undefeated teams. The Giants Foundation gave a $2,000 check to the school's football program and an invite to the recognition dinner.
Section IV Football Championship Game
By the way, U-E would go on to win the Section IV football championship with a 34-0 win over Horseheads. Congratulations to Coach Baleno and the rest of the U-E Tiger team on a job well done.
In March, Coach Baleno was honored at a recognition dinner and got a certificate signed by the new Giants head coach Brain Daboll. He was given a tour of the stadium and the locker room.
While coach was there, he got his very own locker and got to meet New York Giants linebacker, Blake Martinez.
So who is Lou Rettino and why is the award named after him?
Lou Rettino High School Coach of the Week
The New York Giants decided to name the award in memory of the former Union High School (New Jersey) coach for his commitment to the game of football. The Giants also know how important coach Rettino's commitment was to the community and the betterment of his athletes' lives.
IN THE RECORD BOOKS: Top-Performing Southern Tier High School Football Players Of All Time
The Southern Tier has some fantastic high school football teams -- with Chenango Forks and Maine-Endwell the first ones on the minds of most people. But who are the best players from our area to grace the gridiron? Take a look...
OUT OF BOUNDS: The Worst Uniforms In NFL History