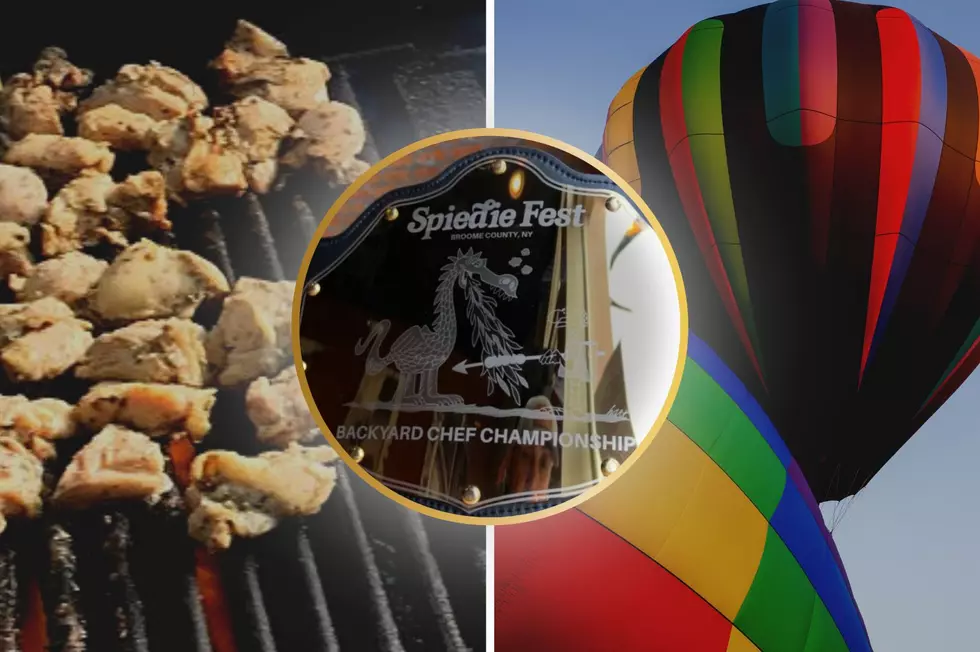 Shiny New Prize To Be Awarded To Spiedie Fest's Top Chef
Spiedie Fest, Canva
Are you ready for one of the biggest events of the year? The annual Spiedie Fest and Balloon Rally is on August 5th, 6th, and 7th. This year is the 39th edition. And it's back to the original dates, the first weekend in August. Last year the event was held in October.
One of the big events at Spiediefest this year will have a different look. The Spiedie Fest Spiedie Cooking Contest has been revamped and it will feature a really cool shiny new prize. This year's contest is called the 'Backyard Chef Championship'. And guess what? It features a shiny new grand prize that resembles a wrestling belt.
Everyone loves shiny things, and the person who is the overall winner will take home a Grand Champion belt with the original Spidie Fest logo that features a custom logo by Johnny Hart, who was the creator of the B.C.and Wizard of Id comic strips.
Plus the winner will receive a Blackstone Grill. That's a cool prize from the cooking contest, which is the original reason for the festival many years ago.
READ MORE: Take A Look At The 2022 Spiedie Fest Concert Lineup
And for those who want to show off their Spiedie cooking skills and flavor with your awesome recipe, register by August 5th here. Spiedie Fest will have several awards and prizes in addition to the overall winner including the Founders Award for the best-decorated cooking station, along with 1st, 2nd, and 3rd places in each category of lamb, chicken, beef/venison, pork, and vegetarian.
For all things Spiedie Fest 2022, including all your FAQs, click here.
[via PressConnects, Spiedie Fest & Balloon Rally]
KEEP SCROLLING: Balloons of Spiedie Fest Past
The Spiedie Fest's Most Memorable Guests
The Spiedie Fest & Balloon Rally; arguably Binghamton's most cherished event. Every year, Binghamton locals, spiedie lovers, and hot-air balloon enthusiasts alike wait patiently for Binghamton, New York's annual festival to roll around.
The Spiedie Fest & Balloon Rally is an annual three-day festival in Binghamton, New York celebrating the local community and its immersive culture; including the infamous spiedie sandwich and an array of hot air balloons; a sight common to locals.
The Spiedie Fest & Balloon Rally attracts over 100,000 people, including some popular celebrity faces and performers.
Check it out! Here are 10 of the most memorable Spiedie Fest & Balloon Rally guests:
Talk a Walk on the Wild Side at the Rosamond Gifford Zoo in Syracuse
The Rosamond Gifford Zoo at Burnet Park in Syracuse is very affordable and has some unexpected surprises that will keep you coming back over and over.