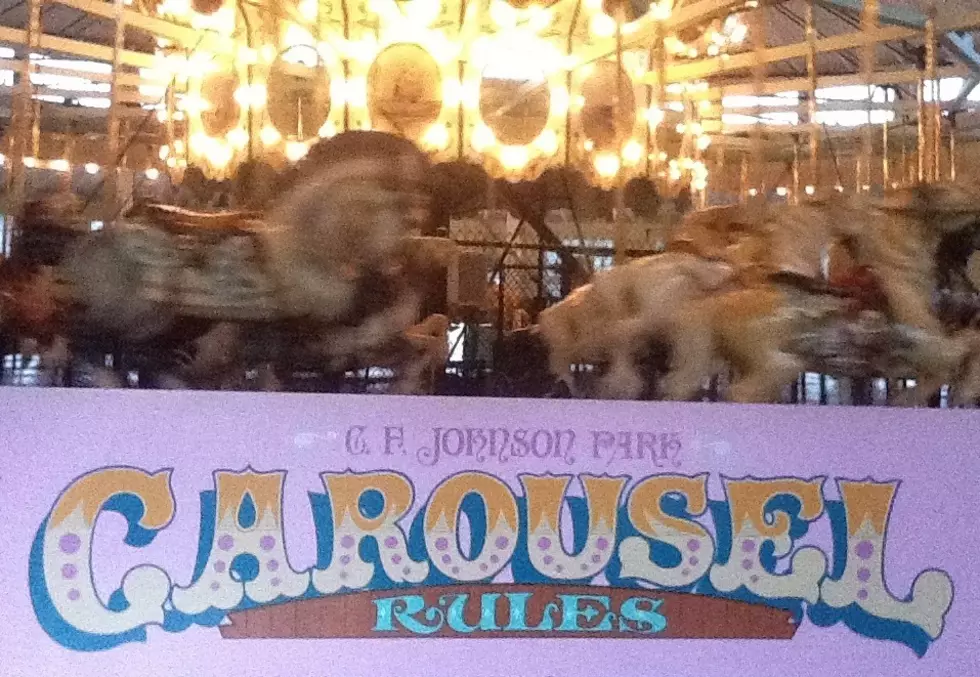 What's Happening in Binghamton
Bob Joseph/WNBF news
The Village of Johnson City presents the 7th Annual Lights on the Carousel Friday and Saturday at CFJ Park. More info and other events here.
Come Ride the CFJ Carousel in Johnson City decorated festive for the holidays, and see Santa Claus, Friday's and Saturday's December 2nd & 3rd , 9th & 10th and 16th & 17th
Here is a list of community events going on around the Greater Binghamton area over the next few weeks.
Mom's House annual Breakfast With Santa – presented by BAE Systems – is December 3rd from 8 to 11:30am at the Endwell United Methodist Church, 3301 Watson Boulevard, Endwell. Cost is 7-50 for adults; five dollars for ages 5 to 12; kids under 5 are free. Pictures with Santa available for 3 dollars, plus there will be live music, and a bake and gift sale.
The JCC is holding their annual JCC Sports Fundraiser to support the Center's sport's programming at the JCC Stage Door Canteen, December 3rd from 7 to 10pm. Live music from Swing Street Station.
The Round Hill Masonic Center is having an all-you-can-eat Roast Pork Dinner, December 4th from 11:30 to 1:30 at 430 East Main Street, Endicott. Donation ten dollars for adults, under 12's are 3-50, under 5's are free. Take out available.
The Owego Apalachin Music Booster Club Annual Holiday Craft Fair is December 3rd from 10 to 3 at the Owego Apalachin Middle School behind Owego Free Academy.
The Nimmonsburg United Methodist Church Holiday Bazaar is December 3rd from 9am to 3pm at 918 Upper Front Street, Binghamton. Decorations, gifts, hand-crafted items, jewelry and much more!
The next Chenango County free rabies clinic is December 3rd at the Norwich Firehouse, 31 East Main Street, Norwich from 9:30 to 11am. Donations gratefully accepted. For more information call 607-337-1673.
The Four County Library System Cybermobile will be at Saint Mark's Episcopal Church, December 6th from 10 to 10:45am, and at various locations on December 8th. Call 723-8236 for the full schedule.
The Harpursville United Methodist Church Holiday Bazaar is December 3rd from 9 to 2.
The annual Village of Afton Christmas Parade is December 3rd beginning at 5:30pm. For more information visit The Friends of Afton Village page on Facebook.
The Broome County Library is offering through December a chance to reduce your library fines by one dollar for each non-perishable food item you bring to the library for CHOW. The library will accept CHOW donations even if you don't have library fines.
The UE High School Drama Club presents "Check Please" and "It's Not You, It's Me" – two one-act plays on December 15th and 16th at 7pm at the UE High School Auditorium, 1200 East Main Street, Endicott. Tickets are five dollars for students and seven dollars for adults, and can be purchased at the door.
The United Presbyterian Church, 42 Chenango Street, is hosting a Paddle Party, December 10th beginning at noon. Admission is five dollars and includes four bidding paddles. Proceeds benefit disabled individuals in our community. For advance tickets call 722-5971.
Our Lady of Sorrows Church, 801 Main Street, Vestal, presents a free evening of Inspirational Music in Celebration of the church's 75th anniversary, on December 11th a 3pm.
Susquehanna Valley schools is inviting senior citizens to a holiday luncheon, December 13th at 1pm. Turkey and all the trimmings, plus musical entertainment, all for three dollars. You can call ahead for reservations at 775-0303.
Binghamton Classic Films presents Love Me Tonight, December 10th at 7pm at Tichener Hall on the SUNY Broome campus. Suggested donation is three dollars for the general public; two dollars for students, seniors, and members.
If you would like to add your event to the list, let us know about it 2 weeks in advance. Fax us at 772-9806 or doug@991thewhale.com