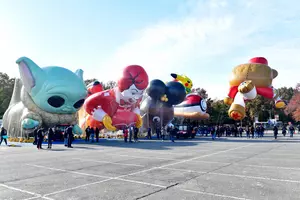 What Balloon Would Best Represent Binghamton In The Thanksgiving Day Parade?
Eugene Gologursky / Stringer / Getty Images for Macy's, Inc.
So, how are your Thanksgiving holiday plans coming along? Do you just wing it or maybe have no plans whatsoever? If so, I understand. The holidays can be so stressful.
Last year, our normal plan was canceled due to the pandemic and the fact that I wasn't feeling well anyway. This year, our annual plan was almost canceled again due to the possibility of coronavirus issues, but that's not the case, so Thanksgiving Day will be back to normal.
One of my favorite things to do on Thanksgiving, besides trying to eat as much food as possible, is watching the annual Macy's Thanksgiving Day Parade. Last year, if I recall correctly, the parade went on, but there were no spectators.
According to the Macy's Thanksgiving Day Parade website (yes, the parade has its own website), the parade is back to normalcy including spectators. And will include many of our favorite balloons including 'Grogu', the Yoda-type Star Wars character from the Disney+ series 'The Mandalorian.'
Thinking about all those amazing and very large parade balloons got me to wondering if we were asked to represent the Binghamton area in the Macy's Thanksgiving Day Parade, what would it be? I think that would be a cool idea as a contest to have communities design a balloon that could represent their town in the parade. Well, here are a few ideas I had that might be a good representation of the Greater Binghamton area. Maybe you have some better suggestions?
Local Balloon For Macy's Thanksgiving Parade
via Macy's Thanksgiving Day Parade
Small Towns In the Southern Tier and Central NY
The 10 Commandments of Binghamton, NY
Every area has their spoken & unspoken rules, ethics, and principles; and just like the biblical 10 Commandments, Binghamton has some too.
Here are the 10 Commandments of Binghamton, NY...