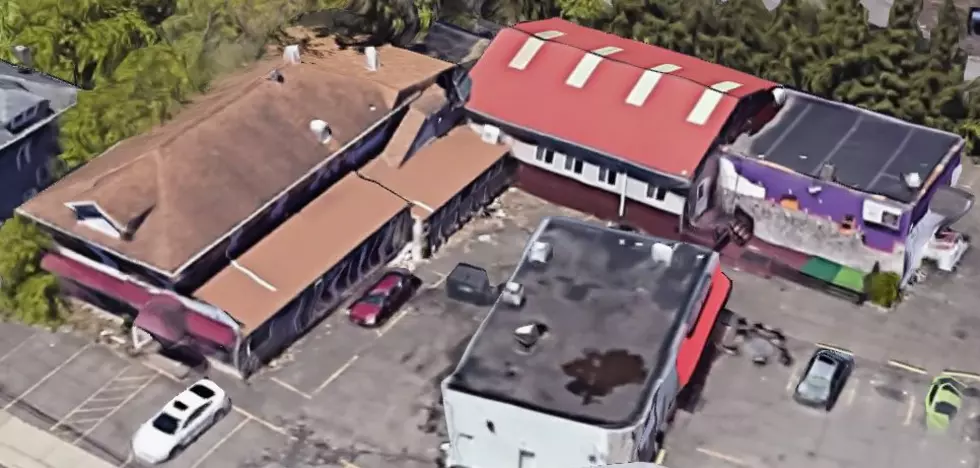 Twin Tier Residents Remember The Way We Were
Google Maps Street View
I asked listeners through our Facebook page this question - "For those of you who have been in the Twin Tiers for a long time, I need your input. Can you name one thing you miss from our area that current generations are missing out on? It could be an event, experience, restaurant, or anything that you enjoyed which is no longer around."
I did not expect the number of responses that came in. Wow, and thank you. Some really great Twin Tiers memories. These are things the younger generation will never get to enjoy, but fortunately, many of us older generations did.
Some of the things mentioned the most included Pat Mitchell's Ice Cream, Pops On The River, the Yegatta Regatta, Philly sales (and that delicious popcorn), Triple Cities Triplets, and the drive-ins.
Take a look at some of these memories from the Twin Tiers. Do you remember these?
Todd P. -

Pops on the River and Regatta Regatta.

Sherrie F. - Barbara Moss, I can't remember the name of a soda maker in Binghamton. All different flavors of soda, and Peter, Peter paper eater.

Kimberly Z. - 

The Vestal Steakhouse.

Karen D. - 

Randells Roller Skating Rink.

Angela C.

The First Ward swimming pool and the cool upper deck. So much fun back in the early to mid-70s!

Niki B. - 

Pat Mitchell's.
Michael O. - 

The

gazebo at the old Burger King in the mall.

Dylan A. -

Old Country Buffet.

Nancy F. - 

Definitely all the amazing shops that were on

Washington Ave

in the '60s thru the '90s!

Ken C.- 

Carols Hamburger Stand

on upper Court Street.

Nancy F. - F

ried clam night at

Howard Johnson!

Marcia K. - The Pig Stand.

Kim R. - Fireman Field Days.
R Bruce B. - 

Safe streets after dark.

Sita M. - 

Randall's Roller Rink.

Jeana O. - 

EJ shoe dept store.

Doris M. - 

The train at Ross Park Zoo.

Jeannie M. - 

Family Bargain Center.

Scott D. - 

Conklin Sports Park.

Jo N. - 

Brother's 2 Restaurant, The Keg in Endicott, Woody's Record Shop, Great stores in the mall, movie theater in the mall.

Marcia R. - 

The Bull's Head.
Michele B. - 

Izzard's

, the tea room. My gram and I need to have lunch there.

Christina S. - 

Skyline Park.

Jill B. - 

Super busy

Oakdale Mall

shopping at Christmas time..like had to park across the street because it was so busy!

Lourie M. - 

Fuskos Restaurant

. They gave you bibs so the sauce did not get on your clothes.

Dave D.- 

Parisi's Twin Freeze.

Sharon K.- 

Longfellow Elementary School

on Pennsylvania Ave. Went there from K - 6th grade. Loved that school.

Diane S. - 

Sharkey's Spiedies!!
Dave K. - 

Endicott Johnson Horse Track, Casino & Park

behind UE High School Area.

Matthew W/ - 

Actual

dine-in Pizza Huts. 

Chad H. - 

Midnight mass at St. Cyril's in Slovak. 

James S. - 

All the

stores downtown

around Christmas time. All decorated up.

Krisztina M. - 

Smart play USA!

 When

Spiedie Fest

used to be at the small airport in Endicott!!

Valerie S. - Parades. We use to have a Binghamton Memorial Day Parade, Binghamton Veterans Day Parade, Binghamton, Johnson City Christmas Parade, and Binghamton Halloween Parade.
Tom S. - 

I've heard stories of some school in town that was uphill from any direction that also used to get frequent snow. Or

Disc-Go-Round.

Jeorganne D. - 

Mohegan grocery store

. Also

Weeks and Dickinson Music Store.

Keith H. -

Respect, Morals...and maybe Ponderosa.

Gary L. - 

Waverly Race Days, Waverly Cheese Festival, Sayre Arts in the Park, Fraley's Park, Skyline Park, Shangri-la race track.

Jim C. - 

The

Broome Dusters

and The

James E. Strait Shows Carnival

in West Endicott!

Tara D. - 

Taylor's Tiny Town. 

Johnathan A. -

Places like the IBM Country Club & Fountains Pavillion.
DarlinDarla G. - 

Safe streets to stroll down at any time. 

Woolworths, McCrorys, Phillies Popcorn

...the simple life...the fun-spirited people & dances.

Lindsey W. - Theos and Lanes.

Judi W. - Lou Rappaports hardware store on Front Street.

Paul L. - Country Bob's on Court Street.

Mike C. -  

Magic City Music Hall.

Colleen B. - 

Well, when I was in high school, that

Arena

was rocking!

Lisa B. - Drive-in theaters.
Nancy W. - Triple Cities Jets.

Corey Y. - 

PMP Deli

in JC.

Shauna B. - 

Washington Ave Towne Theater. Z Pool.

John K. -

Aladdin's Castle.

Darlene L. - 

The Argo, best Baklava ever!
Mary K. - Fowler's, Grants, Woolworths, Montgomery Wards, Sears....oh so many!

Sandi H. - 

Record hops

. As a teen, they were soo much fun.
Bill H. - 

Elks bakery! The Cinema in Union! House of Yu!!

Eileen -

Polka dancing at the Polish Home.

Denise L. - 

Riding the Bull on Upper Court Street or hanging out at Country Pines.
Sean W. - Prontos and the Grand Way.

Louis T. - 

Johnson Field home of The Triplets AAA Yankee baseball farm team.

Rich S. -

Clinton Street run.

Tomm S. -

Concerts at the Arena.
Corey S. -

Philly Sales/Sugarmans.

Maryann B. -

Pinos Restaurant. Was on Conklin Ave. It was the best!

Connie T. - 

B Mets YES Day.
Gabe E. -

Northgate Speedway.

Michelle T. - 

Cosmo's Restaurant

on old Riverside Drive in Johnson City.
Four World Records Set In The Binghamton Area
There are several Guinness Book of World Record holders from the Southern Tier. Take a look
Bad Reviews of Binghamton Debunked
Five Real Life Ways to Know You're Getting Older