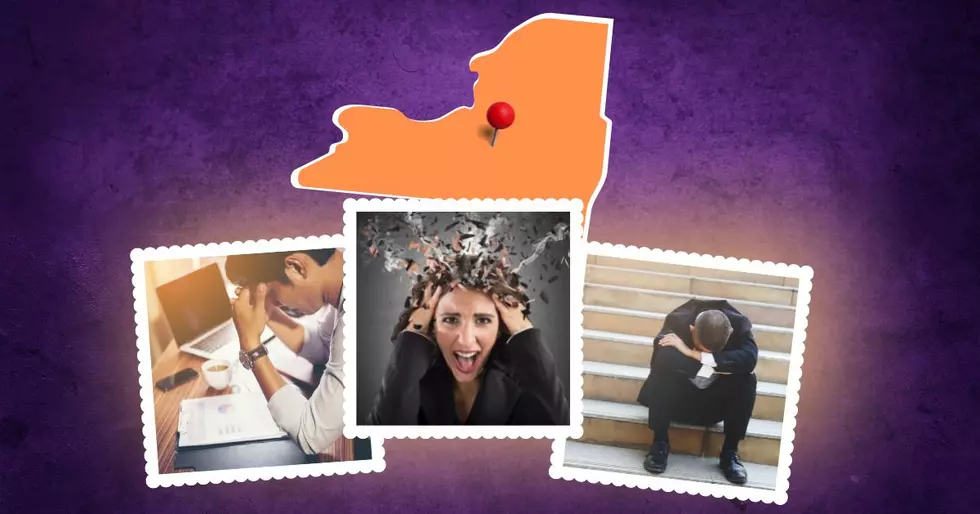 Binghamton Ranks Among Lowest 'Stressflation' Rates In New York
Canva
From longer work hours to being stretched thin at home, to high inflation causing very real and worrisome financial fears, in the last few years, New Yorkers have faced new levels of stress beyond what we could have previously imagined.
However, even though we're facing a new set of challenges in life that we couldn't have possibly foreseen, New Yorkers are handing things pretty well, especially New Yorkers who live in Binghamton.
Today's newest term is "stressflation." Stressflation is basically a measurement of increased stress, both mentally and physically, in humans.
MyBioSource is a a biotechnical products distribution company and it conducted a study of physical and mental distress data which was compiled from County Health Rankings pulled from the last five years (2017 to 2021) from counties all across the state of New York.
Believe it or not, across the United States, the state with the highest stress inflation rate is Maine while the numbers for Rhode Island and North Carolina New York have remained flat at zero percent change. Another state coming in toward the bottom of the stressflation meter is New York.
Although New York has seen the less stress inflation recently, that isn't to say there isn't any stress. In New York, the county with the highest level of stress inflation, or "stessflation," is Fulton County where residents there have experienced a seven percent increase in stress. If we break down the stress level even further, we find that residents of Fulton County have experienced a three percent increase in physical stress and a four percent increase in mental stress.
On the low end is Binghamton - as a matter of fact, Broome County, according to data pulled from County Health Rankings, has only seen a three percent increase in stress which ranks us among the lowest in the entire state.
The only place in New York that saw a reduction of stress is New York County where residents have experienced a one percent decrease in physical stress and no change in mental stress.
Five Reasons To Love Binghamton
The Faces of the 36 Children Missing From Upstate New York
As of August 2, 2022, there are 36 children missing in Upstate New York. These are those children.
Eight Quaint New York Towns Perfect for a Weekend Getaway
Need to escape for the weekend? Each of these eight towns in New York is perfectly quaint and will check off so many boxes on your weekend getaway wish list.