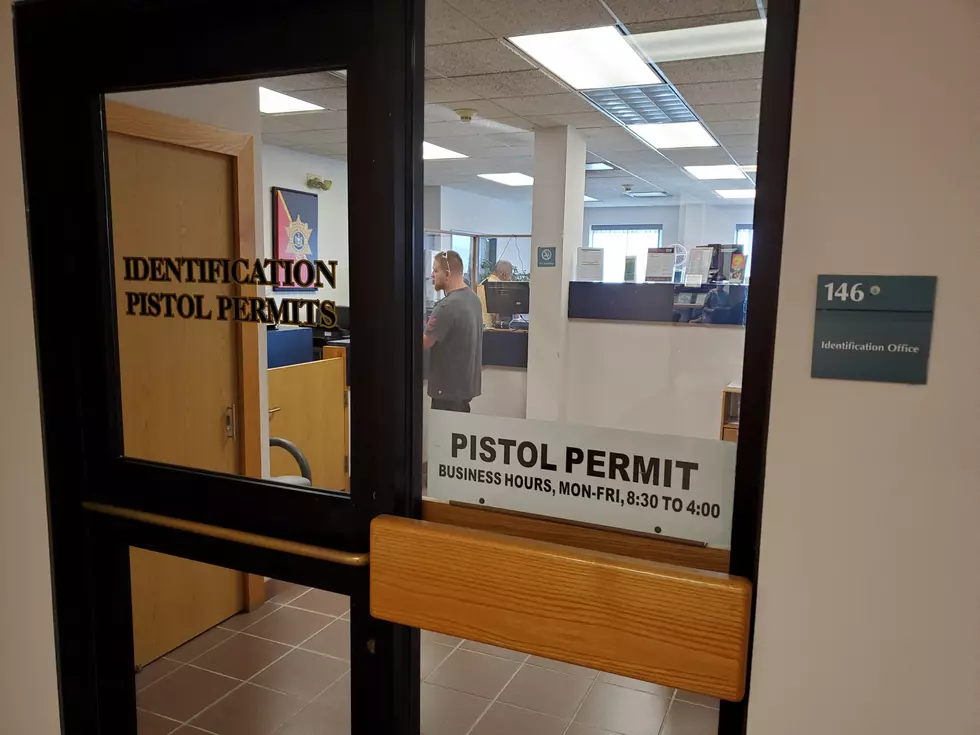 Broome Residents Rush to Beat New York Gun Permit Law Changes
Photo: Bob Joseph/WNBF News
The Broome County Sheriff's Office has been a crowded place in recent days as people apply for concealed weapon permits before new regulations take effect.
New York residents who want to avoid the additional requirements must apply for a concealed carry license before Thursday.
Sheriff David Harder said there's been "a big jam" of people who want to file their paperwork at the department's headquarters in the town of Dickinson.
Speaking during a WNBF News interview Tuesday, Harder said people "actually started arriving at quarter of seven this morning and the pistol permit office doesn't open until 8:30."
The new state regulations will require applicants to provide a list of former and current social media accounts for the last three years. Posts will be reviewed to determine whether people seeking a permit are of "good moral character."
Those seeking a concealed carry license will face a 15-minute in-person interview before an application is approved. The law also mandates a 16-hour classroom and two-hour live-fire gun safety training course.
Retired law enforcement officers also will need to apply for a concealed carry license.
Harder said the rush of people seeking permits before the new law takes effect has created a backlog for the pistol permit office.
The sheriff said his office processes at least 800 permits a year. He notes a judge will be required to have a face-to-face interview with every applicant.
Enter your number to get our free mobile app
Contact WNBF News reporter Bob Joseph: bob@wnbf.com or (607) 545-2250. For breaking news and updates on developing stories, follow @BinghamtonNow on Twitter.
How Many in America: From Guns to Ghost Towns
Can you take a guess as to how many public schools are in the U.S.? Do you have any clue as to how many billionaires might be residing there? Read on to find out—and learn a thing or two about each of these selection's cultural significance and legacy along the way.
KEEP READING: Scroll to see what the big headlines were the year you were born
PHOTOS: Scene at U.S. Capitol shows chaos and violence