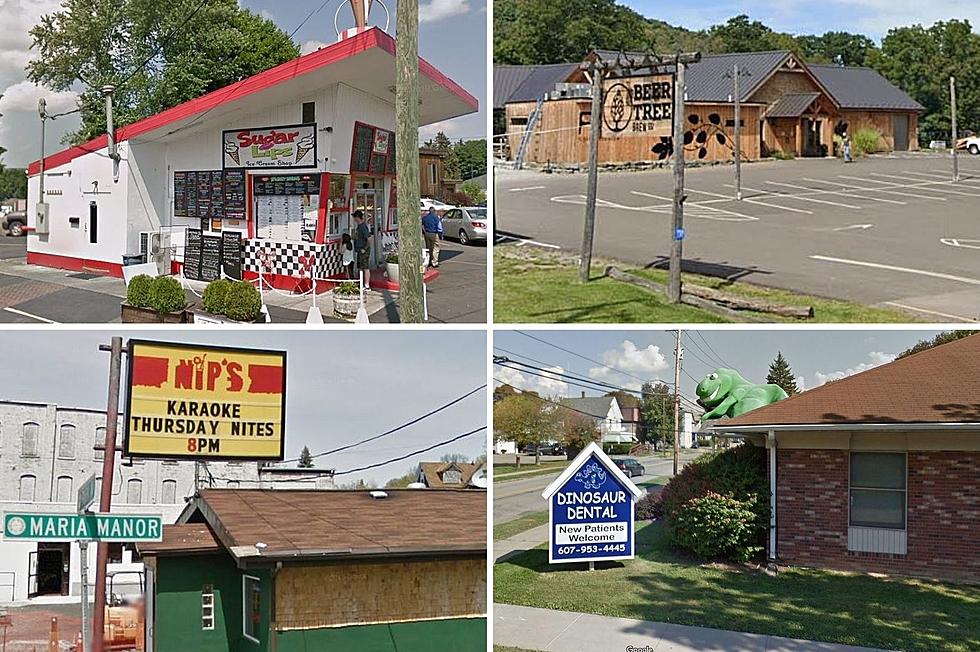 10 Places With Amazing Names In The Binghamton Area
Google
Whenever I am out of town for whatever reason and am in a town, city, village. etc. looking for something to eat, drink or shop, a lot of the time I will venture into a business that has a cool name. Maybe it's because the name indicates it's a fun place to check out.
Ocean City Maryland has some restaurants and bars with cool names that kind of hook you in, like my favorite bar, The Greene Turtle. There are interesting places like The Hobbit Restaurant, Brass Balls Saloon, Bull On The Beach, Big Pecker's Bar & Grill, and Dead Freddie's Island Grill.
I checked out the website Delish.com for some of the most interesting restaurant names in the United States, and there were quite a few good ones, including Burgatory in Pittsburg, PA, Cheesy Does It in Saratoga, NY, Lettuce B. Frank food cart in Rochester, NY, Vincent Van Donut in St. Louis, Mo, The Notorious P.I.G. BBQ in Missoula, MT., and Wish You Were Beer in Madison Wi.
The Greater Binghamton area has some food, bar, and retail businesses with cool names as well. Maybe not quite as creative as a tourist town like Ocean City, Maryland, but still, they stand out. So, I opened up my favorite map - Google and scanned around the Triple Cities for some businesses with what I consider a cool name, and listed them below.
What's In A Name? 10 BInghamton Area Businesses With Cool Names
via Delish.com
LOOK INSIDE: Couple Transform Old School Bus Into Cozy Home
Small Towns In the Southern Tier and Central NY