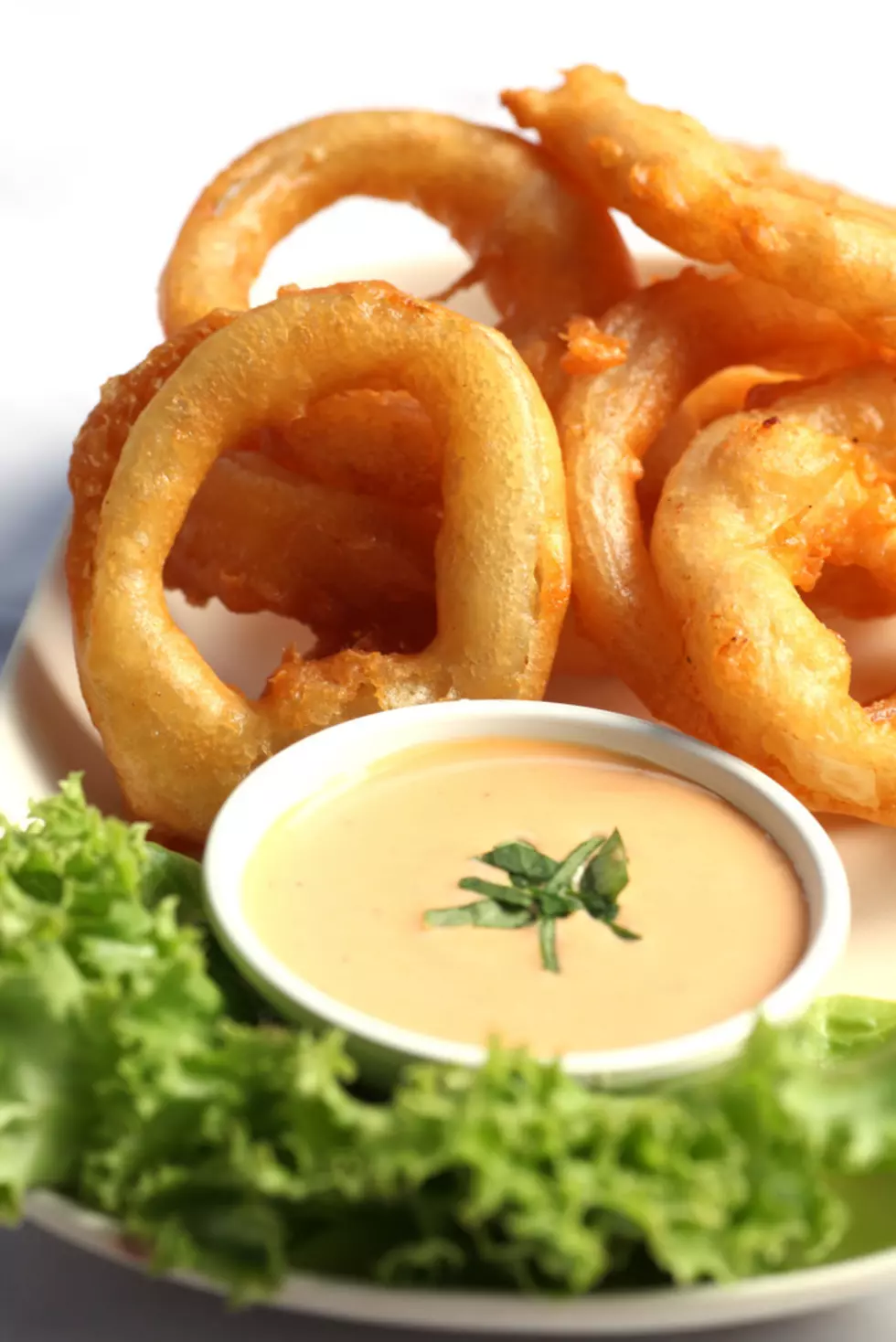 [GALLERY] Yelp! Best Places For Onion Rings In the Greater Binghamton Area
ThinkStock
I have an obsession with fried foods. Fry up the many varieties of chicken, potatoes, cheese sticks, fish, you name it, I'm there. I get a kick out of some of the weird stuff that you find fried at the New York State Fair. Some of those items, I will pass on. Like fried pickles and fried Oreos. I'm sure there are many who love them, but not me.
And one of my favorite fried foods is onion rings. It's one food item my wife and I both agree on. But it has to be accompanied by the right type of dipping sauce. I especially like the dipping sauce that Burger King provides with their onion rings.
According to the website Iceberg Drive Inn (love that name), the onion ring was first featured in an advertisement for Crisco in 1933, found in the New York Times Magazine. The website goes on to mention that while several places have claimed they invented the onion ring, there has been no official place named where this crunchy food came to be.
Here are some other interesting facts from Iceberg Drive Inn: Two million metric tons of onions are used to make onion rings in the United States each year, and if you have onion breath after enjoying a plate of warm fried onion rings, try eating fresh parsley to get rid of the scent. By the way, there's even a National Onion Ring Day - on June 22nd.
So, what places in the Southern Tier of New York serve up the best onion rings? Well, we checked Yelp! to find out what the public is thinking, and here's what it showed. If you don't see your favorite place to enjoy a crisp, warm fried onion ring with proper dipping sauce), let me know. And keep in mind, as far as I know, the following establishments are still in business.
Now. there are more that are worthy of being on this list, and according to Yelp!, in addition to the 10 mentioned above, they include but are not limited to, Applebees, My Uncle's Place Lupo's Char Pit, JC Bar & Grill, The Deacon's Bench, Sonic, Thirsty's, Red Robin, Water Street Brewing Company, The Belmar, Fountains Tavern, Burger King, The Pour House, New York Chill & Grill, Clinton Street Cafe, The Dugout, and the Burger Den.
[Iceberg Drive Inn, Yelp!]
[H/T to WBLM]
Ranked: Broome County's Best Pizza
If you're from Broome County, you know how fierce the great pizza debate is. Are you a Nirchis fan, or are you team Brozzettis? No matter how many of these pizzas you enjoy, deep down everyone has their favorite.
To finally put the pizza dispute to rest, we've turned to Yelp! To tell us who REALLY is Broome County's Best Pizza...
Will your favorite pizza place make the list? Did Yelp! Leave anything out?
Eight Super-Healthy Foods That Are Also Super-Cheap
The Five Largest Food Recalls in History That Shocked Americans
Some recalls stand out above the rest because of their magnitude. These are five food recalls that were so serious that they caught the collective attention of the nation.