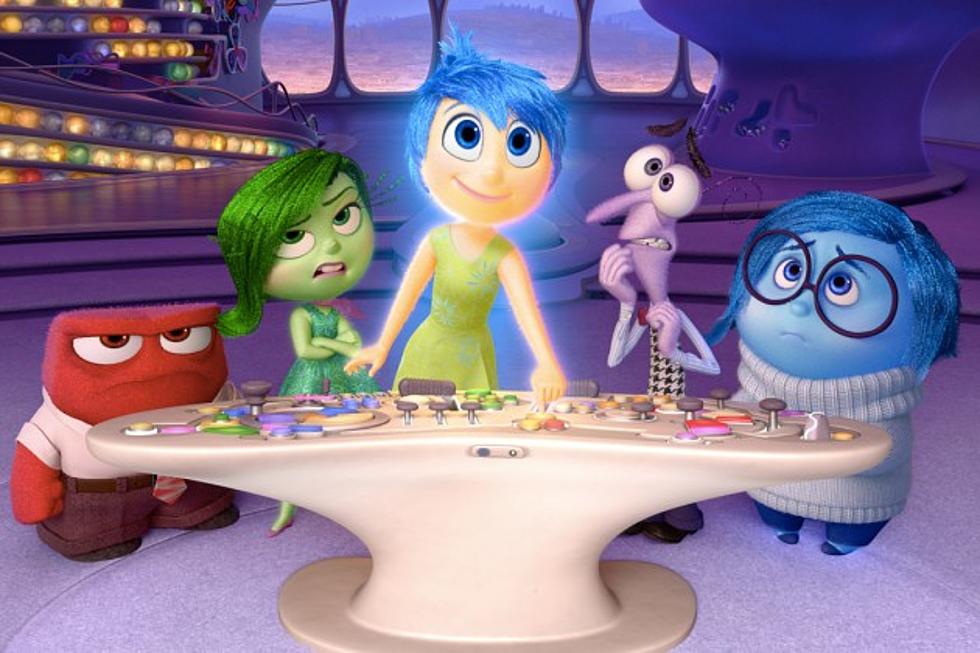 Weekend Box Office Report: 'Inside Out' and 'Jurassic World' Battle It Out
Pixar
Here's how crazy this weekend is: Pixar's Inside Out had the biggest opening for an original, non-sequel of all time...and it still came in second to Jurassic World's second weekend. There's literally nothing to be ashamed of here. Sure, it may be the first time a Pixar movie hasn't opened in first place, but the only reason it didn't open in first place is because it was dueling 2015's greatest juggernaut. These two are worthy opponents and both are victors.
Film
Weekend
Per Screen
1
Jurassic World
$102,019,000 (-51.1)
$23,775
$398,230,000
2
Inside Out
$91,056,000
$23,067
$91,056,000
3
Spy
$10,500,000 (-32.8)
$2,951
$74,374,000
4
San Andreas
$8,240,000 (-23.8)
$2,594
$132,229,000
5
Dope
$6,018,000

$3,006
$6,018,000
6
Insidious: Chapter 3
$4,110,000 (-43.8)
$1,610
$45,370,000
7
Pitch Perfect 2
$3,300,000 (-48.4)
$1,538
$177,500,000
8
Mad Max: Fury Road
$2,815,000 (-30.8)
$1,977
$143,602,000
9
Avengers: Age of Ultron
$2,723,000 (-25.9)
$1,638
$451,039,000
10
Tomorrowland
$2,009,000 (-42.5)
$1,139
$87,696,000
While the $110 million for Toy Story 3 is still the high watermark for Pixar opening weekends, the $91 million earned by Inside Out is seriously impressive, reflecting the hunger for family-friendly fare and the thirst for more Pixar after the studio's two-year absence from theaters. The fact that Inside Out has also earned rave reviews from critics and audiences alike suggest that it may have some serious staying power. Expect it to hang out in theaters for a long, long time. $250 million is a sure thing. $300 million is a strong possibility.
But $300 million is officially chump change to Jurassic World, which grossed an astonishing $102 million for a grand total of $398 million. It'll cross $400 million sometime tomorrow. $500 million is a sure thing. The jury is still out on whether or not this movie has the power to surpass the $623 million gross of The Avengers, but it could happen. That's insane. Of course, the next step up would be the $760 million made by Avatar and not even Chris Pratt and a team of velociraptors can reach those heights. Or can they? We're officially done underestimating this movie.
Outside of the big guys, it was a solid weekend in the top 10 for just about everybody. Spy grossed $10 million for a $74 million total, making a final gross of roughly $100 million look more likely than ever. San Andreas continues on track to break $150 million before quietly retiring. Pitch Perfect 2 kept on keeping on (although $200 million will barely elude it). Even Insidious: Chapter 3 showcased legs stronger than most horror movies, adding $4 million to its gross and putting it within spitting distance of $50 million. That may fall short of the first sequel, but it's already hugely profitable. Other mainstays continued to do their thing, with Avengers: Age of Ultron and Mad Max: Fury Road doing consistent business as they prepare to officially exit theaters in the coming weeks.
The final pleasant surprise is the unexpectedly high opening of Dope, the festival favorite that was given a large (but not huge) theater count for its opening weekend. With a haul of $6 million, the film has already surpassed the gross of most modern indies, which tend to get a limited release before getting thrown on VOD. In a weekend full of movies making hundreds of millions of dollars, it's nice to see the little guys doing well for themselves.