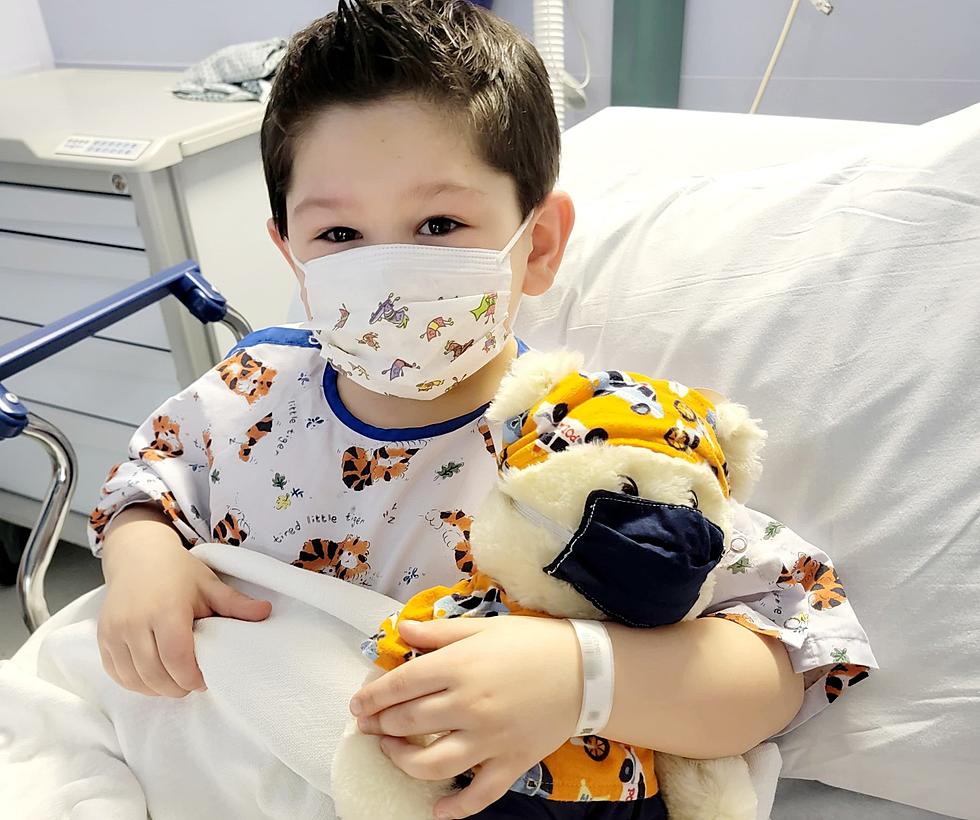 Volunteers Make Sure All Children Having Surgery at Syracuse Hospital Receive a Special Gift
Traci Taylor
Last week, my son had surgery at Upstate Medical in Syracuse and when we walked into his patient room, we were surprised to be greeted by a very special, very cuddly teddy bear given by loving strangers.
Our pediatric nurse explained that all children who have surgery at Upstate Medical in Syracuse, whether the surgery is outpatient or they are being transferred to the adjoining Upstate Golisano Children's Hospital following their surgery, receive this special gift thanks to the generosity of a group of volunteers who call themselves the "Bear Team."
The motto of the Bear Team is simple – "helping sick children one bear at a time." The Bear Team raises funds to purchase stuffies from Build-A-Bear and then each stuffie is outfitted with its own set of scrubs which are made by Bear Team volunteers. These special stuffies are then donated to Upstate.
Our son's special bear donned its own face mask, just like my son did, and not only did it wear cute police scrubs, but also a head covering that looked a lot like a surgical head cover, and booties. So much love and attention was put into the bear and it helped to squash some of my sons fears.
The CNY Bear Team raises money through fundraisers and also accepts private donations and through both, they are able to offer a sweet gift to precious kids who are going through some icky things.
According to Upstate Medical, the Bear Team was started by Glenda and Fred Stowell who were looking for something to do with their time during retirement and who have soft spots for kids.
The CNY Bear Team is always looking for monetary donations, fabric, sewing machines, and volunteers. If you'd like to get involved or make a donation, you can find CNY Bear Team on Facebook, you can email  CNYBearTeam@aol.com.
KEEP READING: 50 activities to keep kids busy this summer
KEEP READING: Here are the most popular baby names in every state
Using March 2019 data from the
Social Security Administration
,
Stacker
compiled a list of the most popular names in each of the 50 states and Washington D.C., according to their 2018 SSA rankings. The top five boy names and top five girl names are listed for each state, as well as the number of babies born in 2018 with that name. Historically common names like Michael only made the top five in three states, while the less common name Harper ranks in the top five for 22 states.
Curious what names are trending in your home state? Keep reading to see if your name made the top five -- or to find inspiration for naming your baby.