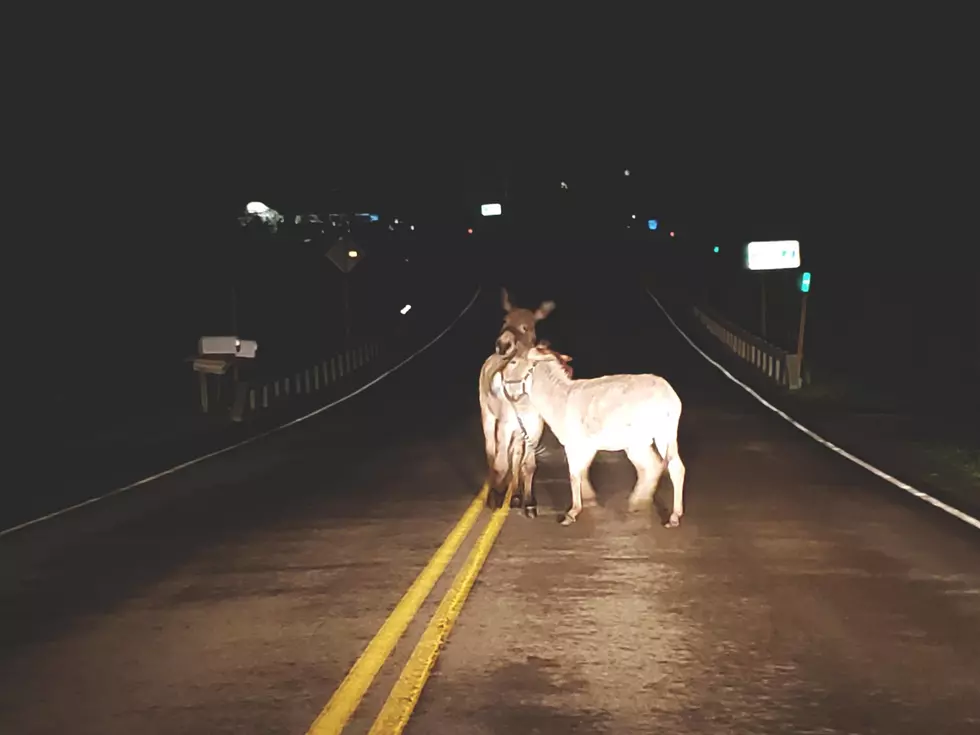 Two Horny Donkeys Blocking Traffic in Binghamton
Traci Taylor Photo
Alright so it was 3:30 in the morning, there wasn't that much traffic, to begin with, but still...
One of my co-workers took this picture as she was driving down Hawleyton Road in Binghamton at 3:30 this morning (Monday). Thank God it wasn't in a foggy morning or things could have turned out much different for these two love birds, or should I say love burros.
My coworker, Traci, was driving into work when she noticed two donkeys right smack in the middle of the road. She called the non-emergency dispatch number because she didn't know what to do. She thought maybe they would send a cruiser up to scare the animals off the road. Meanwhile, she sat there with her four-ways on to protect the two four-legged lovers
Enter your number to get our free mobile app
It started out innocently enough, as seen in the picture above, the two of them were just snuggling at first. But one thing led to another, and while Traci was on the phone with Broome County dispatch, the donkeys started going at it right there in the lights from her car, using them as ambiance. She started cracking up, laughing on the phone while telling the dispatcher what was going on. Even the dispatcher was laughing.
That's not something you see every day. Last week we had a story about cows on the loose in Liverpool, New York that were running through the streets there while the cops tried to corral them. In that story, I mentioned how I once saw a herd of 10 cattle making their way down Route 106 in Pennsylvania. But these donkeys take the cake.
Traci said she sat there for a while until the donkeys finished their booty call and made their way to the side of the road. At that point, she decided she had to get to work.
Something tells me there will be at least one more donkey in the area in a couple of months. After hearing Traci tell the story this morning, I've had The Beatles song 'Why Don't We Do It In The Road' stuck in my head.
KEEP READING: See how animals around the world are responding to COVID-19