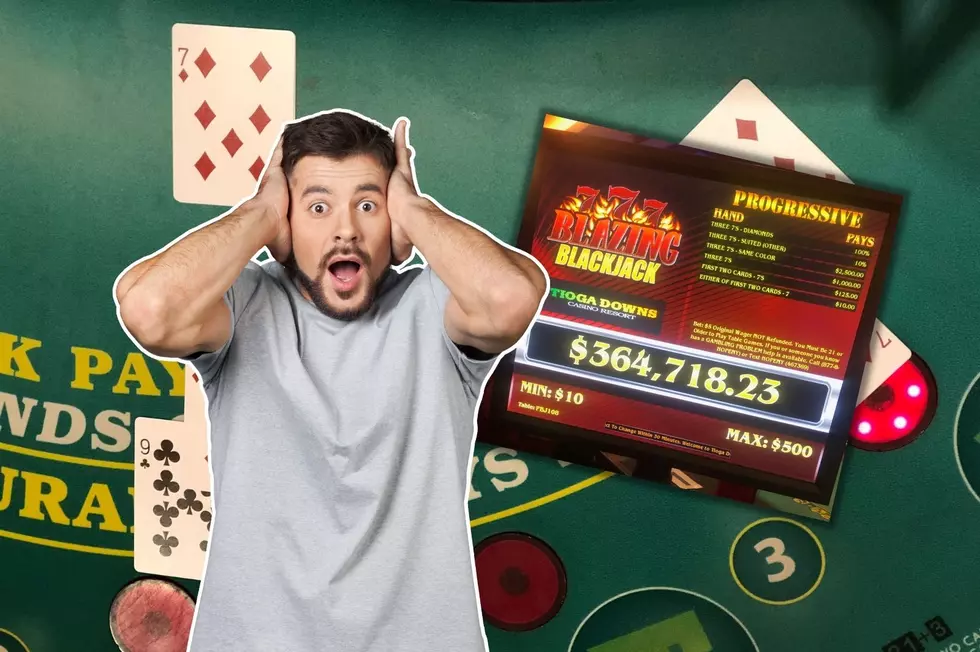 Tioga Downs Customer Strikes It Rich On $5 Bet
Tioga Downs/Canva
Many of us dream of winning big in life. That could involve any one of the many aspects of life. A happy, safe family, a dream home, vehicle, job, no money issues, winning the lottery, and the list goes on and on.
You never know what life may deal you with, and what dreams may come true, or not. Sometimes skill helps you achieve your dreams, and sometimes it's just luck. Like the luck of the cards.
And that's just what happened to one person who happened to be spending part of a day at Tioga Downs in Nichols. According to a press release from Tioga Downs Casino Resort, on Friday (June 3rd) a person who was playing a blackjack game, hit big on the casino's Blazing 7's Progressive jackpot.
The person, who chose to remain anonymous, won $364,718.23 on a small side bet of only $5 dollars. Tioga Downs mentions that the winner was dealt two seven of diamonds. Then, the dealer revealed a seven of diamonds to trigger the jackpot.
"It's exciting when our guests win big here at Tioga Downs. In this case, a very large amount of money was won on a small side bet of only $5. It just goes to show you it could happen to anyone." - President and General Manager Charles Otto
I'm not sure what the amount will be after taxes, but it's sure a lot more than the 5 dollars this person paid to play. If it were me, as much as I'd hate to do it, I'd first pay off as many of my bills as possible and put most of what's left into my retirement fund.
Of course, a few dollars would have to be set aside for fun money. After all, I'm not that responsible when it comes to money. Congratulations to the winner.
Four World Records Set In The Binghamton Area
There are several Guinness Book of World Record holders from the Southern Tier. Take a look
Explore Battleship Cove - Home to the Largest Collection of World War II Naval Vessels
How Big Is New York Compared to Other Countries?
We thought we'd take a look at how New York state stacks up to other countries size-wise and what we discovered was definitely interesting!