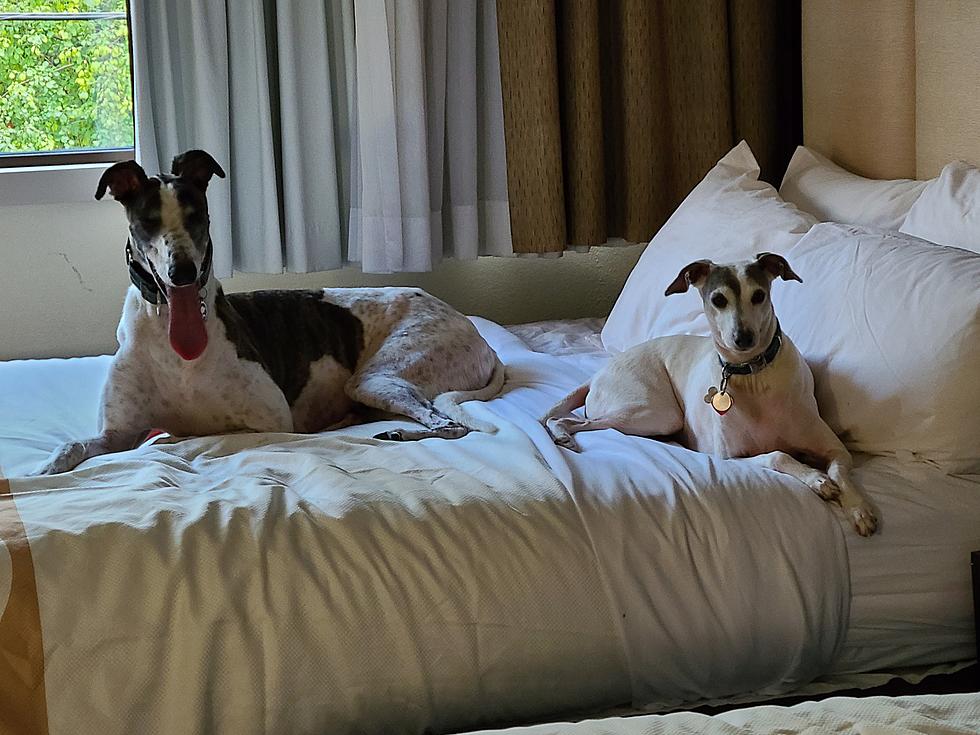 Local Kennels Preferred By These Twin Tier Pet Owners
Kathy Whyte
Ever since my wife and I entered the world of camping, many of our weekends and all our vacations have been camping. We have a travel trailer that sits in a beautiful Bradford County Pennsylvania campground.
It's perfect for us as a nice country getaway and it allows us to take our two Greyhounds and Whippet with us. Before the camping bug hit us, we would take trips throughout the United States, mostly by car, and a few times visited the United Kingdom as well, but only because we had Greyhound friends who could take our dogs while we were on vacation.
It's been over 20 years now since we've taken an out-of-town vacation since we've lost our Greyhound contacts who are able to watch over our dogs. And I'd love to get back on the road maybe once a year if possible.
So, I asked pet owners on social media, "If you board your dog or cat or whatever your pet is when going away or on vacation, what kennel or place do you go to?"
And you came through with places that are trusted to make your pet comfortable and happy while you are away. And that's exactly what any of us who own pets want during our absence.
Some have stated that they would never leave their pets with others and go on vacation, or have family or friends come to their home to pet sit.
Below, I have listed some of the suggestions received. Let me know if you have a trusted person/kennel you take your pets to when you are away from home, that's not listed here.
Cynthia S

 and Tracey P. - Stay and Play in Windsor.

Andrea M

., Sarah S., Brooke D., Karen H., and Ramona S. - Rolling Acres K-9 Retreat in Thompson, Pennsylvania.

Gould C

. - Tioga County Kennels.
Mark W. - Random Pets on Roberts Road, Binghamton.

Heather E

. - Stone Meadow Kennel, Johnson City

Tammy B

. - A Dogs Life in Endicott.

Katelyn Natoli

 - Cators Canines in Harpursville!

Phil C. and

 John K. - I always used Waggin' Master on Old Vestal Road in Vestal.

Jamie S

. - Dog Dayz Inn on the Vestal Parkway, Vestal.

 

Mandy W

. - Allen Veterinary Hospital

on Route 12, Binghamton!

 

Mindy D

. - Hands down

Paws & Tails

on Route 38b in Newark Valley. They are amazing with the animals & work with the owners to make the animals as comfortable asked possible.

Marissa S

. - Every Dog's Dream

on Airport Road, Binghamton!

JoAnn F, and Rebecca B.

 - LBD Kennels on New York Avenue in Hallstead, Pennsylvania.

Denise L

. - Dickin Memorial Animal Hospital

on Main Street, Endicott.
25 Worst Paying Jobs in New York State
Here's the 25 worst paying jobs in New York State. Is your job on the list?
25 Craziest UFO Sightings in New York in 2022
New York residents see a lot of weird things in any given year, but some of us claim to see things outside the normal level of New York weird like UFOs.