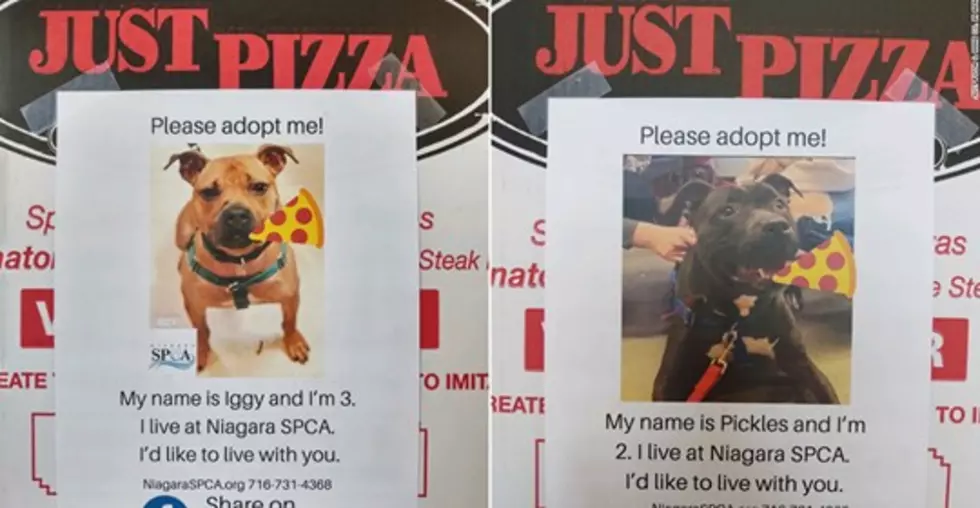 Photos of Dogs on Pizza Boxes Could Help Local Animal Shelters
Photo Credit Niagra SPCA/Facebook
Your favorite pizza shop could end up helping you find your new best friend. This isn't the first pizza shop to do this, but it might be the first one in New York.
Enter your number to get our free mobile app
According to WHDH, the franchise in Amherst is owned by Mary Alloy and three of her children. Alloy is a volunteer at the Niagara Society for the prevention of cruelty to animals.
One day, Alloy received a text from the event coordinator at the SPCA asking if she would be willing to put pictures of the dogs on their take out boxes. Mary was excited about the opportunity to help these dogs find their forever homes, but she had to get permission from the franchise first. The franchise granted her permission and they started putting pictures of available dogs on their pizzas shortly thereafter.
The flyers are working too, after only one day of putting pictures on the boxes, a 6 month old puppy was adopted the next day.
Alloy is also showing her appreciation to anyone that adopts one of the dogs featured on their pizza boxes by giving that person a $50 Just Pizza and Wing Company gift card, according to the report.
This would be a great idea for a pizza shop in the Binghamton area to latch onto. Not only will you help the dogs that are in shelters here in the Binghamton area, you would get a ton of free exposure as well, which would lead to more business.
Who's going to be the first pizza shop in the Binghamton area to step up and do this?