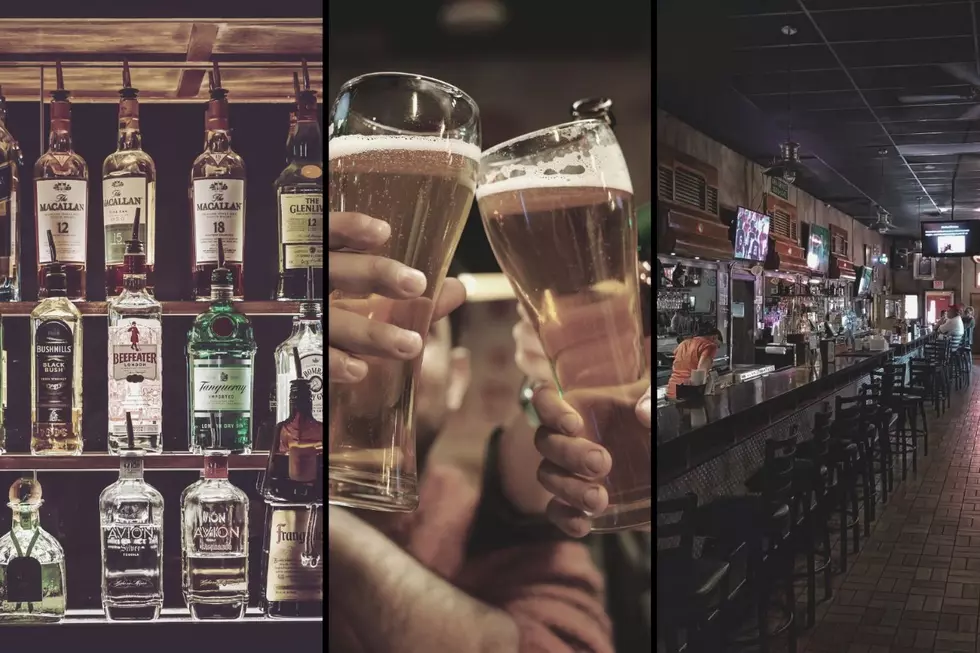 Once Popular Bars and Nightclubs the Southern Tier Misses Most
Canva
From time to time, I think back on fond memories. Family, growing up, fun events with co-workers, you know what I'm talking about. Everyone has great memories to reminisce about.
One such memory I was talking with a co-worker recently, was the local bars and nightclubs we used to hang out at. Bars and nightclubs that are long gone for whatever reason in the Southern Tier.
Some that I fondly remember include Popeye's in the Northgate Plaza, off Upper Front Street Binghamton, The Power & Light Club/The Woods on the Vestal Parkway where that Cheers sign still stands, Uncle Tony's on State Street Binghamton and The Esprit/Eclipse at the former Ramada Inn on Front Street, Binghamton.
Those are just a few former bars and nightclubs I have great memories of. I know there are a couple of other bars and nightclubs that I've forgotten, so I asked listeners and on social media, what long-gone Southern Tier bar was your favorite.
I didn't expect to receive the number of answers that came flooding in (well over 1000)  but am glad they did. Your responses reminded me of some long-gone local bars and nightclubs.
The Blue Moon on Old Vestal Road seems to have the most mentions, followed by The Power & Light Company/The Woods/Scandals, Esprit/Eclipse, The Headquarters, Popeyes, Amps, Country Bob's, and The Other Place.
Here are just a few of the many bars and nightclubs that Southern Tier residents loved and miss. Do you remember?
Kathy B. - "Where to begin...PJ Haleys, The Little Jewel, Mike's."
Kate I. - "Royal Lounge on Washington Street, Melody's (or Melodies?)...it was a play on words, a great little place near the Forum owned by an amazing older gentleman."
Tim M. - "The OP, Blue Moon, Popeye's (always had good shows)."
John S. - "West Side Cheers. Saw sooo many incredible bands like Yolk & Prong, Moe, 40 Odd Magnate (which are back btw) Fister face 55. After we would get dollar meatball subs at like 3 am at Pepi's and have a Polaroid taken.
John M. - "Number Five Listening to the band Grease Release."
Becky K. - "Pine Inn, Daily Double Tavern, Flying Machine."
Burt B. - "Polka Tavern, Dutch's, Don's Tavern, Hide Away, Harvey's, Butchko's, Gance's."
Jolene M. - "Scandals in Vestal…definitely fun times we're had."
Donald S. - "Trot Line, Crosstown. Mickey's Blue Haven, Smitty's, The Danceland, Nita's Step In, The Penalty Box, Polka Tavern, Dooley's, Dud and Tom's ( I have more but I wouldn't want people to think that I used to drink.)"
Will H. - "Country Bobs, Icehouse."
D. Bartlett - "The Botton Line, The Reel to Reel."
Kriz M. - "Susie's, Wes', Deepwell, Wild Turkey, Bernie's, Horseshoe, Crazy Horse, Candlelight Inn, Stonies, Bartons Inn, Roots Tavern, Devil's Elbow, Tiny's, Dave's Place, Berry's, and oh so many others...what can I say, family drank a lot!"
Eric R. - " Taz, The Windsor Lounge, Strike Zone."
Karen T. - "Shanlins's. A little bar on Robinson St. Once had a streaker run thru."
Marisa M. - "Spent some time at the CIV!" 
Shirley O. - "Steeles,(JC), Yondas Jimmy's, AMPS, Sharkeys (Binghamton), Pine Inn,(Endicott), Dutchess (JC), Korbas (Binghamton), to name a couple. Years ago. Fun fond memories."
Will B. - "Jacks by the tracks, Vestal."
Robert K. -
"

The Inn Maine or the Octagon."
Debbie R. - "The Keg."
Bob B. - "Headquarters, College Inn."
Dan B.- "P J Haleys, The Warehouse, The Stockade, Bobby Dee`s, Jungle Club, Scratchey`s, Windsor Tavern."
Carol G. - "Other Place, Gin Mill."
Tara Z. had a lot of reminders for us including:
Golf Gallery
O's
The Lounge at the Executive Inn
 Endwell Pub, Prisms,
Tiger's Den
Cheers Pub
Trader's Sports Bar (I think? on Old Vestal Rd by Taylor Garbage offices
Mr. C's which later became the Sports Den and the Owego Pub (Owego,
Grand Central (Owego)
Nancy's (Nichols)
Barton's Inn (Smithboro)
Stoney's or Root's II (Smithboro)
Slater Hill (Barton)
Ricky U. reminds us of several others including:
The Headquarters,
Esprit (Eclipse)
The Carlton
Lodge
Sea Galley
Archie's 
Casa Linda, 
Foundry plaza 
Old Mosquito Lounge
Edigans
Casey's
Our Little Corner
O's Place
Mike's Bar & Grill
Mama Lenas
Flannigan's 
Then and Now: Outside The Binghamton Area
A Look Around Binghamton's 2022 Porchfest
A Look Around Binghamton's 2022 Porchfest
Seven Major Foods With Upstate New York Roots