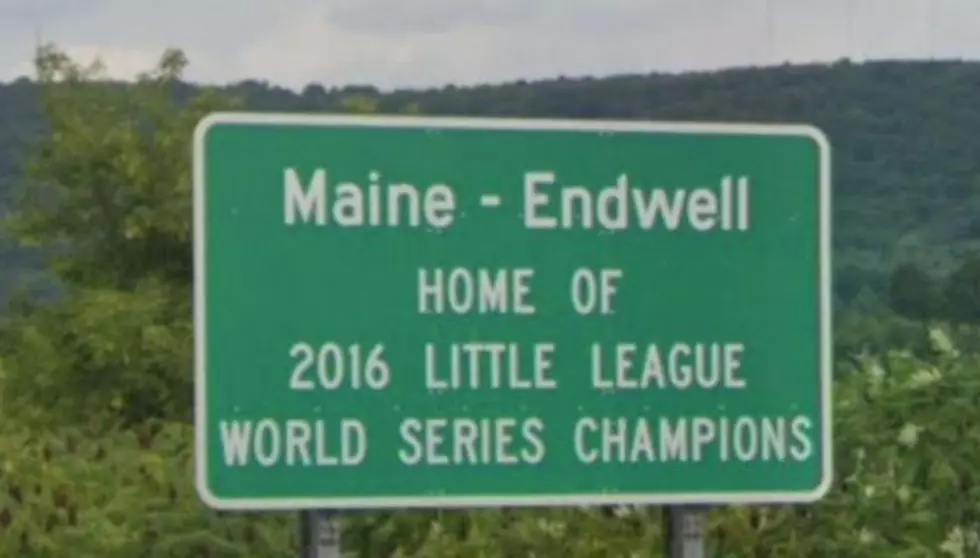 Do You Remember These Past Exciting Southern Tier Sport Events?
Google Maps Street View
Greatest sports moments witnessed. Many of us have stories of our favorites, both from national sports and local sports. Maybe you were on a team and played in a game that will forever be your most memorable sports moment.
I asked listeners "What was your best/ favorite high school sports moment that you were a part of?' Here are some of the interesting responses I received:
Anthony F. - When Hancock and Deposit schools became rivalries especially in football games when I was in high school during the early 90s. It was fun to watch. Now they are merged into one team called Deposit-Hancock Eagles.
 Mandi J. - 2022 Girls Flag Football Championship. My daughter was on the team for Binghamton.

Myron S. - 

Sat 3 rows from home plate watching M-E win the national championship little league world series.
Mel C. - 

Not really a moment but I miss the Binghamton North and Central rivalry.
Johan B. - Maine-Endwell Hockey winning the championship in 2019.

Scot M. - Myron Sitzman

 play golf with the coach and the Raleigh's every year.
Sean D. - The 2015-2016 Vestal Wrestling team went 25-0 and won the sectional duals and the sectional team title (there was no state dual tournament at the time), under Hall of Fame Coach 

Anthony Policare

.
David V. -

Binghamton making it STOP DWI championship game in the national bracket was pretty awesome. I remember that as a kid. As a student, in 2009 Binghamton football making it to the semi-finals in the state playoffs.
Will B. - "

U-E's Slugger Fran Boreffi's game-winning grand slam to beat Vestal.
Douglas C. - 

For about 15 minutes I held my high school record in Shot Put.
 Gary R. - When U-E beat "nationally ranked" Binghamton back in 1988.
Eric B. - Anytime Binghamton beats UE in football.
 Phylis K. - Broome County High School Hockey Association!! Played at SUNY Broome. You don't have to have a kid playing or in school for GREAT games and talent.

Elmer A. - 

Jeff Reese memorial tournament where Troy Nickerson went up a weight class to wrestle Mike Sees.
Cat P. - Ethan Sadler, #22, senior on Maine-Endwell's State Champion Football team scoring a touchdown in their winning game at the Syracuse Dome!
 Shannon Q. - When Whitney Point won the class C basketball championship many years ago. I remember blaring the song 'We Will Rock You/ We are the Champions' when we won at 11:00 p.m. haha. Good times!!

Janet B. - 

Newark Valley Varsity Women's Basketball team placed second in the state 2022.

Angie R. - 

When the Newark Valley Cardinals Football won their first State Championship.
We have had many great sports moments right here in the Southern Tier of New York, including the Binghamton Mets winning the AA Eastern League championship games in their 1992 inaugural season, in 1994, and for a third time in 2014.
Another great local sports moment was when the Binghamton  Senators hockey team won the AHL Calder Cup Championship in 2011.
And how about when the Maine-Endwell Little League Team made that amazing journey through the Little League World Series playoffs in Williamsport, Pennsylvania, and walked away as world champs? Were you there?
For me, my favorite sports moment or memory in person was watching the New York Giants shut out the Minnesota Vikings in the 2020 NFC championship game sending the G-Men to the big game. What a thrill that was to be there in person.
Locally, it was when the Binghamton University Men's basketball team defeated UMBC in the 2009 season to win the America East crown and advance to the NCAA playoffs against Duke University.
Maine Endwell Little League World Series Champions
18 Greatest Binghamton Mets
46 Famous Athletes With Ties to the Binghamton Area