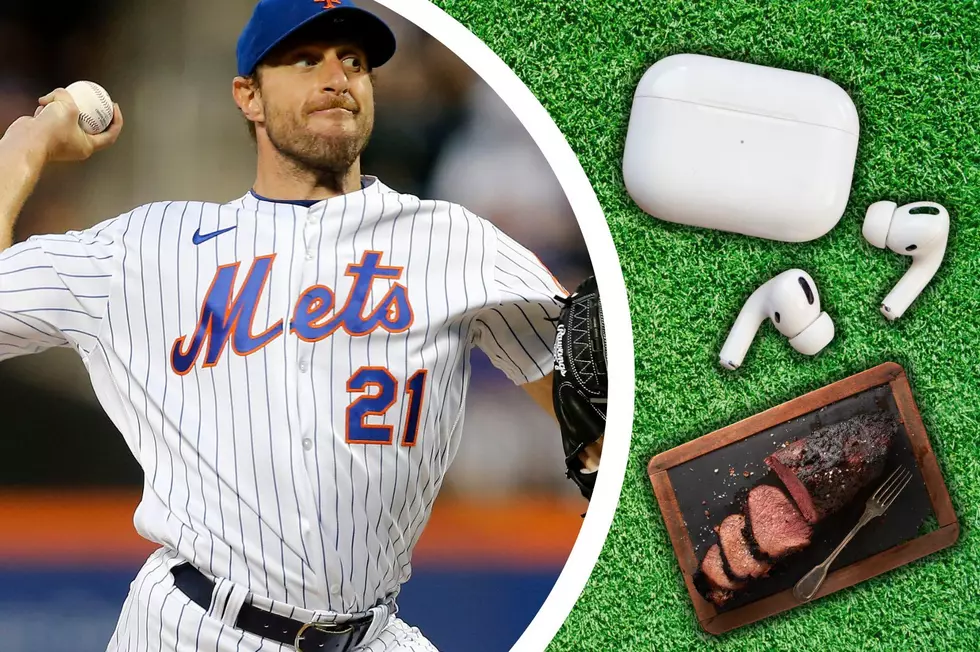 Max Scherzer Treats Rumble Ponies To $7K Feast, New Airpods
Photo by Jim McIsaac/Getty Images, Canva
From time to time a major league sports figure will head down to one of the farm teams for rehab after an injury as part of the process to get back to the team at full strength. We've seen it happen many times with our professional hockey and baseball teams in Binghamton.
And it's a treat for us sports fans to watch a major team player spend time on the ice or on the field in Binghamton. On Tuesday, June 21st, a New York Mets player was on the field at Mirabito Stadium - Max Scherzer who had been on the injured list since May 18 due to an oblique injury.
I had planned on attending that game, not aware of how many fans would be showing up to the Rumble Ponies game. Well, many did. A record-setting crowd of 7,491 fans to be exact according to the Rumble Ponies staff. It would have been 7,492 if I could have found a parking spot, but unfortunately, I didn't, so I headed back home and missed out on a great night of baseball.
Anyway, Max Scherzer pitched a few innings to the joy of all those Rumble Ponies fans, and it was a great night for our local team. And recently, the Fox Sports website made mention of the game and something that Max did for the team besides a great pitching effort.
I didn't know this, but according to the Fox Sports article, it's a tradition for a major league player who is making a rehab appearance with a minor league team, to cover for food either before or after a game. And Max did just that, but he went the extra mile, paying for a meal for the players that included bone-in ribeye, filet mignon, and lobster which cost around a reported $7,000 dollars.
But that wasn't all. Max also had Air-Pods sent to the club as well for the players. And if you know anything about Apple Air Pods, they aren't cheap. That was a great thing for Max to do for the team, and I'm sure it was quite a surprise for the players.
[via Fox Sports]
18 Greatest Binghamton Mets
FROM THE SKIES: 24 Southern Tier Golf Courses From A Bird's Eye View
Check out the gold courses that participate in our clubhouse card from a satellite view. Some of them may be bigger than you think.
IN THE RECORD BOOKS: Top-Performing Southern Tier High School Football Players Of All Time
The Southern Tier has some fantastic high school football teams -- with Chenango Forks and Maine-Endwell the first ones on the minds of most people. But who are the best players from our area to grace the gridiron? Take a look...