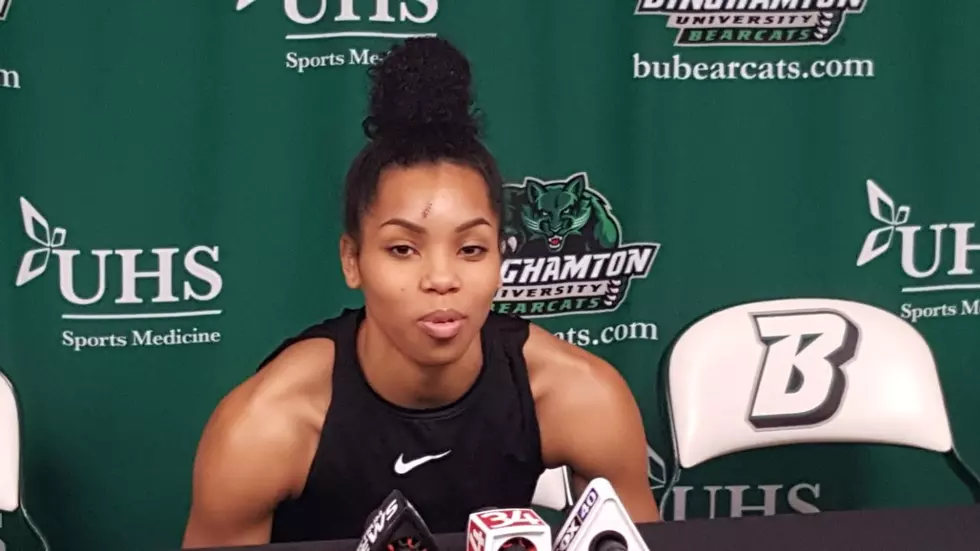 Kai Moon Earns America East Player of the Week Honors
WNBF News/Roger Neel Photo
Senior Kai Moon has been named the Player of the Week for Women's Basketball in the America East Conference for the past week. Moon has been on fire.  Over the last week she averaged 17 points per game as the Bearcats won both of their contests and upped their record to 6-0.  She scored 22 points in the victory over Fairleigh Dickinson and with that notched her 1,000th career point.
Moon has been scoring at a torrid pace.Over the first week of the season she was the leading scorer in Division I with a 28.7 points per game average.  Currently, she is fourth in the nation with 24.2 points per game and sixth with 4.17 three-point baskets per game.
Moon has now captured America East Player of the Week honors twice in the first three weeks of the season. Binghamton's 6-0 start is the program's third-best start in school history.  Coming up next on the Bearcats' schedule is a home game vs. St. Bonaventure on Wednesday at 1:00 PM.  The early start kicks off the Thanksgiving holiday weekend.  The game will be aired on CBS Sports Radio 1360 AM with pregame coverage beginning at 12:45 PM.