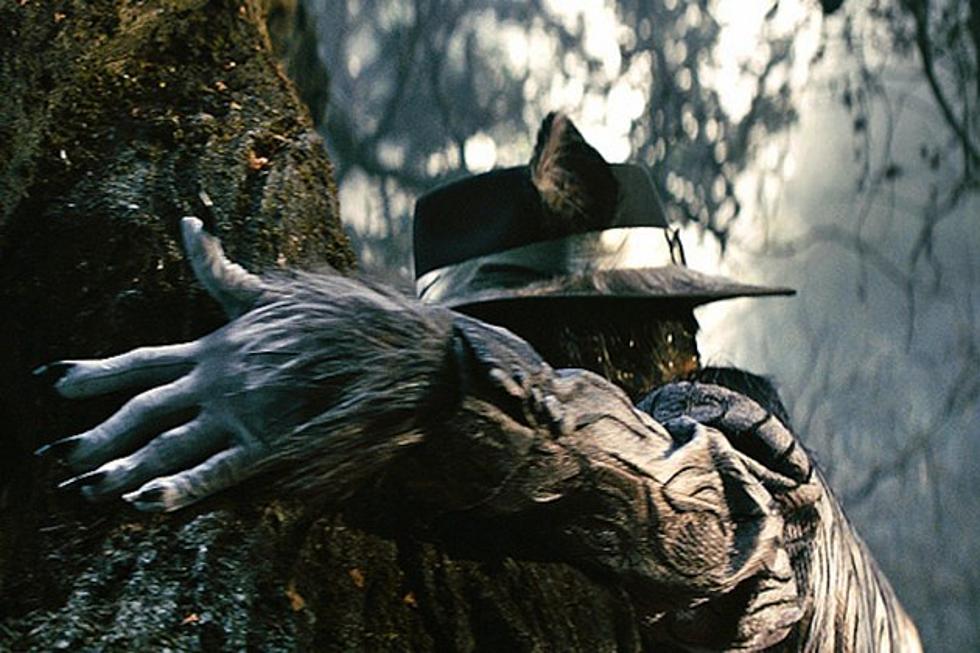 First Look at Johnny Depp as the Big Bad Wolf in 'Into the Woods'
Disney
The first 'Into the Woods' trailer left many people scratching their heads because it featured no singing for what is ostensibly a musical and it kept Johnny Depp, one of the biggest names in the cast, completely offscreen. However, Depp's Big Bad Wolf has made the cover of Entertainment Weekly (along with the rest of the ensemble cast), giving us our first look at Disney's favorite leading man in his latest wacky costume.
And yes, Depp is once again wearing a funny hat. His villainous wolf looks less like a wolf and more like the a weirdo you cross the street to avoid walking past. With his tale and minimal animal make-up, he wouldn't look out of place wandering around the show floor of a Furry convention. He looks wildly out of place next to Lilla Crawford's Little Red Riding Hood and even more out of place next to the rest of the cast, who at least look like actual fairy tale characters.
But who are we to pre-judge? For all we know, it's a look that works like gangbusters on screen and for all we know, Depp has actually learned how to sing since 'Sweeney Todd' and for all we know, he's learned to care about acting outside of wearing dumb costumes since 'Alice in Wonderland' and for all we know, director Rob Marshall has found his directorial mojo since unleashing 'Pirates of the Caribbean: On Stranger Tides' on the world and for all we know, the rumors that Stephen Sondheim's original text has been "toned down" have been greatly exaggerated and for all we know...
Disney is betting big on their glossy new adaptation of this beloved musical. As the studio's big Christmas Day release this year, the film feels poised to appeal to just about everyone in your extended family: the parents will love Sondheim's hilarious and clever songs, the girls will like the fractured fairy tale set-up and the boys will like all of the special effects and monsters. If the film works, it really is positioned to be a gigantic hit.
But are audiences really ready for Johnny Depp in yet another dumb hat?
'Into the Woods' sings and dances its way into theaters on December 25, 2014. Check out those magazine covers for yourself and pre-judge Depp, Crawford, Meryl Streep, Chris Pine, Anna Kendrick, Mackenzie Mauzy, James Corden and Emily Blunt for yourself.