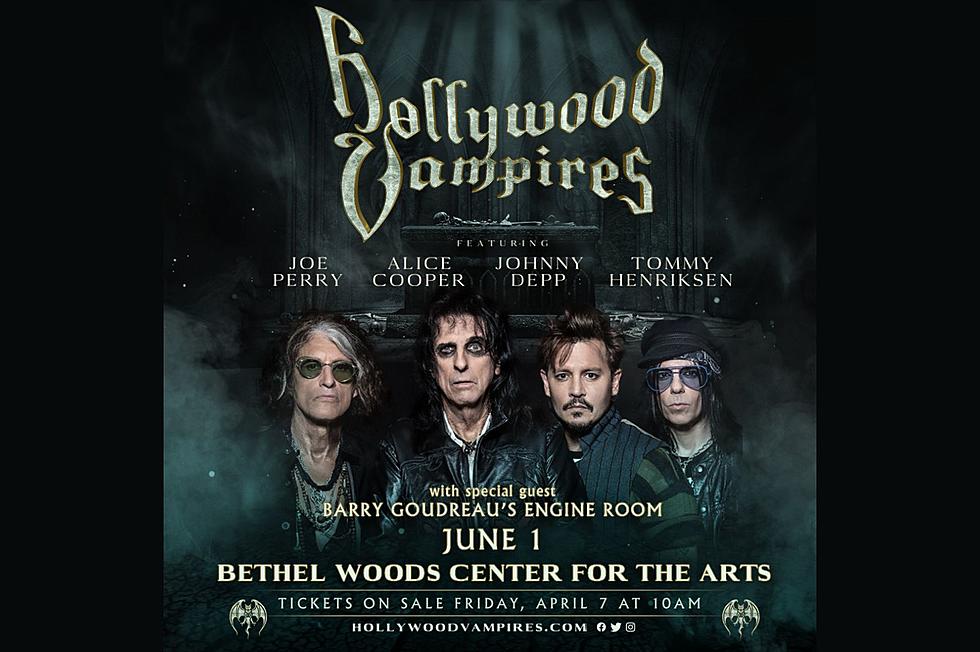 Win Tickets To See Alice Cooper, Johnny Depp, and Joe Perry in Concert!
via Bethel Woods
Alice Cooper, Johnny Depp, and Joe Perry are each stars in their own right but add them together and what do you get? You get a rock supergroup called Hollywood Vampires!
The Hollywood Vampires name was taken from a drinking club that was formed by Alice Cooper back in the 1970s. Members of that drinking club included names such as John Lennon and Ringo Starr of the Beatles, Micky Dolenz of the Monkeys, Keith Moon of the Who, and several others.
Today, the supergroup Hollywood Vampires consists of Alice Cooper on lead and backing vocals as well rhythm guitar, Johnny Depp on backing and lead vocals, slide, rhythm and lead guitar, and keyboards, Joe Perry on lead and rhythm guitar, backing and lead vocals, and Tommy Henriksen on rhythm and lead guitar, keyboards, backing vocals.
Also touring with the Hollywood Vampires are Glen Sobel who has played drums for the likes of Alice Cooper, Motley Crue, Richie Sambora, and others, Chris Wyse was has played bass and offered backing vocals for The Cult, Ozzy Osbourne, and others, and Buck Johnson who plays keyboards, rhythm and lead guitar, and has provided backing vocals for acts such as Aerosmith, Steven Tyler, and Joe Perry.
How lucky are we that this supergroup will be playing in our very own backyard at Bethel Woods on Thursday, June 1? And, how lucky for you that we want to send you and a friend to this spectacular show!
Be sure to read all this stuff: Standard contest rules apply. Winners will be drawn at random on Friday, May 26, 2023, and notified by phone that they have won no later than Tuesday, May 30, 2023. Please check your junk and spam folders to see if you received a winning email. Winners will need to electronically sign a winner-release form. Tickets will be delivered to winners via email so please double-check your email address. Entering multiple times will not increase your chances of winning.
CHECK IT OUT: Here Are the 77 Most '70s Things About 1977
CHECK IT OUT: The 88 Most '80s Things About 1988