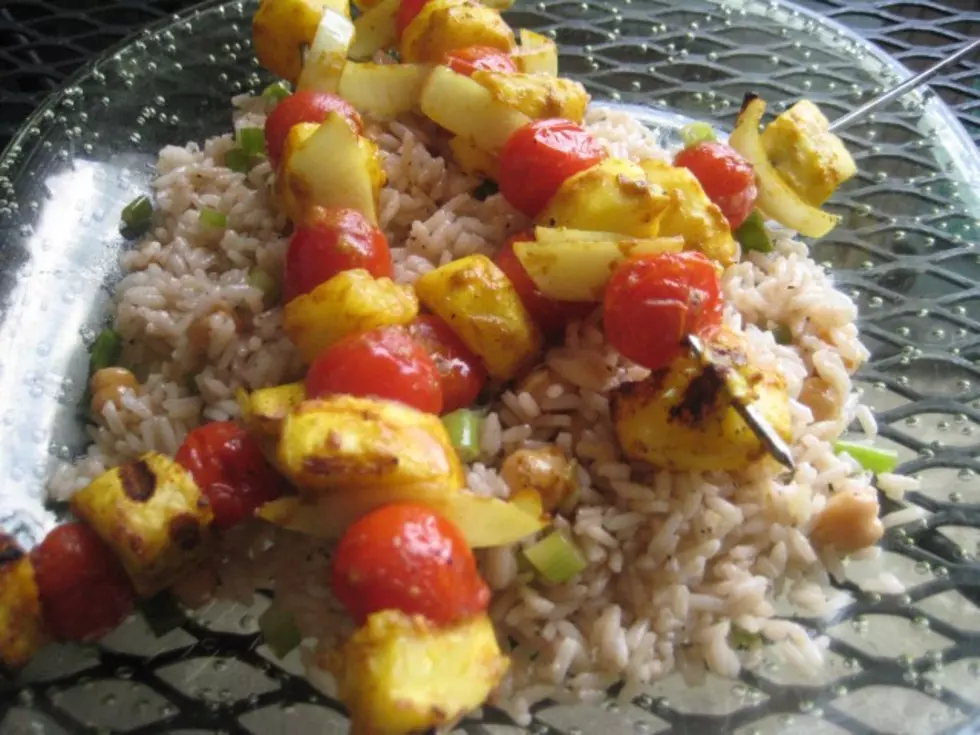 Grilled Curry Squash Kabob Foodie Friday
Kathy Whyte/ WNBF News
How times have changed. Now there is a vegetarian category at Broome County's Spiedie Fest cooking contest.  I'm not sure I can wrap my head around anything vegetarian that can really qualify as a spiedie, but I'd be interested in taking a look or taste if anyone wants to show me.
Until then, you can still have your vegetables on a skewer and grilled.
You can use your favorite squashes from your garden to make a very colorful vegetarian main dish or side dish.  Too cold to grill? Just use your broiler or stove-top grill pan.
Curry Squash-Kabobs and Balsamic Rice. (Prep. time: 20 minutes.  Serves 3-4)
1 large yellow summer squash cut into bite-size cubes
An equal number of cherry tomatoes to the number of squash cubes
½ Vidalia onion, sliced
Curry
1 Tb. each curry powder, flour and room temperature butter
pinch of salt
1 tsp. each of turmeric, paprika and grated peeled, fresh ginger
½ tsp. sugar
1 C. coconut milk
Balsamic Rice
3 C. cooked rice (you can cook the rice while the vegetables are marinating in the curry)
6 spring onion shoots, diced (both white and green parts)
½ C. chick peas
1 Tb. each olive oil and balsamic vinegar
Par-boil the squash cubes about 3 minutes, strain and pour into an ice bath to stop the cooking*. Start to bring the coconut milk to a simmer.  Mix together the curry powder, flour, turmeric.  Add the butter and rub the dry ingredients into the butter to thoroughly incorporate.  Whisk the butter into the simmering coconut milk a little at a time to thicken.  Whisk in the ginger, salt and sugar to taste.  Toss the squash, tomatoes and onions into the curry and allow to marinate 15-20 minutes.  While marinating, cook the rice (1 ½ C rice to 2 C. water) about 20 minutes, until tender. Pour the rice into a large bowl and toss the chick peas and green onion with olive oil and balsamic vinegar.  Heat the grill to high and rub some vegetable oil on the grill with a thick layer of paper towel.  String the vegetables on skewers, alternating squash, onion and cherry tomato.  Grill evenly on all sides until the vegetables are tender and show caramelized grill marks.  Serve the skewers hot over the balsamic rice.
*(I par-boiled the squash to make sure the more dense vegetable would cook at the same rate as the other vegetables once on the grill and to make sure I could get the skewer through without splitting the cubes.)
This can also be made with other vegetables like zucchini and adding in mushrooms or you can make it non-vegetarian by marinating chunks of chicken along with the vegetables.
Top Spiedie Places In The Southern Tier
5 Restaurants That The Southern Tier Needs