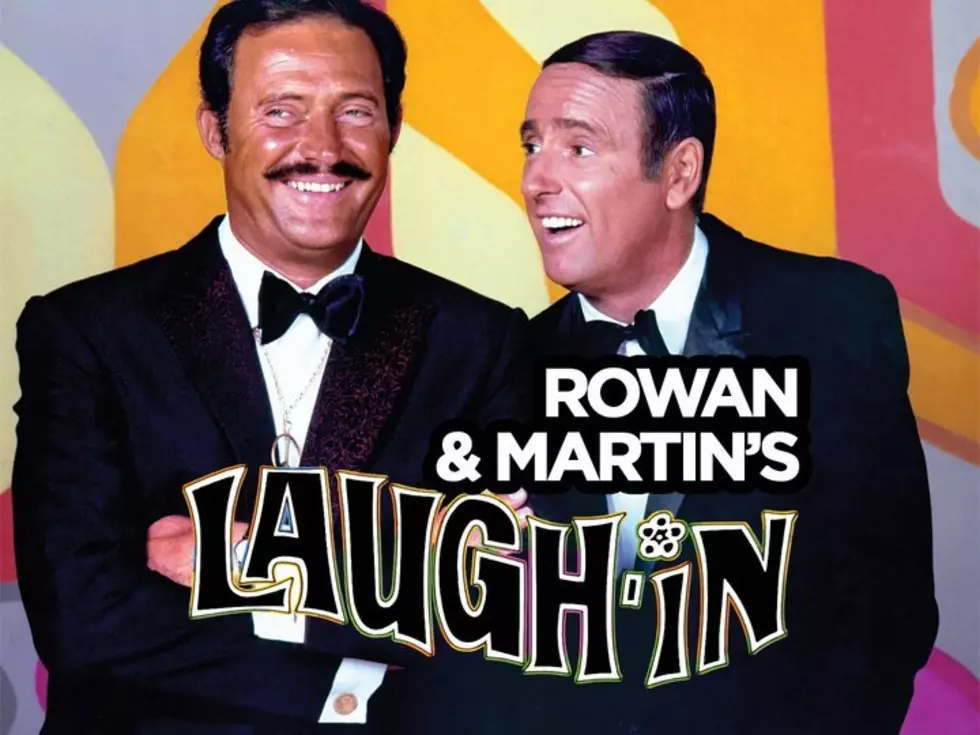 Flashback Friday-Rowan and Martin's Laugh-In
Courtesy NBC Universal
Six seasons and 141 episodes from 1968 to 1973 Roman and Martin's Laugh-In was the SNL of its time, and today we flash back to this hilarious show.
Dan Rowan and Dick Martin had one of the funniest lounge acts in the 1960's, and were brought to TV in a one hour special in 1967 that left TV viewers wanting more.
The show was picked up by NBC as part of its Monday night lineup, and became an instant hit.
I remember watching the show in black and white, because we didn't have a color set, so I missed a lot of the shows colorful stage aesthetics.
The show launched the careers of many up and coming comedians and actors, including Goldie Hawn, Ruth Buzzi,, Arte Johnson and Joanne Worley.
I remember the joke wall, with cut outs all over it for the cast to open, and pop their head out to talk to another cast member, who would pop their head out from another cut out, and exchange quick puns and jokes.
Some of my favorite skits included the Mod Mod World, the The Flying Fickle Finger of Fate Award, and of course everybody as favorite, Sock It To Me Time.
On September 16, 1968, Richard Nixon made history when he became the first president to appear on a prime time variety show, in a brief taped moment when he looked into the camera and said, "Sock It To Me? (see vid clip below)
The show also produced some iconic catch phrases, that made their way into counter culture, t-shirts, stickers, and general water cooler talk.
They included "Sock It To Me" "You Bet Your Sweet Bippy"  "One Ringy Dingy" and "Here Come Da Judge"
If you need more info Look it up in your "Funk and Wagnalls".
In the meantime enjoy a few clips below.
TAKE A LOOK: Even Broome County Statues Are Wearing Face Masks