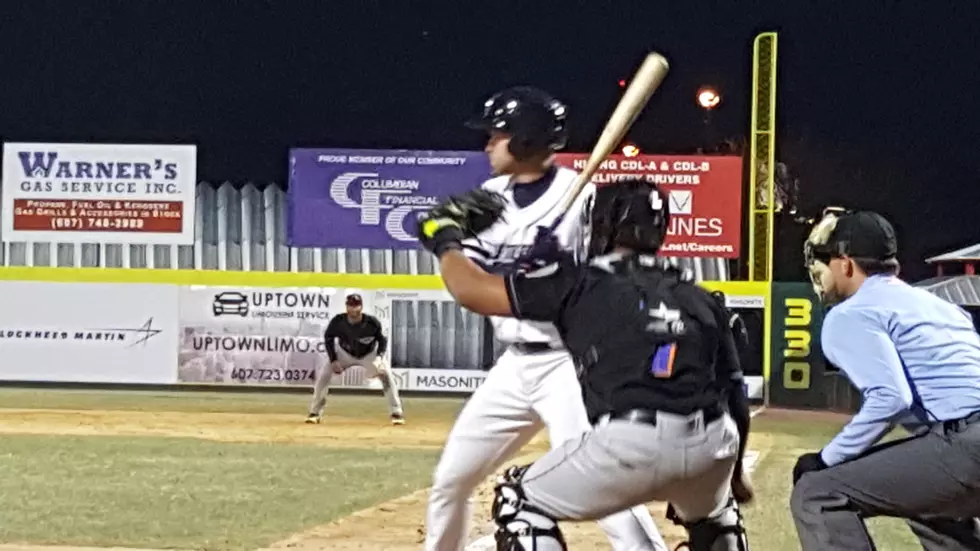 Binghamton Blanks Portland 9-0 to Start Home Opener
WNBF News/Roger Neel Photo
The Binghamton Rumble Ponies opened up their game home series with a big 9-0 win over the Portland Seadogs.
The Ponies have won four in a row and are 8-5 over the last three series (3-3 Erie, 4-2 Hartford 1-0 Portland)
Binghamton's Luis Carpio crossed the plate after a wild pitch and a sacrifice fly in the second inning to make it 1-0, followed by a 3 run sixth inning, with big hits from Carlos Cortes, Yoel Romero, and a sac fly from Jake Mangum, giving the Rumble Ponies a 4-0 lead going into the seventh inning.
The eighth inning saw ten Binghamton batters at the plate in a bat around that produced five more hits and RBI's from Carlos Rincon, Jake Mangum and a double from Carlos Cortes.
RHP Jose Butto got his first win in a Rumble Ponies uniform, going six innings, followed by Allan Winans pitching two shut out innings, and Eric Orze closing out the ninth.
The Ponies are 32-44 and have a solid 4th place lead in the North East Division, four and a half games behind third place New Hampshire.
Binghamton continues their home series with the Sea Dogs today (Wednesday) with a double header beginning at 5:35pm.
Go Ponies!
LOOK: Famous Historic Homes in Every State
NFL Fan Favorites From Each USA County