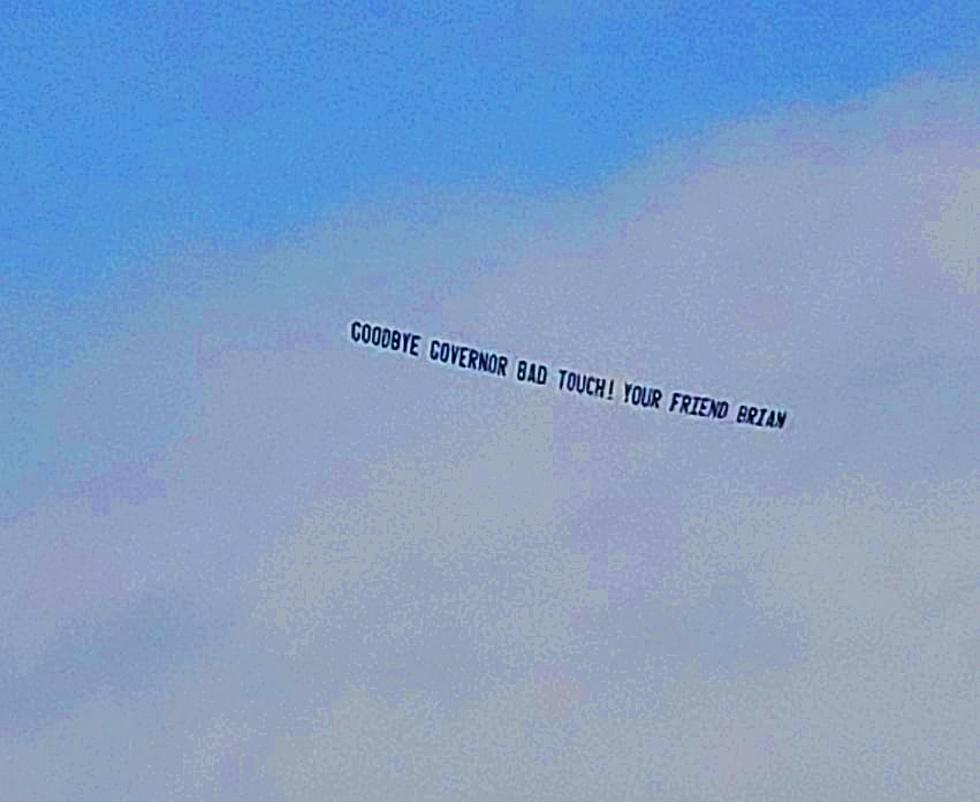 'Goodbye Governor Bad Touch!' Flyover Banner in Albany, New York Minces No Words [VIDEO]
Townsquare Media Binghamton
About twenty years ago, at the height of the Bill Clinton and Monica Lewinsky scandal, Hillary Clinton paid a visit to the New York State Capitol in Albany, and much to her surprise, and to the surprise of many others, she was greeted by a cheeky flyover banner.
The banner read, "Who's Watching Bill?" Eyebrows raised and tongues waved as officials and average citizens alike wondered who in the world would pull such a stunt. The stunt, it turns out, was the brainchild of Woody and Jim, a local Albany radio morning show.
While most were amused with the 'Who's Watching Bill?' flyover stunt, those in high power weren't. Although those who worked with Woody and Jim were told management was made aware of their planned stunt before it happened, the duo was still placed on leave and a short time later they left the radio station altogether, moving their show to Nashville.
On Wednesday, another flyover banner appeared in Albany, and much like the one that flew when Hillary was in town, this one also left people scratching their heads trying to figure out exactly who orchestrated it.
Mincing no words the flyover banner blatantly showed that a person named Brian was less than impressed with the actions of Governor Cuomo and was no doubt happy to see him leave office. The flyover banner read, "Goodbye Governor Bad Touch! Your Friend Brian." People were puzzled. Who was Brian and how did he finagle the money to have a banner created and flown over the New York State Capitol building?
A New York State employee in Albany reached out to Townsquare Media to share a photo they took from their office window in Albany yesterday and asked if we knew anything about who might be behind the latest flyover banner stunt. At the time, we didn't but new details have emerged and today, we do.
The flyover was orchestrated by an Albany resident named Brian Olesen. Olsen, who also rented billboards targeted against the actions of Governor Cuomo, told the New York Post that he was utterly disgusted by Cuomo. "Between the senior citizens and the 11 women he harassed that we know of, this man will go down as the worst political servant we've ever seen in my lifetime."
Olsen is the owner of an Albany-area gun store and estimates that he spent around $12,000 on both his anti-Cuomo billboard campaign and Wednesday's flyover banner.
Six Strange New York State Laws
Re-Live Your Childhood Memories at This Enchanting Park in the Adirondacks
26 Must-Visit Upstate New York Farmers Markets