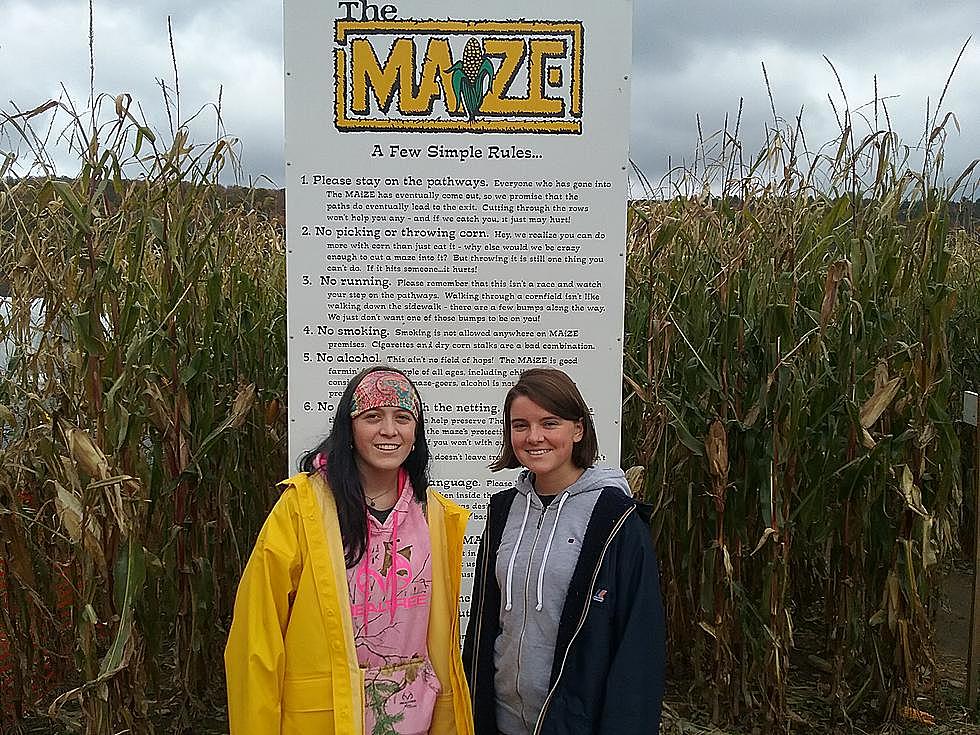 Take A Look: How To Not Get Lost In A Corn Maze
Glenn Pitcher
As you know there are many corn mazes to navigate in the Southern Tier of New York. This weekend looks like it could be the perfect time to get "lost" in a maze with sunshine and temperatures in the upper 60s.
If you've been in a corn maze and time or two, it's inevitable that you'll get lost at some point. It's fun for a while but can get frustrating in a hurry. You start to feel like one of those rats that you see in a maze that can't find the cheese.
So what can you do to navigate a corn maze? If your tired of walking in constant circles, don't rely on luck. Here's some tips that will help you find your way through
How To Navigate Through A Corn Maze
Use the provided map. If you go to the farm's Facebook page before you go, there's a great chance that they'll show an overhead view of the corn maze. Almost every farm will show that view from the sky so that you can see that year's design or theme.
Bring The Map With You
Bring a copy of the maze with you and once you're inside the maze, use the map to find your way around. It's also a good learning tool for the kids while they are enjoying the maze.
Pay Attention To What's Around You
When your walking around, look above you for signs. I'm not talking about the clouds but tall trees, the farm barn or a mountainside. Find something that will orient yourself.
Play Along
If the maze has puzzles or clues along the way, you them to find your way. I know the Stoughton Farm Corn Maze leaves you questions along the maze path and the correct answer will send you in the correct direction.
Be Prepared
Rule #1 for Boy Scouts and Corn Maze explorers. If it's going to be cold, wear the appropriate jacket. If it's snowing, make sure you have a hat and gloves. Going at night, bring a flashlight or headlamp.
Your LAST LAST LAST LAST LAST resort is to go through the corn. Unless it's a true emergency and you absolutely positively have to get out, stay on the path. The idea is to have fun and make memories...The good memories not the memories about the time that you got lost for hours.
25 Scaredy Cat-Approved Halloween Movies
SWEET: Here are the most popular Halloween candies