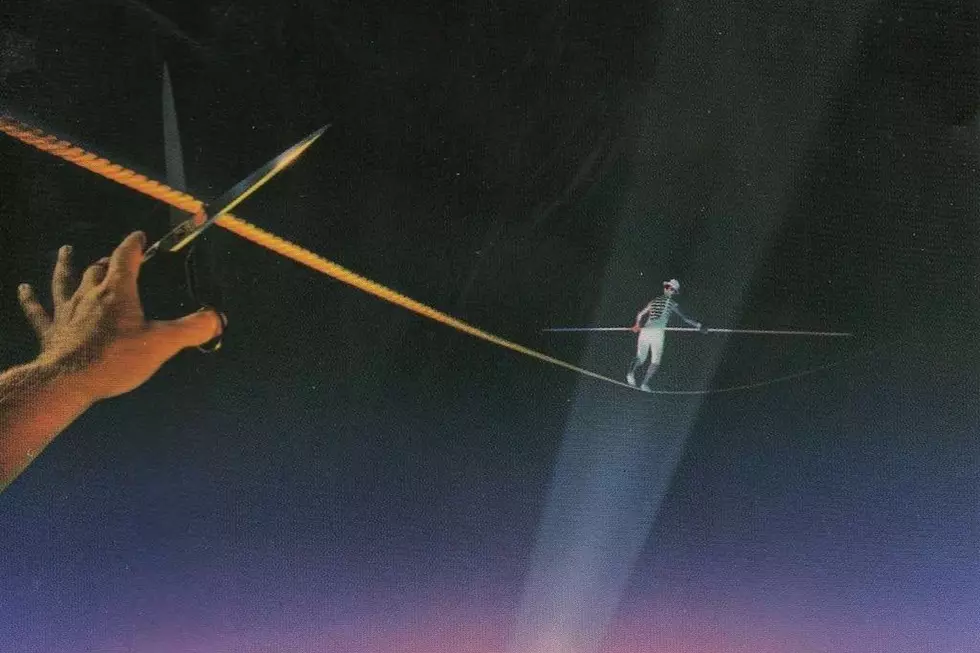 How Supertramp Splintered on 'Famous Last Words'
A&M
Supertramp did what bands do when they have a breakthrough hit album: crisscrossed the world, playing their music before a quickly expanding fan base. But something went wrong after the four times-platinum Breakfast in America gave Supertramp their first-ever No. 1 album in the U.S.
A grueling tour and then pitched battles during the sessions for a follow-up ended up splintering the band forever. That forced Roger Hodgson – co-founder of the group with Rick Davies – to reckon with the 1979 album's complex legacy.
"I am very, very happy that it did happen," Hodgson told Jam the Music in 1983. "It is a great album. It wasn't really so much the album. It was the nine-month marathon tour that followed it. We did 120 shows in nine months and almost killed ourselves, and killed the band as well."
Just 13 years before the aptly named ... Famous Last Words ... arrived on Oct. 7, 1982, Hodgson had answered an ad Davies placed in Melody Maker and Supertramp were born. By 1974, their songwriting partnership had essentially dissolved; they continued to publish songs jointly, but the singer of the track was typically the sole composer. Davies stayed in Los Angeles, while his former roommate Hodgson left for a small town upstate.
Despite that, Supertramp continued to build creative and commercial momentum, as the Hodgson-written "Dreamer" became a U.K. Top 20 hit in 1974, Davies' "Bloody Well Right" marked their first U.S. Top 40 entry and then 1977's "Give a Little Bit" became an international smash. The latter found a home on the still prog-inflected Even in the Quietest Moments, which had been a very respectable gold-selling Top 20 hit on both the Billboard and U.K. charts.
Still, nothing could prepare Supertramp for what came next, as the more pop-leaning Breakfast in America sold a whopping four million copies in the U.S. alone. Hodgson's "The Logical Song" and "Take the Long Way Home" joined Davies' "Goodbye Stranger" in the Billboard Top 20. That out-sized success, however, become something of a curse.
Hodgson reportedly wanted to stay in a similar musical vein, obviously recognizing that it had connected Supertramp with a much larger audience, while Davies apparently wanted to return to the more rock-focused progressive music of their early years. In fact, he'd arrived with a 10-minute song called "Brother Where You Bound," which he hoped would become the centerpiece of their follow-up. That didn't happen.
Watch Supertramp Perform 'It's Raining Again'
As the disagreements continued, Supertramp began to split into factions. Davies ended up recording his vocal and instrumental parts at his Encino home, while the album was principally recorded and mixed at Hodgson's studio in Nevada City so he could be close to his wife and 2-year-old daughter. (Hodgson handled all of the vocals on "It's Raining Again," for instance, by himself. )
"All of the albums have been difficult to record, but a sense of togetherness always forced its way through," Hodgson told Rolling Stone in 1983. "With this one, it was very difficult to make any headway, and the best songs fell by the wayside. Recording was not enjoyable. It ground to a halt several times."
The growing distance between them was reflected in the liner notes for ... Famous Last Words ... , where each song's lyrics were color-coded by author: "Crazy," "It's Raining Again," "Know Who You Are," "C'est Le Bon" and the desperately sad "Don't Leave Me Now" were by Hodgson; "Put on Your Old Brown Shoes." "Bonnie," "My Kind of Lady" and "Waiting So Long" by Davies.
"That was a difficult project to complete," drummer Bob Siebenberg admitted in a 2013 talk with Robin Plotts. "Rick and Roger were really growing apart, and there were wars over where we were going to make the record. Roger didn't want to come to Los Angeles and Rick didn't really want to go up into the mountains where Roger lived. Myself and John [Helliwell] and Dougie [Thomson], we didn't care. We just wanted to get on with it and make the record. We traveled back and forth and ended up doing most of it at Roger's place, just to keep the peace."
They scored another hit song with the No. 11 "It's Raining Again," and ... Famous Last Words ... went to the Top 10 both in the U.S. and the U.K. again. Davies' "My Kind of Lady" also made the Billboard Top 40, but it seemed no one was truly happy with the compromise-laden product they released. "In the end, they both kind of changed their formats and their picture of what they thought this album should be," Siebenberg said in 1986's The Supertramp Book. "It became a diluted version of what it started out to be. It was really neither here nor there."
Hodgson, in a move that made the album title seem like a weird prophecy, decided to quit. He wanted to focus on being a dad; more importantly, he'd grown weary of Supertramp's post-breakthrough dynamic.
"As hard as it was for me, it was what my heart was telling me I had to do," Hodgson told the Arizona Republic in 2016. "The album after Breakfast in America, ... Famous Last Words ... was so disappointing. It fell so far short of what we could have achieved if we had been more unified – and I couldn't live with that."
Watch Supertramp Perform 'My Kind of Lady'
Hodgson agreed to a farewell tour in 1983, later documented on The Story So Far concert film, then he was gone. "For a long time, I'd been upsetting the apple cart by saying that we needed fresh energy in Supertramp," Hodgson told Rolling Stone in 1983. "But ultimately, Rick and the other guys realized that they wanted to stay together, and they didn't want what I wanted. It was obvious that there was only one solution."
Supertramp never released another studio project with the classic lineup, something Seibenberg said he saw coming. "Roger wanted to do his own thing for quite a while, and the rest of us wanted to get back to our earlier sound," the drummer told the Straight in 1985. "After Breakfast in America — which was such an obviously big album — we tried to decide whether we should do Breakfast in America again, or come back a little heavier. We came back with ... Famous Last Words ..., and it wasn't really what we wanted to do. That was obviously the beginning of the end there, you know."
A stung Davies eventually decided to carry on with the group, reassembling in the studio a few years later with a slew of special guests. By then, Hodgson had released his 1984 debut, In the Eye of the Storm; both the album and its lead single "Had a Dream (Sleeping with the Enemy)" barely crept into the U.S. Top 50.
"I really am hungry to do some new things," Hodgson told Scene magazine in 1983. "The last Supertramp album really frustrated me a lot. I didn't think it was that great an album. It was certainly no progression from anything we'd done before. Supertramp, for me, has stopped being a vehicle in which I can grow. I found that I was stagnating, really. I'd like to have a more free-flowing thing, working with different musicians at different times on different projects."
Even many years later, Davies found it difficult to come to terms with what happened, saying they'd worked hard to accommodate Hodgson. "Nobody understood why he did that," Davies told Morning Magazine in 2010. "He said he wanted to do his own thing, find himself and play with other people. And as much as we tried to do, we could not prevent him from leaving."
"Brother Where You Bound" did, in fact, become the centerpiece for a Supertramp album – their first after Hodgson's departure. "It was slated for ... Famous Last Words ... ," Seibenberg told Straight, "but it looked a bit silly up against some of the lighter tracks on that album, so we saved it. We anticipated it being the backbone of the next effort, knowing that Roger would not be around."
By then, the song had ballooned to more than 16 minutes.
Forgotten First Albums: Rock's 61 Most Overshadowed Debuts
From David Bowie's overlooked debut to Dave Grohl's pre-Nirvana record with Scream.