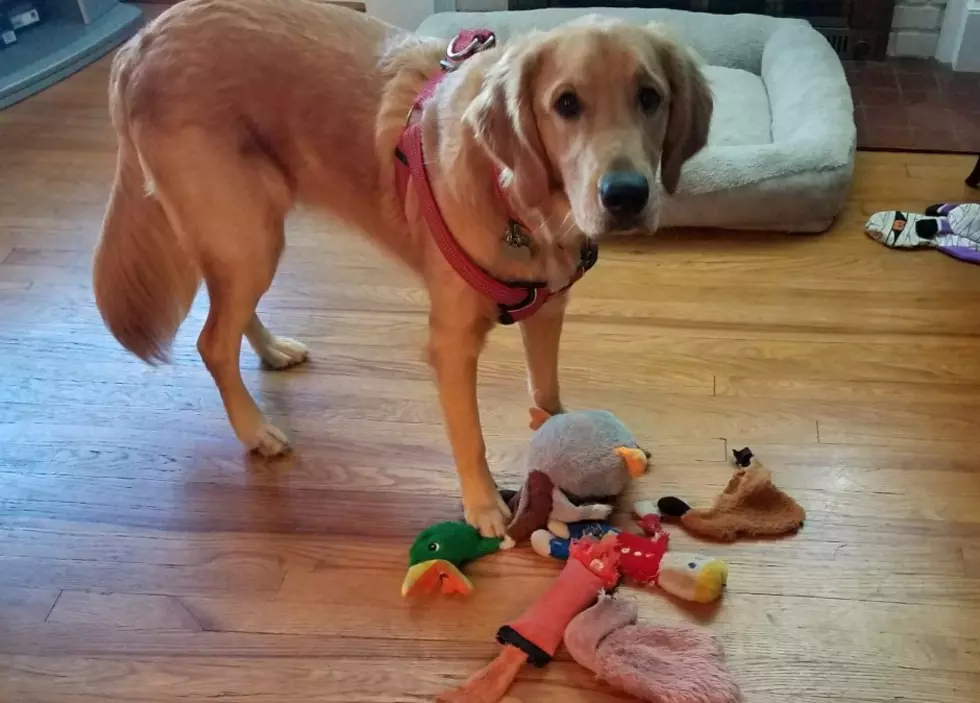 Pet "Toy" Cemetery [PHOTO GALLERY]
Jim Free Photo
I love dogs. Dogs love their toys. Eventually, most of the toys end up getting ripped apart. Every now and then a dog will have its favorite toy and will fight the desire to rip the stuffing out of it. We have yet to find that toy for my one year old golden retriever Hagar.
Hager's First toy was a gift from his Aunt Nancy. It was a headless stuffed squirrel with a tail and a squeaker inside. He had that for a couple of days before he ripped the stuffing out of the inside, and then ripped the tail off it.
One of the other toys that Hagar has destroyed is the toy we call Foxy. Foxy was a gift from his Aunt Lisa. Foxy had a face with a tongue hanging out of its mouth and a nice long tail. Hagar first went after the fox's mouth and tongue. They didn't last long. He chewed the ears off the top of it's head and even chewed the eyes off its face. He then ripped a hole in the tail and pulled the stuffing out of that.
Enter your number to get our free mobile app
Then there's Lola. Lola was a gift to Hagar from our friend Juls who works for the PGA and comes to town every year to work the Dick's Sporting Goods Open. Lola was billed as a "rugged" toy. And for the first few weeks, we thought it would live up to its name. It did not. Eventually he ripped both legs off the pink flamingo, then he ripped all the stuffing out of her. Now she is pretty much faceless.
I bought him a giant Canadian goose for his first birthday. That lasted almost a full week before he chewed a hole in its neck and he has now started to eat it's face.
And then there's Mr. Bill. Hagar's Mr. Bill toy was inherited from his late brother Hutch, our previous golden who lost his battle with cancer about 6 years ago at the age of 9. Hutch liked Mr. Bill, but never destroyed him. When Hutch would bite Mr Bill's stomach, he would cry out OH NOOOO like Mr. Bill did. Hutch must have thought he was hurting him because he would instantly drop him. He would carry Mr. Bill around by his hand, his legs, or his head, but never destroyed him.
Fast forward to early 2000 when we brought Hagar home at the age of 8 weeks. By then, the battery inside Mr. Bill's talk box had died. Hagar started by ripping Mr. Bill's nose off, then his mouth, then he chewed a hole in his side, he ripped out all his stuffing, and eventually ripped his left arm off him.
We went to Creature Comforts in Binghamton earlier this week to get Hagar a new coat for winter. They had Mr. Bill toys on the shelf. I grabbed it and showed it to Hagar who look at it like "wow, you're back together again". Then I smacked its stomach so it cried out OH NOOOO. At that point, Hagar walked away.
Check out all the pictures below of the carnage that my puppy has created. Some of the pictures have before and after photos.
Dogs Toys Before and After
Check out these 50 fascinating facts about dogs: