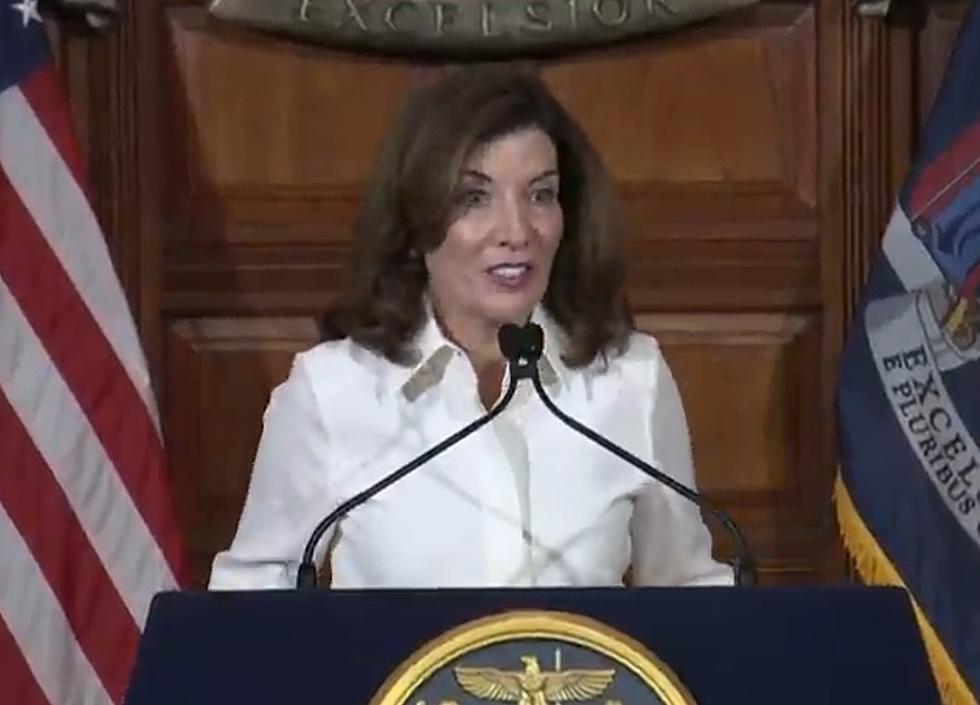 NY Governor Kathy Hochul Pushes Post-COVID Economic Comeback
(Image: ny.gov)
New York's new governor is outlining 228 initiatives she says will help kickstart New York's comeback from the COVID-19 pandemic in her first State of the State address to the legislature.
Governor Kathy Hochul says the state will revitalize and better promote the research projects at Binghamton University and Rochester and is setting a goal of attracting more students to State University and City University of New York Schools.  Also on the education front, the Democrat is looking at ways to attract and keep more teachers.  Hochul says she would wave the income limits for retired teachers who come back to the classroom at schools across the state are struggling with a huge shortage of teachers.
Governor Hochul is also proposing reinstituting tuition assistance for inmates, which was eliminated almost 30 years ago by Republican Governor George Pataki. Hochul says the state needs to address the shortage of qualified workers to fill available jobs that has been one of the causes of companies looking to do business outside of New York State.
Reaction is quickly coming in for the Governor's messages with Assemblywoman Donna Lupardo of Endwell praising the fellow Democrat for recognizing "the need to act decisively on the many challenges we are facing."
New York Senator Fred Akshar of Binghamton, a Republican, says there are many parts of the Democratic governor's address he agrees with including a proposed 100-million dollars in tax credits for small businesses and the jail to jobs program to help incarcerated individuals find work on release.  He, like several critics of recent bail reform, noted Hochul did not directly talk about the controversial subject. Akshar also points out that things like investment in infrastructure and job incentives have to be paid for somehow.
In addition to incentives for businesses, the Governor also said she wants to bring back the sale of alcohol-to-go at bars and restaurants that was temporarily instituted during the pandemic lock down, control the flow of illegal weapons in New York with cooperative agreements between state police, local law enforcement and other states and  replacing the flawed JACOPE political watchdog agency with a new oversight arm that would be more accessible to the public and not report to elected officials.
You can find a link to Governor Hochul's January 5 address here:
New York State Comptroller Thomas DiNapoli also issued a statement following the Wednesday afternoon speech to an almost empty Assembly Chamber due to COVID concerns.  The Democrat says his office has been detailing stronger-than-expected economic recovery and says local sales tax revenues continue to improve, which could help pay for some of the infrastructure improvements, broadband upgrades for rural areas, homeowner tax credits and incentives proposed to help attract healthcare and other workers.
DiNapoli says he looks forward to working with Governor Hochul.
LOOK: Here is the richest town in each state
Just saying the names of these towns immediately conjures up images of grand mansions, luxury cars, and ritzy restaurants. Read on to see which town in your home state took the title of the richest location and which place had the highest median income in the country. Who knows—your hometown might even be on this list.
Seven Major Foods With Upstate New York Roots