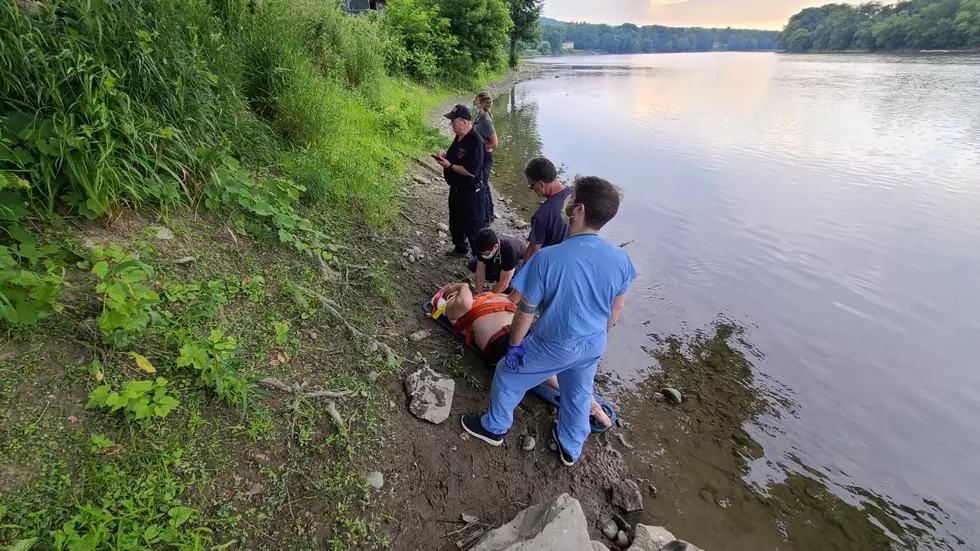 Multiple Responders Band Together, Rescue Man From Susquehanna in Owego
Owego Police photo
Police in Owego say a huge cooperative effort is behind a successful rescue from the Susquehanna River as a fun morning of fishing goes wrong.
Authorities say at around 7:16 a.m. on Wednesday, June 22, Police were called to an area off Front Street at Church to assist the Owego Emergency Medical Services crew trying to reach a man who had slipped on rocks on the Riverwalk and fell into the water.
While police were headed to the scene, Dispatchers with the Tioga County Sheriff's Office Emergency Communications Center informed officers the man was still in the river.
Upon arriving at the scene, Owego Police learned the victim, a 55-year old man from Corning, had gone to the Riverwalk with a friend to fish. As the pair was walking to the water's edge, the Corning man lost his footing and fell, head-first, down the boulders and into the river.
Authorities say the man's head was under the water with his feet still on shore as the friend stepped in as was able to hold the victim's head above water.  The companion was able to call 911 and lead the police officer to the site.
According to a news release from Owego Police, the officer stayed with the Corning man until medics from Owego and Apalachin EMS got on the scene and were able to start administering first aid.
The Owego Fire Department was called and responders all worked together to get the victim up the steep river bank.
The Corning man was secured in a rescue basket and the Owego and Apalachin EMS crews, Owego Fire and Owego Police were able to pull him up and carry him to a waiting ambulance at Ahwaga Park.
In just under an hour from when he slipped and fell into the river, the victim was on his way to a local hospital for treatment.
The victim's name and condition were not released.
The Owego Police Department would like to commend the Owego EMS, Owego Fire Department and Apalachin EMS for their excellent skills and first aid efforts in this difficult environment.
The 12 Best Broome County Hiking Trails
Facebook Groups You Need to Join
Facebook is a great place to connect with those in your community. These are ten Broome County Facebook groups I found that you should join.