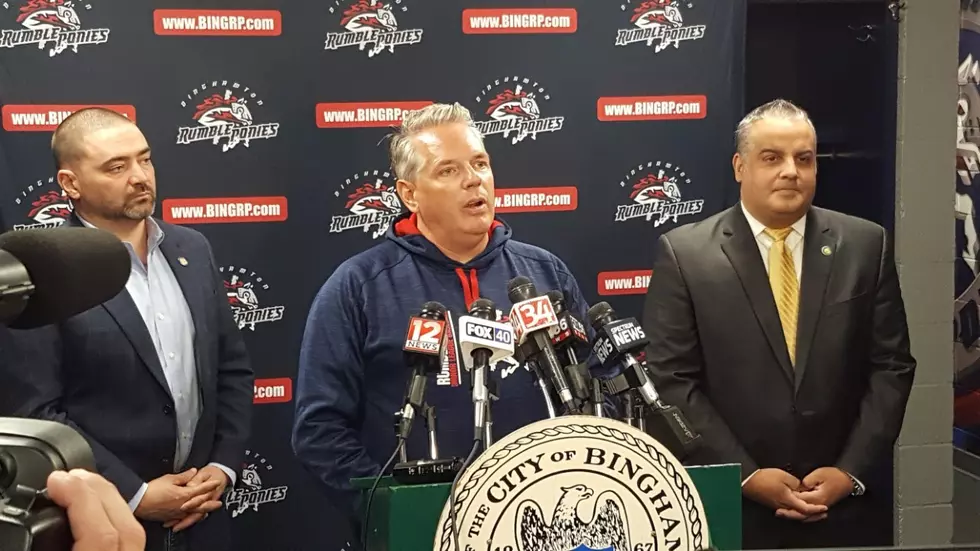 John Hughes and Elected Officials Vow to Fight MLB
WNBF News/Roger Neel Photo
John Hughes, the owner of the Binghamton Rumble Ponies, and several elected officials vow to fight Major League Baseball's (MLB) plan to eliminate 42 teams from their minor league systems including Binghamton.  That plan came out over the past weekend when columns appeared in several major publications including the New York Times and New York Daily News.
At a press conference yesterday afternoon at NYSEG Stadium, the home of the Rumble Ponies, Hughes was joined by City of Binghamton Mayor Rich David and State Senator Fred Akshar.  Together they vowed to do whatever they could to keep Double-A baseball in Binghamton.  Under the MLB proposal, also referred to as "The Houston Plan" (because the Houston Astros have devised the plan) 42 Minor League teams/cities would cease to have organized professional baseball following the upcoming 2020 season. MLB's contractual agreement with the Minor Leagues expires on September 15, 2020.
Binghamton along with Erie in the Eastern League would be left without MLB affiliations, the life blood of operations.  MLB teams currently pay the salaries and benefits of team's managers, coaches and players.  MLB wants to eliminate expenses and cut teams from their farm system.  Most, but not all, of the teams listed for affiliations that will be eliminated are at lower levels....either long-season Class A or short-season Class A like the nearby New York-Penn League.
Whatever is decided at those meetings will have no effect on the 2020 season which includes the Eastern League All-Star game in July at NYSEG Stadium. Hughes says the proposal will be discussed at the upcoming winter meetings.  Noted in Tuesday's press conference was the approximately eight million dollars in stadium improvements over recent years including funding from the City of Binghamton, New York State and owner John Hughes.