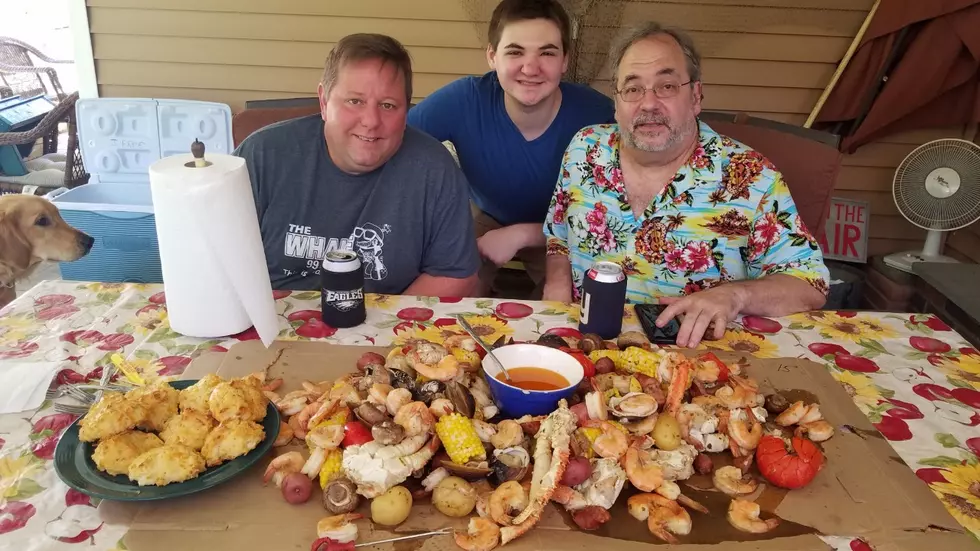 I Had a Great Father's Day Weekend [PHOTO GALLERY]
Chris Free Photo
I had a really nice Father's Day weekend. It started Friday when my friend Tom The Electrician stopped over the house and dropped off my birthday present a month and a half early.
My birthday isn't until August 4th but Tommy bought me a set of cornhole boards and bean bags. He painted them Eagles green and put Philadelphia Eagles logos on them. You can see pictures of them below.
Friday night Chris and I enjoyed some adult beverages around a fire on our patio. Saturday after work, I mowed the lawn. After the yard work, we took showers and went to mass Saturday night. Then we spent the rest of the night playing cards and enjoying more adult beverages out on the patio.
For Father's Day on Sunday, Chris and Ian joined forces to make a seafood boil. It included Lobster, crab legs, shrimp, clams, potatoes, sausage, corn on the cob, and mushrooms. They cooked it over charcoal in our backyard. You can see the pictures below
Ian's dad John joined us for dinner. I am grateful that John and I get along so well that Ian can spend Father's Day with both his dad and his stepdad.After dinner, we broke in the cornhole boards. We changed teams every game so we all took turns being each other's partner.
Enter your number to get our free mobile app
After about five games of cornhole, we retreated to the patio for dessert. That consisted of rhubarb dump cake that Chris made, and cookies from Fuddy-Duddy's in Owego. Chris then presented me with a card from Ian and Hagar, my 7 month old Golden Retriever. You can see pictures of the card below.
Inside the card was a frequent Players card for En-Joie Golf Club in Endicott. I've purchased one for myself the last two years, but this year with the pandemic, I didn't buy one. Ian and Chris pitched in to get me that as well.
So all that combined made for a great Father's Day. I hope you enjoyed yours as well.