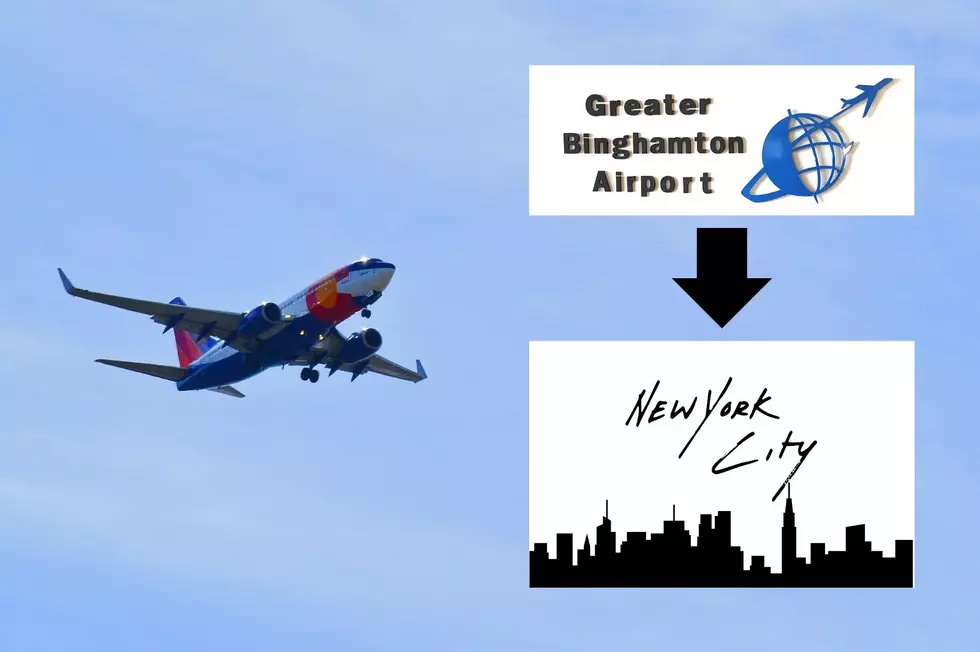 Greater Binghamton Airport to Offer Flights to New York City
James Kelly/WNBF and Canva.com
At a press conference on Friday, Broome County Executive Jason Garnar announced that the Greater Binghamton Airport will replace flights to Detroit with daily flights to New York City.
Delta Airlines will start flights from Binghamton to LaGuardia Airport twice daily starting on January 9th, except Saturday when only one flight will be offered.
From Sunday to Friday, flights will depart Binghamton at 5:25 am and 2:00 pm and return flights will depart from LaGuardia at 12:10 pm and 9:55 pm. On Saturdays, the single flight will depart Binghamton at 9:00 am and the return flight will depart LaGuardia at 7:00 pm. It will take roughly one hour from boarding at Binghamton to arriving in New York City.
"New York City is the gateway to the world," said County Executive Garnar. "Passengers flying out of BGM will have more destination options than ever before and with larger planes, we'll be able to have more travelers flying in and out of Broome County. With this expansion in service, along with our new direct flights to Florida, it's the perfect time to Fly BGM."
The announcement comes just weeks ahead of the inaugural flight on Avelo Airlines from the Greater Binghamton Airport to Orlando, Florida, currently scheduled for November 16th.
"This is a great opportunity for travelers that choose BGM," said Broome County Commissioner of Aviation Mark Heefner. "The early morning and mid-day flight times will allow for better access to more connections compared to our current flight time to Detroit. Additionally, our business and leisure travelers should be pleased with the larger plane that will provide at least two classes of service, creating more comfortable flights with additional amenities."
As opposed to the current flights to Detroit, which can accommodate 50 passengers, the new service to New York City will be able to seat 76 passengers.
Not only will the flight be shorter, there will be more service and more potential destinations for Broome County residents to transfer to at LaGuardia. For residents who have been clamoring for more service at the Greater Binghamton Airport, this is a huge win. And Heefner anticipates more good news for Broome County travelers in the future.
Tickets will go on sale on Saturday ahead of the inaugural flight on January 9th.
The Biggest Speed Traps In The Southern Tier
Take a Look at 2022's Luma Projection Arts Festival