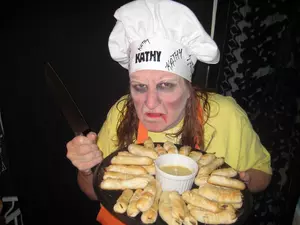 Frightening Foodie Friday: Soft Pretzel 'Severed Fingers' With 'Frog Brain' Dipping Sauce Recipe
Don Morgan/WNBF News
Real finger food! The spicy dipping sauce completes the treat (or trick.)
Soft Pretzel Fingers
(prep. time about 1 hour, including rising time.  Serves .. whoever has the GUTS!!!!!)
1 1/2 C. warm water (between 105 and 115 degrees)
a little under 1 tsp. sugar
1 package active dry yeast
1 egg
4 C. flour (can use a combination of white and whole wheat if you want)
1 tsp. table salt, plus coarse salt for topping
1 tsp. rosemary sprigs
slivered almonds
Frog Brain Dipping Sauce
1/4 spicy brown mustard
2 T. honey
2 T. sour cream
Add yeast to warm water and sugar in a mixing bowl.  Allow yeast to bloom about five minutes to become slightly foamy. Line baking sheets with parchment paper. Beat egg with a little water until yolk and white are well blended. Set aside.
When the yeast has bloomed, add two cups flour and, with a wooden spoon, stir until well blended.  Stir in table salt and keep stirring in flour until dough is easy to handle. Dust a flat surface with flour and turn out dough. Knead about five minutes, adding more flour as needed.  Lightly grease the mixing bowl with olive oil and return dough to bowl, rolling it around to coat with oil. Cover with a clean towel and let rise in a warm area for about a half hour. Heat oven to 425 degrees.
After the dough has risen, punch down and turn out on floured board. Roll to about a half inch thick.  Cut into strips that are about the length of a finger. Gently roll between palms to form fingers. Place on lined cookie sheets and mark creases in the joint areas with a small knife. Brush with egg wash and sprinkle with coarse salt. Insert slivered almond 'fingernails' and rosemary sprigs for 'knuckle hair.'  Bake for about 15 to 20 minutes until golden brown.
Combine the mustard, honey and sour cream for the dipping sauce. Depending on how spicy the mustard is, you could add a small amount of horseradish for more heat.
Obviously, outside of Halloween, you can make regular soft pretzels with this recipe. Just make longer dough snakes and form into the shape of a traditional pretzel.
10 Places to Purchase a Pumpkin in the Southern Tier
Top Five Most Popular Halloween Costumes in Upstate New York