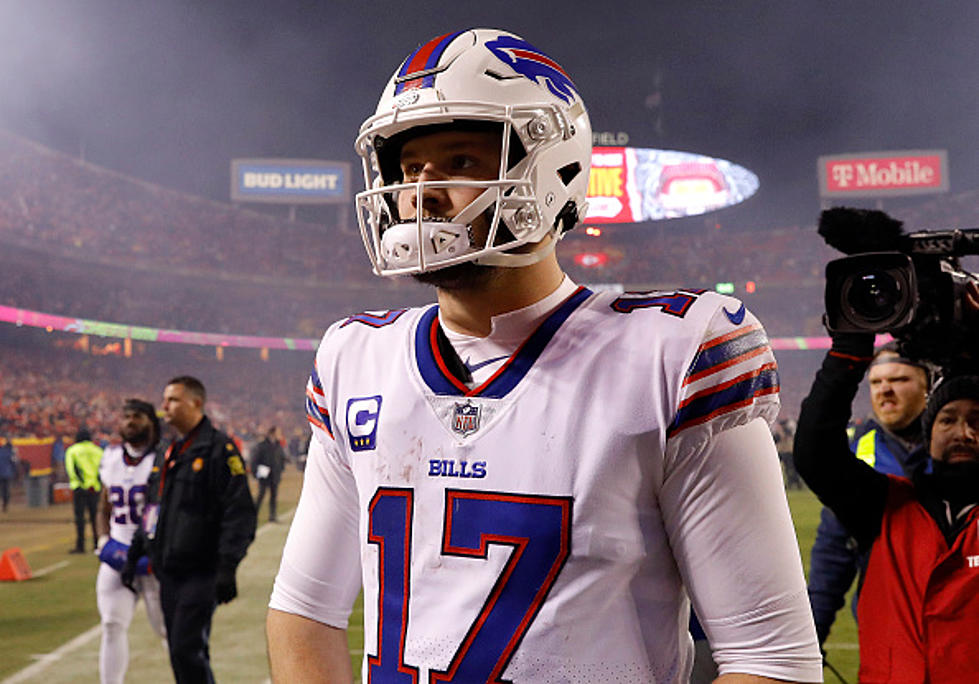 Buffalo Bills Players Try To Get Josh Allen To Sing
Getty Images
I tell you what, the Buffalo Bills and the Bills Mafia are just having too much fun. Last week, the B Mafia helped out injured Miami QB Tua Tagovailoa's foundation after he was injured in the Cincinnati game.
It's also easier having a good time when you have an AWESOME 17 point come-from-behind win over the Baltimore Ravens. They are tied for first place in the AFC East with the Miami Dolphins and the "bickering Bills" are a distant memory.
It's hard to believe that less then five years ago, the Bills were cellar-type dwellers and hadn't been in the playoffs for 17 years. The culture changed with the additions of head coach Sean McDermott in 2017 followed the next year with QB Josh Allen.
Their love for the team has spread to the locker room and it shows. It helps that they are winning but it also helps that Allen doesn't' take himself too serious. Here's a perfect example.
Buffalo Bills Player Getting Their Groove On In The Locker Room
A couple of the players were in the locker room when they decided to make a video, Dion Dawkins, Isaiah McKenzie and others began to sing that Backstreet Boys classic, "I Want It That Way." It feels weird calling that a "classic" but who am I to judge.
As they sing along to the song, they attempt to get Allen to sing along to the song. Here's how that went.
Josh Allen went to the University of Wyoming so maybe he's more of a country fella and he may have NO idea who the Backstreet Boys are. Either way, it's hard to dislike the Bills, it kind of reminds me of the NY Yankees, it isn't easy disliking Derek Jeter or Aaron Judge.
I'll leave you with this as the Bills get ready to take on the Pittsburgh Steelers on Sunday beginning at 1 p.m.
13 Pictures That Show Just How Crazy and Loyal Buffalo Bills Fans Are
Buffalo Bills 2022 Week by Week Schedule