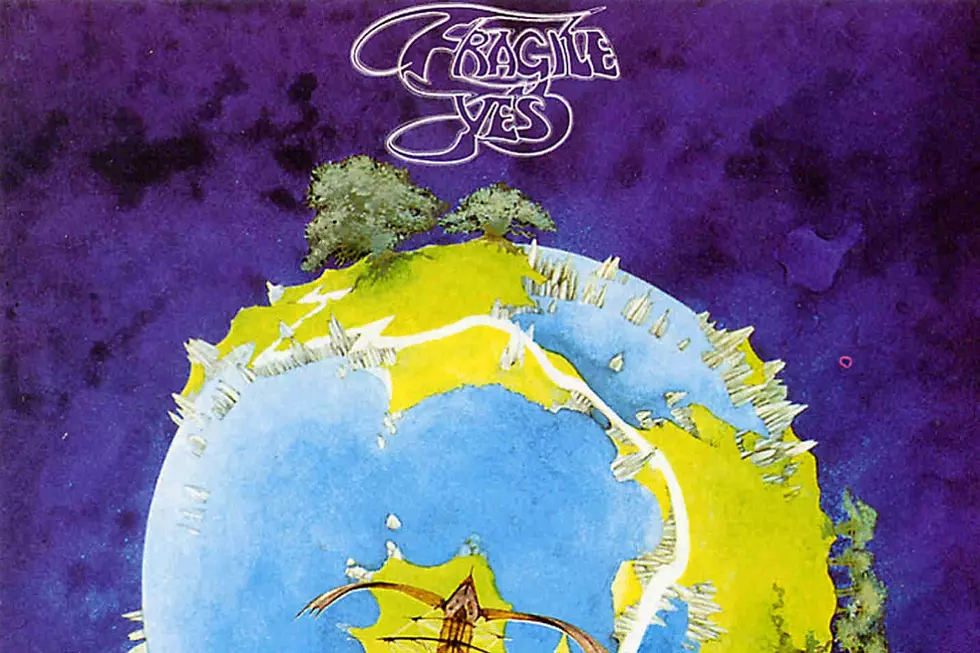 How Yes Found Their Classic Lineup on 'Fragile'
Atlantic
Yes has existed in so many different forms, with so many different members, that it's difficult for all but the band's most ardent fans to keep it everything straight. Yet, even casual fans can name the Yes lineup that created Fragile, the second studio LP the group recorded in 1971.
Some of the guys had been there since the beginning of the British progressive rock outfit, including singer Jon Anderson, bassist Chris Squire and drummer Bill Bruford. Guitarist Steve Howe had joined the year before, in time to debut his intricate fretwork on The Yes Album, which came out in February 1971.
Tony Kaye was on keyboards for that album, although he wasn't long for Yes. Anderson and Kaye had some personal issues and the rest of the band was bothered by Kaye's reticence to play electronic keyboards.
Rick Wakeman didn't have the same hang-ups about equipment. The keyboardist for Strawbs, who also had played on sessions for Cat Stevens and David Bowie, was enthusiastic about playing any type of keyboard, including the synthesizers that would feature so prominently in Yes' future works. The new lineup was settled as the band rehearsed material for the next album, starting with "Heart of the Sunrise."
"That marked the first real appearance of the Mellotron and the Moog – adding the flavor of those instruments to a piece we'd basically already worked out," Wakeman said in Dan Hedges's biography of the band.
Yes had toyed with the idea of making a double album, combining live and studio work, or flying to the U.S. to record in Miami, but those ideas had to be scaled back – partially because of the addition of Wakeman. The keyboardist's new, electronic equipment didn't come cheap, especially to a group that had only just begun to taste commercial success. In the interest of conserving time and money, Yes scaled back its ambitions to a single disc. To further such expedience, it was suggested that the new LP should include solo compositions from each member.
"It was Bill Bruford who thought of the concept of doing individual tracks, not to mention the album title Fragile," Howe told Guitar World in 2014. "But his original idea wasn't that each guy should do a completely solo track, the way I did mine and Rick Wakeman did his. Bill's concept was more like he did with his own track, 'Five Per Cent for Nothing,' where the group were utilized at his command—like, 'You play this and you play that.'"
Some of the tracks featured the whole band (Anderson's "We Have Heaven"), while others were solo exercises (Howe's classical acoustic "Mood for a Day"). Because Wakeman had a solo contract with A&M, he wasn't allowed to write his own song, so he arranged a piece by Johannes Brahms ("Cans and Brahms").
Listen to Yes Perform 'Roundabout'
Wakeman's record deal limited his other Fragile credits, although not his keyboard contributions to the collaborative material, despite not being named as a co-songwriter. The other members faced no such limitations, working in tandem on epic tracks, including the eight-minute opener, "Roundabout." Howe and Anderson began writing that song on tour, becoming inspired by the roundabouts the tour bus would drive through.
"Jon and I were in a hotel room up in Scotland when we started writing that song," Howe said. "And with 'Roundabout,' we had all these bits of music, tentative moments. I was big on intros back then, and the classical guitar intro I came up with for 'Roundabout' was really one of the most signature things. And I believe I thought of the backward piano [also in the intro], but I won't lay 100 percent claim to that, in case I'm wrong. But basically the song just kept developing. Jon and I presented as much as we had to the band, and the band did a fair amount of input and arrangement. What Yes were brilliant at, even before I joined, was arranging skills."
"Roundabout" ended up becoming a particularly brilliant moment for Yes, which scored its first massive hit (No. 13 in the U.S.) with an edited version of the propulsive song. The album also marked the first time Yes worked with artist Roger Dean, who painted the cover and would create future artwork for the band's releases – not to mention the group's iconic logo.
Another of Fragile's "full band" tracks, the Anderson-penned "Long Distance Runaround," became a staple of FM radio. The success was borne out on the album charts. After being released in Britain on Nov. 26, 1971 (January 1972 in the states), Fragile went to No. 7 on the U.K. charts and No. 4 in the U.S.
Although some critics were unimpressed with the album, with writers thinking that the band were attempting to "show off" more than trying to make great music, Fragile has become a well-loved classic and a prog-rock highlight. Wakeman considers one of the album's tracks to be a pinnacle of progressive rock.
"When anybody asks me what prog rock is about or whatever you'd like to call it – symphonic rock, prog rock, or whatever – could I play them something or give them an example," Wakeman told Notes From the Edge. "I'd play 'Heart of the Sunrise.'"
Top 50 Progressive Rock Albums
From 'The Lamb' to 'Octopus' to 'The Snow Goose' — the best LPs that dream beyond 4/4.
Steve Howe Released One of Rock's Most Hated Albums