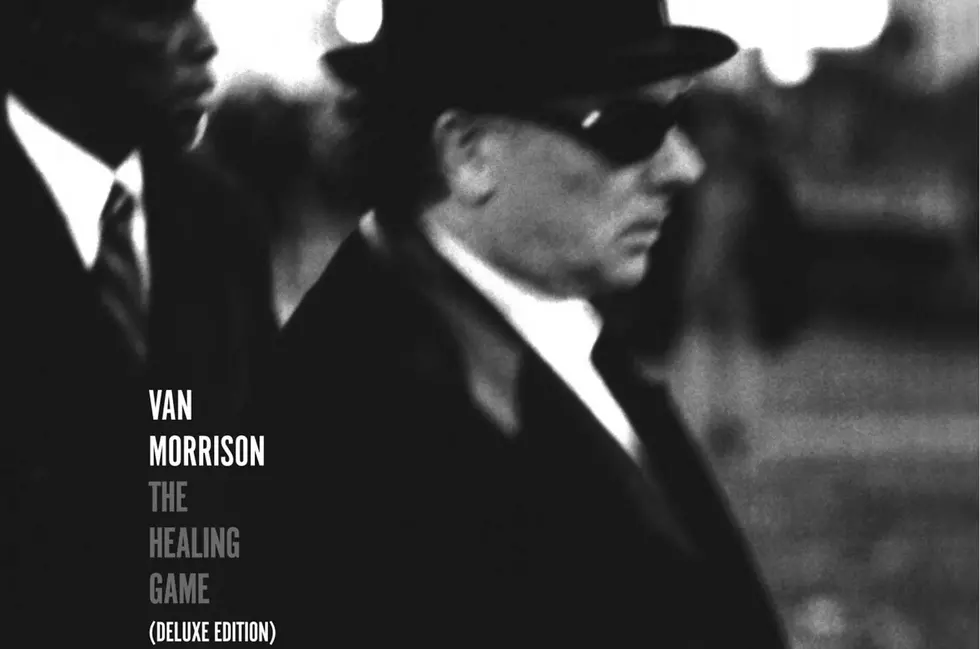 Van Morrison's 'The Healing Game' Expanded to Three Discs
Exile / Legacy Recordings
Van Morrison's 1997 album The Healing Game is getting expanded to three discs, including a live show recorded at Montreux that year.
The three-disc Deluxe Version of the album includes the original LP on one disc, plus five additional songs from the era, including a couple of single versions; a disc of sessions that features alternate versions and tracks with John Lee Hooker, Carl Perkins and others; and a live set from July 17, 1997, that spotlights some of the album's tracks, as well as a few classics from Morrison's catalog.
The set will be released on March 22 on three CDs, in digital formats and as a one-LP vinyl edition. You can see the track listing below.
The collaborations with legendary bluesman Hooker come from Hooker's album Don't Look Back that was produced by Morrison and came out the same day as The Healing Game.
Morrison's LP followed two jazz records made with former James Brown saxophonist Pee Wee Ellis, British jazz favorite Georgie Fame and bassist Alec Dankworth, all of whom accompany him on The Healing Game. The 10 tracks marked his first album of all-original, self-penned material since 1989's Avalon Sunset.
Van Morrison, 'The Healing Game' (Deluxe Edition) Track Listing
Disc 1 – (The Original Album … Plus)
1. Rough God Goes Riding
2. Fire in the Belly
3. This Weight
4. Waiting Game
5. Piper at the Gates of Dawn
6. Burning Ground
7. It Once Was My Life
8. Sometimes We Cry
9. If You Love Me
10. The Healing Game
Bonus tracks
11. Look What the Good People Done
12. At the End of the Day
13. The Healing Game (single version)
14. Full Force Gale '96 (single version)
15. St. Dominic's Preview
Disc 2 - Sessions & Collaborations
1. The Healing Game (alternate version) (previously unissued)
2. Fire in the Belly (alternate version) (previously unissued)
3. Didn't He Ramble (previously unissued)
4. The Healing Game (jazz version) (previously unissued)
5. Sometimes We Cry (full length version) (previously unissued)
6. Mule Skinner Blues
7. A Kiss to Build a Dream On (previously unissued)
8. Don't Look Back - John Lee Hooker
9. The Healing Game - John Lee Hooker
10. Boppin' the Blues - Carl Perkins & Van Morrison (previously unissued)
11. Matchbox - Carl Perkins & Van Morrison (previously unissued)
12. Sittin' on Top of the World - Carl Perkins & Van Morrison (arranged by Van Morrison)
13. My Angel - Carl Perkins & Van Morrison (previously unissued)
14. All By Myself - Carl Perkins & Van Morrison (previously unissued)
15. Mule Skinner Blues - Lonnie Donegan & Van Morrison
Disc 3 - Live at Montreux - July 17, 1997 (all tracks previously unreleased)
1. Rough God Goes Riding
2. Foreign Window
3. Tore Down A La Rimbaud
4. Vanlose Stairway/Trans-Euro Train
5. Fool For You
6. Sometimes We Cry
7. It Once Was My Life
8. I'm Not Feeling It Anymore
9. This Weight
10. Who Can I Turn To (When Nobody Needs Me)
11. Fire in the Belly
12. Tupelo Honey/Why Must I Always Explain
13. The Healing Game
14. See Me Through/Soldier of Fortune/Thank You (Falettinme Be Mice Elf Agin)/Burning Ground
 
 
Top 100 Classic Rock Artists