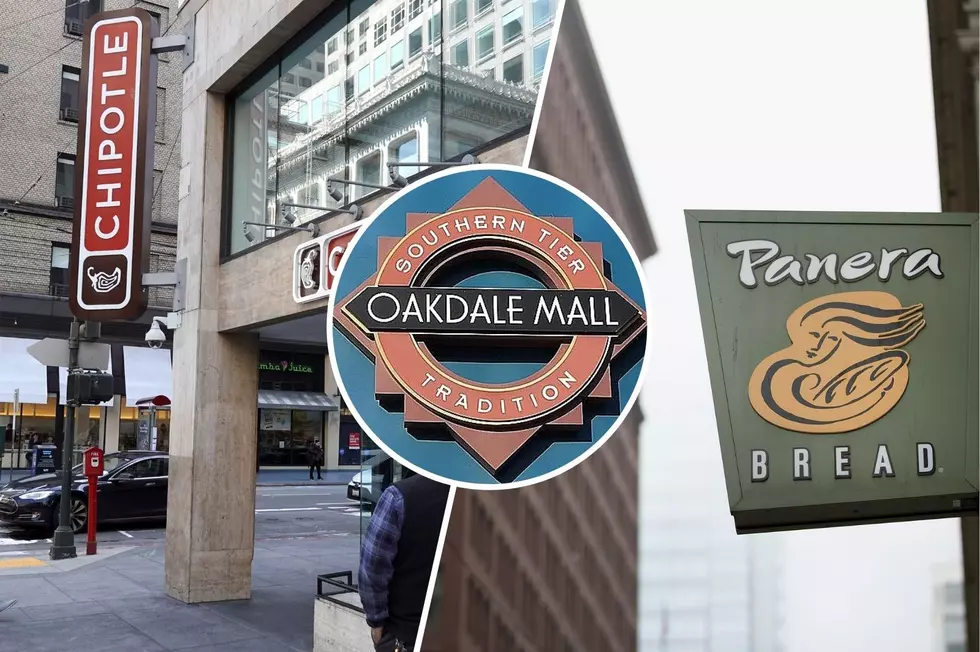 Two Chain Restaurants Reportedly Have Sights Set on Oakdale Mall
Photo by Justin Sullivan/Getty Images, Photo by Scott Olson/Getty Images, Canva
Officials in the Village of Johnson City are offering few details but have confirmed that a couple restaurants already present across the river in Vestal plan to open locations at the Oakdale Mall.
Chipotle and Panera Bread are reportedly planning on occupying space in what had been Macy's on the south side of what will be the Oakdale Commons.
JC Sparks now owns what had been a huge retail space and a major draw for shoppers in Broome County since it opened on October 1, 1975.  The new owners announced in January its plans to transform the mall into a mixed-use facility with offices, retail and other tenants.  The site already has a new fitness center opened a few weeks ago by Ascension Lourdes, the offices of Broome Tioga Workforce by the New York State Department of Labor, a professional wrestling training facility and event venue and a big local brewery operation.
While there have been several media reports this week citing Johnson City Mayor Martin Meany as a source confirming building plans had been submitted for the two restaurants, the owners of the future Oakdale Commons and the chain restaurants have been largely quiet about the development.
The mall has seen its anchor stores move away over the decades, including Sears and Montgomery Ward, which once occupied the site now being discussed for the Chipotle and Panera Bread locations.  Burlington, formerly Burlington Coat Factory recently began the move out of the Johnson City location to a new site across the river in the Town Square Mall at space once occupied by craft supply store A.C. Moore that closed and sold off assets to Michaels Crafts in 2020.
Businesses That Would Bring People To The Oakdale Mall
Here are 50 of your favorite retail chains that no longer exist.