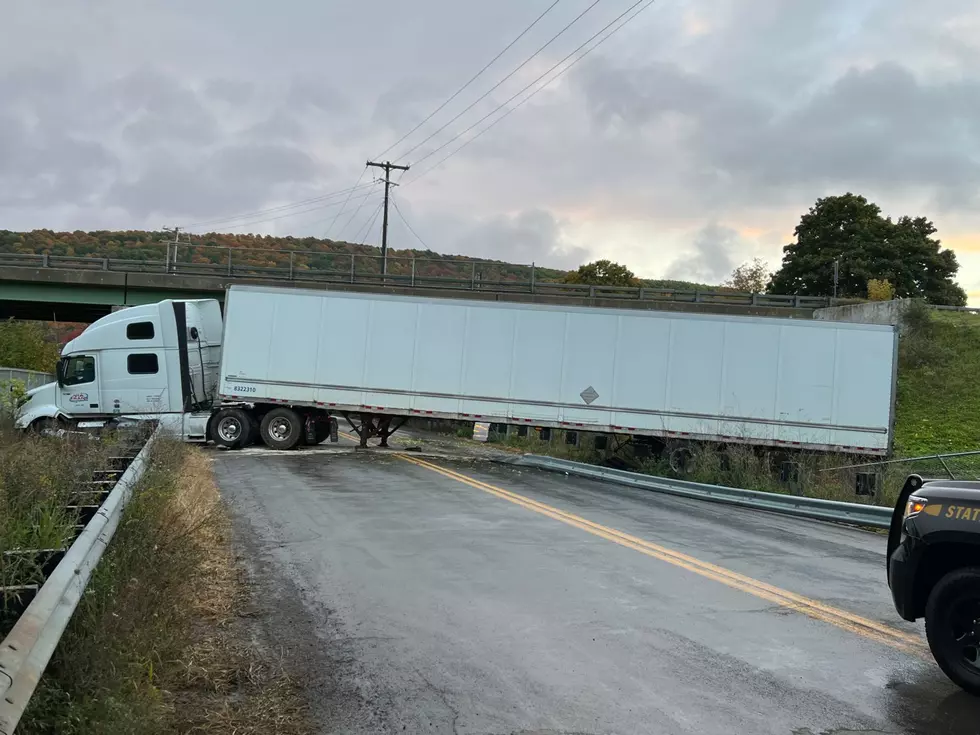 Tractor Trailer on I81 in Cortland County Ends Up on Road Below
New York State Police photo
New York State Police are investigating the cause of a tractor trailer crash in Cortland County that ended up with the rig on a road below the interstate, entirely blocking traffic. 
Authorities say the crash happened at around 5:30 in the morning Saturday, October 8 when the tractor trailer driven by a 72-year-old man from Longuil, Quebec, Canada went into the median on interstate 81 North in the Town of Homer. The rig traveled down to the roadway below.  The truck and trailer totally blocked Little York Lake Crossing located below the highway as it came to rest against a guardrail.  
The driver was not injured. 
The authorities have not said what investigator believe caused the early morning crash that blocked the lower road for several hours. 
The New York State Police also have not provided information about what the tractor trailer was carrying, where it originated or where it was headed. 
The New York State Department of Environmental Conservation Spill Response team did come to the location to deal with leaking fuel. 
A trooper from the Commercial Vehicle Enforcement Unit also responded to the scene as did fire-police and Morey's towing. 
There has been no word if tickets had been issued or are pending.  The driver's name also had not been released. 
Little York Lake is a rare sight on an interstate roadway. The lake is located right next to the highway and is more than just a shallow pond. Upper Little York Lake is a deep-water lake that is dotted by several seasonal cottages with Dwyer Memorial Park located on the south end of the lake.  
These Tiny Upstate Villages Each Has An Amazing Historical Footnote
Each of the 13 villages on this list has less than 1,000 residents. Still, they all have something worth stopping by for a visit too. Something historic, fun, or just plain fascinating, each is worth a side trip. Visit the Three Bears in Ovid (pop. 602). You won't see that anywhere else in the U.S. Stop and say hello to TV stars "The Beekman Boys" in Sharon Springs (pop. 558). And why is the National Abolition Museum and Hall of Fame in Peterboro (pop.176)? Each of these tiny map dots have a great story to tell.
Celebs Share Their Personal Paranormal Stories