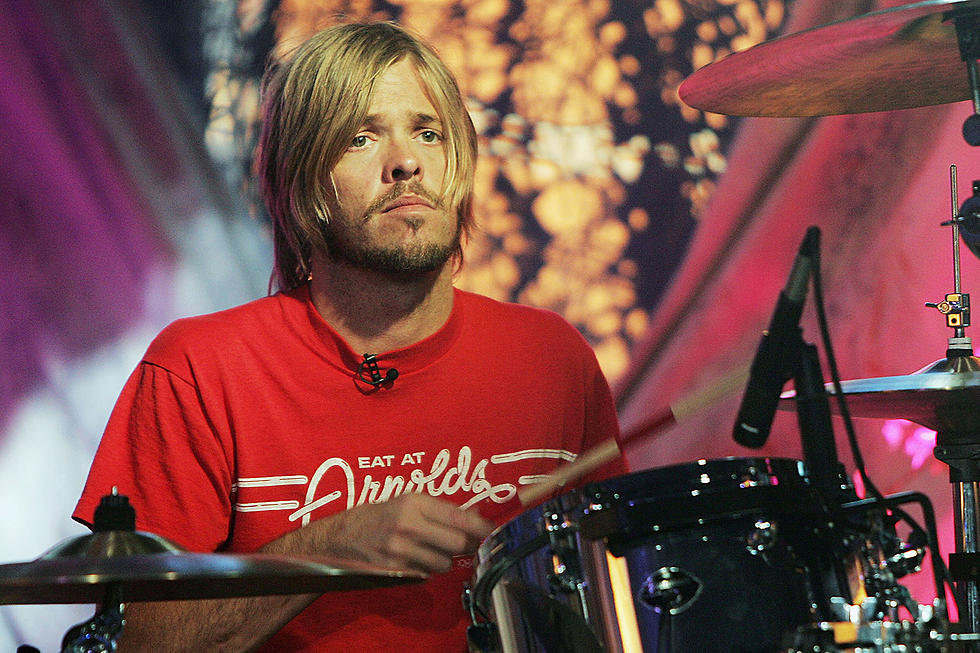 When Taylor Hawkins Endured 'Torture' for First Big Tour
Scott Gries, Getty Images
Prior to joining the Foo Fighters, drummer Taylor Hawkins endured six months of "torture" during his first major tour.
Hawkins, 50, was pronounced dead at his hotel in Bogota, Colombia, on Mar. 25. In tributes from musical artists around the world, it's become clear just how loved and respected he was.
But that wasn't always the case, as Hawkins told Classic Rock in a newly-republished article from 2014. Around 20 years earlier, the drummer explained, he was in a "sappy band going nowhere" and working in a music store when he heard that Canadian singer Sass Jordan needed a drummer for her European tour with Aerosmith. "I was like, 'Fuck! I'll do that!' Even if I never do anything else," he recalled. "I had a stupid confidence. I thought I was the best drummer in the world. I really did. A lot of people said I was great all the time. And those who didn't, I thought they were just stupid. That was just bravado."
He secured an audition through Jordan's musical director and guitarist Stevie Salas, known for his work with Rod Stewart, Mick Jagger, American Idol and more. "I went there thinking I already had the gig, so I was going to show them how fast I could play the drums," Hawkins said. "I blasted through a couple of songs. Stevie Salas stopped me and said, 'Hey. Did you listen to the tempo of these songs?' I was like, 'Yeah! I know all of them.' But he told me I didn't know them. He took me outside and told me to listen to the music and think about the way it was played and the tempo, and to not play drum solos."
Admitting he didn't really process what Salas had told him, Hawkins returned the next week for his second chance. "He wasn't happy. He said I wasn't ready for this gig, but he said he saw something in me and gave me the job. He said, 'I'm going to bust your fucking ass,' but I didn't care… $375 a week, a bunk on a bus and trip to Europe. But that following month in rehearsals, he wore me out. There'd be times when I wasn't sure if I'd be coming back the next day. He'd be like, 'Too fast!' or, 'Too slow!' … It was intense."
The experience of the Aerosmith tour was also intense. "Stevie Salas would be screaming in my face during the shows, 'This ain't no high school gig!' and would tell me he thought I should probably go home," Hawkins revealed. "He tortured me! Fucking tortured me! For six months." But he added: "And I still love him. He'll always be one of my mentors, like Dave [Grohl]. He was the one guy who beat it into my brain that I wasn't the best drummer in the world, that I have work to do. But he said I had something that couldn't be taught."
Hawkins noted that Salas "ripped my ego out of my body and put it back the way it should have been," reporting: "I still talk to him every couple of months. He comes to shows and I'll get nervous."
Top 30 Grunge Albums
From Nirvana and Neil Young to Melvins and Mudhoney — the best works to come from the '90s movement.