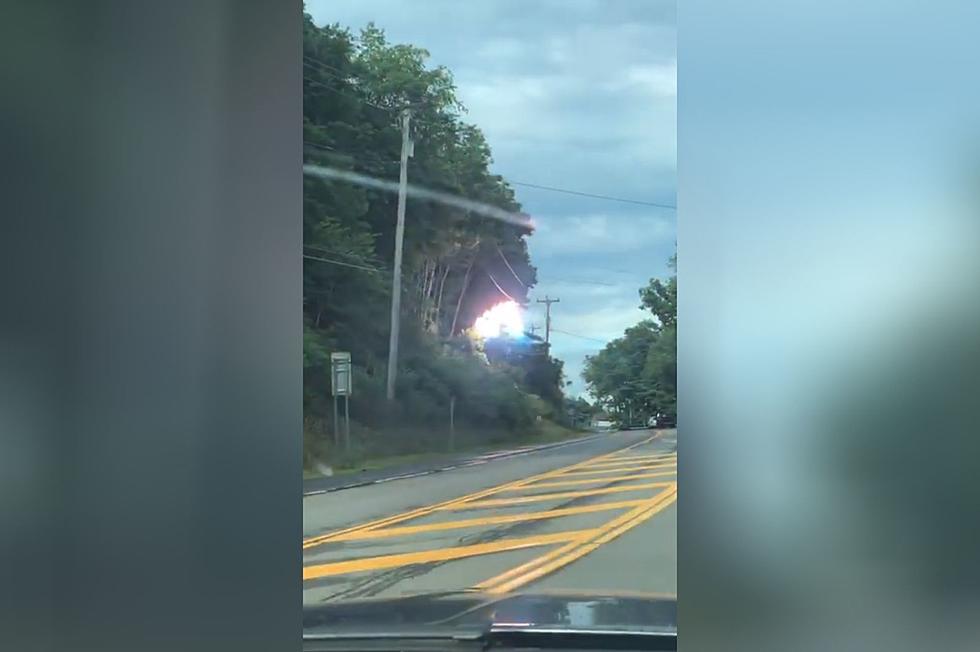 Branch Causes a Boom In Greene [VIDEO]
Credit: Breven Gilmore via Facebook
Ah summertime. Everyone loves summer, well almost everyone, and this is my favorite season. But there is one thing that I, and I'm sure others don't care for in the summertime, and that's thunderstorms.
This past week, we've experienced a couple of nasty thunderstorms. And when they bring down power lines, it can be a very dangerous situation. One such situation occurred on Route 12 up in Chenango County this week.
Breven Gilmore sent us this video that was filmed in his car as he was making his way up Route 12 in Greene Thursday of a branch on a power line that caused a big scene. Check it out below.
Storms had passed through the area on Thursday afternoon. Now who knows if the branch in the video above had fallen on the power line before or during the storm, but one would think the storm likely brought the line down. Anyway, you can see what can happen.
It's not that I don't enjoy the rumble of thunder or the sound of rain on the roof (especially the roof of my camper), but one of the reasons I would rather they be few and far between, is that many dogs, including some of the dogs I've had, get really nervous during thunderstorms.
There has been nothing I can do to calm them down. I've even purchased 'Thunder Shirts' that are designed to help lessen their fear, but for my dogs, it didn't work. My two current  greyhounds and Italian greyhound are thankfully not concerned or frightened by the sound of thunderstorms.
For us in the radio business, it can be a nightmare. especially for our engineers. Thunderstorms love to bring havoc to transmitter sites, towers and power lines. If power goes down anywhere in the vicinity of our sites, obviously our transmitters would shut down. Fortunately, we have back up equipment to keep them humming, so it's rarely an issue.
At home, I worry about all the tall trees around my house. Over the many years, I've seen heavy thunderstorms bring down some big branches. I've lost a couple of sheds in my backyard and had major damage to the fencing that surround my house. Fortunately, I had no tree damage to the house, but there are trees within reach that could.
Enter your number to get our free mobile app
KEEP READING: Get answers to 51 of the most frequently asked weather questions...