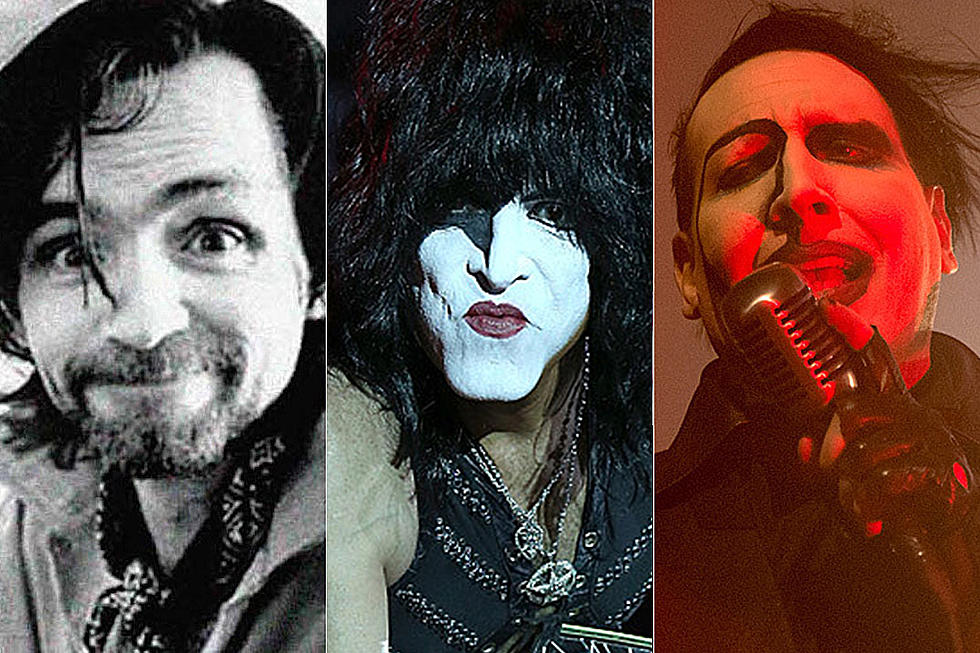 Paul Stanley Rips 'Pathetic' Marilyn Manson for Covering a Charles Manson Song
Hulton Archive, Paul Kane, Daniel Boczarski, Getty Images
Marilyn Manson shared a YouTube clip of his previously recorded version of the song via Twitter earlier today, offering no further comment about it or Charles Manson's death. The "Beautiful People" singer, who was born Brian Hugh Warner, came up with his stage name by combining Manson's last name with the first of actress Marilyn Monroe.
"[It's] pathetic when somebody [whose] career never really took off is desperate enough to try for publicity by connecting himself to the news of a murdering scumbag's death," Stanley said of Manson's "Sick City" cover on his official Twitter page.
Charles Manson was initially sentenced to death, and then to life in jail, for his ringleader role in the grisly murders of seven people including actress Sharon Tate in August of 1969. According to prosecutors, Manson and his "family" of followers were trying to incite a race war which he believed had been described in the Beatles song "Helter Skelter."
Prior to Manson's rise as a cult leader, he was a budding musician. In between his arrest and conviction for the aforementioned murders, Manson released an album of previously recorded material entitled Lie: The Love and Terror Cult. It featured "Sick City" and 13 other songs. In 1993, Guns N' Roses controversially included their version of another of those compositions – "Look at Your Game, Girl" – as a bonus track on the 1993 The Spaghetti Incident? covers album.
According to the MansonWiki, Marilyn Manson updated "Sick City" during the sessions for his 2000 album Holy Wood (In the Shadow of the Valley of Death), and previously released it exclusively via podcast on Valentine's Day of the same year.