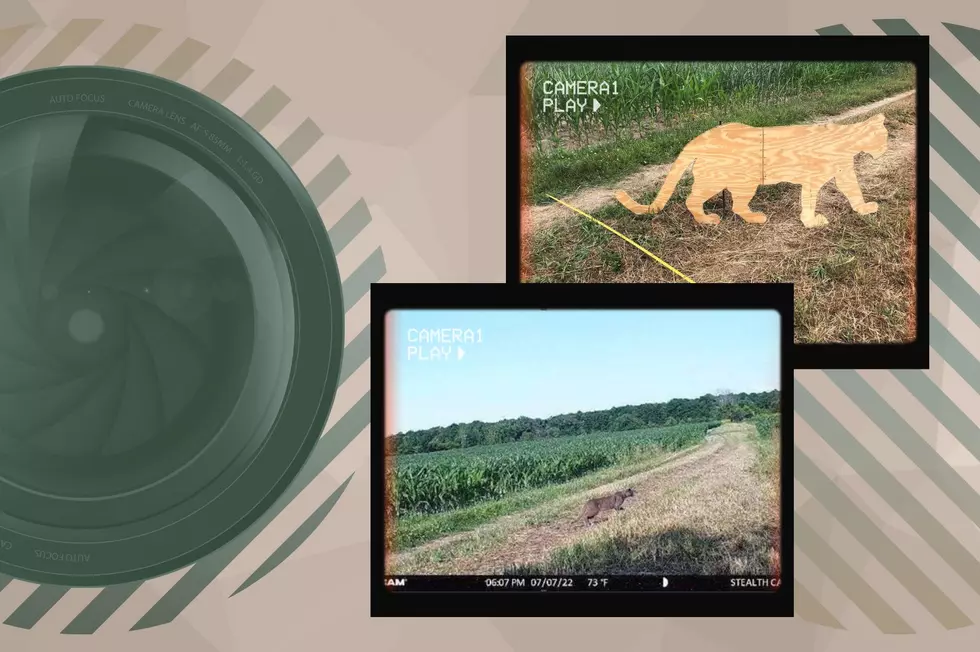 New York DEC Debunks Mountain Lion Trail Cam Picture In The Most Creative Way
New York State Department Of Environmental Conservation via Facebook/Canva
Ah, the old are there or are there not, Mountain Lions still roaming the lands in New York State and the Commonwealth of Pennsylvania question. Well, I once thought I had spotted a UFO flying by in the night sky but was it a UFO? Of course, it was an unidentified flying object to me, but was it an alien spaceship? I thought so, but who knows for sure.
So, what I'm saying is, what a person may have thought they spotted, such as a mountain lion, maybe it was something else. I am not about to get into any debate about this, since I'm not an expert on the subject.
But, I will add this -  last year, one of our staff did some research, wrote an article on Mountain Lions, and found that "In 2011, the U.S. Fish and Wildlife Service unofficially deemed the eastern cougar (or mountain lion) extinct. Then, in 2018, it officially declared that the eastern version of the animal was in fact extinct."
Either way, extinct or not, present in New York and Pennsylvania or not, you'll get a kick out of this from the New York State Department of Conservation. According to their Facebook page, the NYS DEC was getting inquiries about a mountain lion captured on a trail cam in Western New York.
They went on to explain that their ECOs and wildlife staff worked with the homeowner of the property, and put an average-sized cutout of a Mountain Lion in the same location within the trail cam view. If you look at the pictures below, you will see that there's a sizable difference, and whatever that animal was, the NYS DEC debunks the mountain lion claim.
Was it a cougar, a cat, or maybe a creature from another planet? Who knows, but there are certainly a lot of theories and funny comments on the NYS DEC Facebook page. What are your thoughts?
via New York State Department of Conservation Facebook
Talk a Walk on the Wild Side at the Rosamond Gifford Zoo in Syracuse
The Rosamond Gifford Zoo at Burnet Park in Syracuse is very affordable and has some unexpected surprises that will keep you coming back over and over.
Keep Slithering Down The Page To See All The Snakes of NYS
7 Places To Play With Your Pup in the Southern Tier