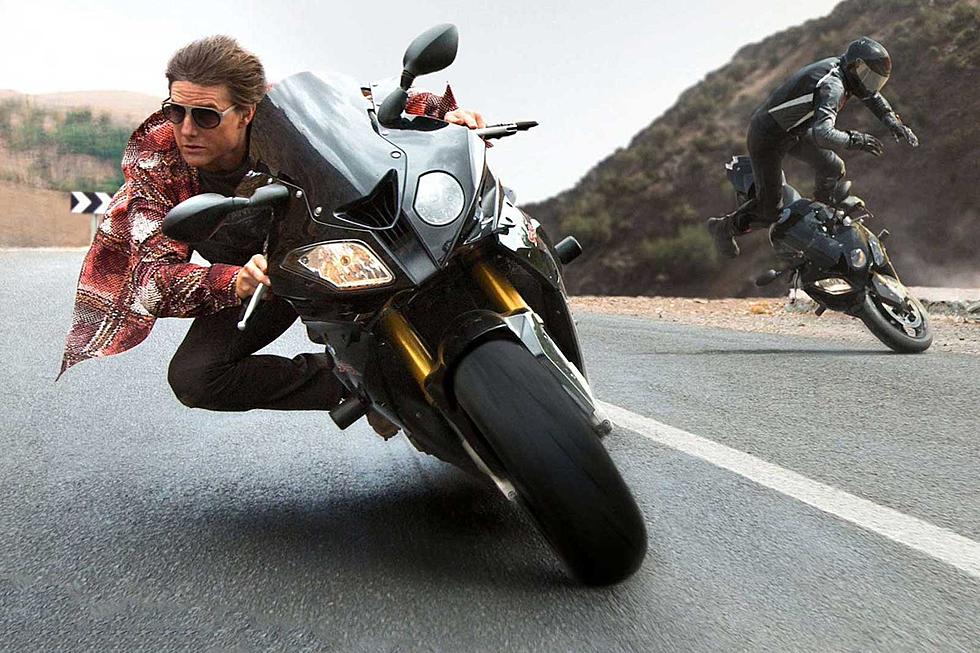 Tom Cruise Announces the Title of 'Mission: Impossible 6' With First Crazy Photo
Paramount
I am thrilled to announce that Tom Cruise is now on Instagram! Will he use the social media platform to post selfies in stunt gear? Will his Instagram stories be filled with daily inspirational L. Ron Hubbard quotes? He sure as heck better upload some running video montages or he's losing at least one follower. But my excitement has led me to bury the lead here – via Instagram, Cruise has announced the official title of Mission: Impossible 6 along with the first official photo. And yes, he is doing something rather insane in that photo, what else did you expect?
The sixth Ethan Hunt adventure will be directed by Rogue Nation's Christopher McQuarrie, and will be titled Mission: Impossible – Fallout. Peep the official title announcement below:
Though the announcement arrived with the first official (though vague) synopsis, teasing that Ethan Hunt and his IMF team will be in "a race against time after a mission gone wrong," it provided no further clue as to what exactly the subtitle means. But it's obvious – Cruise will be falling out of a lot of things, like a moving helicopter amid icy mountains, as teased in the new photo below, or a building, as almost teased in a recent set video in which Cruise slipped and hurt himself (for the second time during production). In the caption, Cruise said they "upped the ante" for the new movie, which means pure insanity is on the way, considering this is a franchise in which Tom Cruise rides along the side of a plane taking off and scales the Burj Khalifa. So, prepare for your mind to be blown to tiny pieces.
Mission: Impossible – Fallout will feature the return of Alec Baldwin, Simon Pegg, Ving Rhames, Michelle Monaghan, reprising her Julia, and everyone's fave, Rebecca Ferguson's Isla Faust. Angela Bassett, Vanessa Kirby, and a mustachioed Henry Cavill will also star. We know the trailer is on the way soon, so keep an eye out, and get ready for massive amounts of running and falling, courtesy of Tom Cruise, when the film hits theaters July 27.
Gallery – Ranking Every Tom Cruise Action Movie: