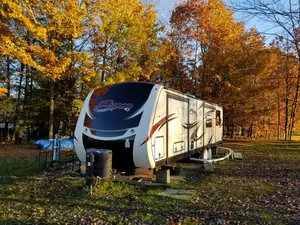 Is Is Legal To Live In A Camper Fulltime On Your Own Property?
Don Morgan
The most wonderful day of the year was May 1st (and 2nd.) For me, that is. Because that is the day when the camping season begins where I camp. The word 'camp' is used loosely since it's not what the true meaning of camping is. I consider camping more like being out in the woods with a tent, sleeping bag, and few necessities.
On opening day, and the day after, I undo everything I did at the end of October. Basically, un-winterize (is that a word?) my camper, including plugging in the electric water and sewer, opening the slides, putting all the lawn furniture and tacky lawn ornaments out, and the list goes on and on.
It's exhausting, but a good feeling once everything is back in its place. My wife, the dogs, and I spend time at the campground most weekends and while on vacation, but some live in their campers the entire season.
And there are those who live full-time year-round in their travel trailers, 5th wheels, and RVs year-round. the term is fondly called 'Snowbirds'  - people who summer in the north and winter in the south or southwest of the country.
Campers can be outfitted to be lived in year-round, but is it legal to do so other than in a campground or RV park, like on your own property for example? Well, according to the Boondocker's Bible website, it depends on the state or county you reside in.
Some municipalities like medium and larger towns and cities have certain ordinances and codes that must be adhered to, same as your home is. A small town or countryside may have fewer rules and ordinances.
Most likely no matter where you park it, you will need to be hooked into a septic tank or community sewer system. Just using the camper-provided black water tank won't cut it. And according to Boondocker's Bible, there's the issue of electrical hook up and the number of people occupying the camper full-time. There are rules for each.
So, it's possible you are allowed to live full-time in a camper, RV, Travel trailer, etc. on your own land, but you should check with your local code enforcement agency first.
Personally, living in the northeast, I don't think I could keep my camper warm enough through the winters we experience. Plus the limited amount of space would be an issue. I'd take to the road for warmer climates.
OUT AND ABOUT: Why We Love To Camp
This Luxury Log Cabin in Binghamton Will Leave Your Jaw on the Floor
Feast your eyes on this luxury log cabin which is nestled away in the woods in Binghamton and boasts not only a pond, but a custom-built batting cage, wraparound porch, and more. This property is located at 3275 Brown Road in Binghamton and is listed for sale by Michael Derosa Exchange, LLC.
31 Random Bits of Knowledge That Could Help Save Your Life One Day