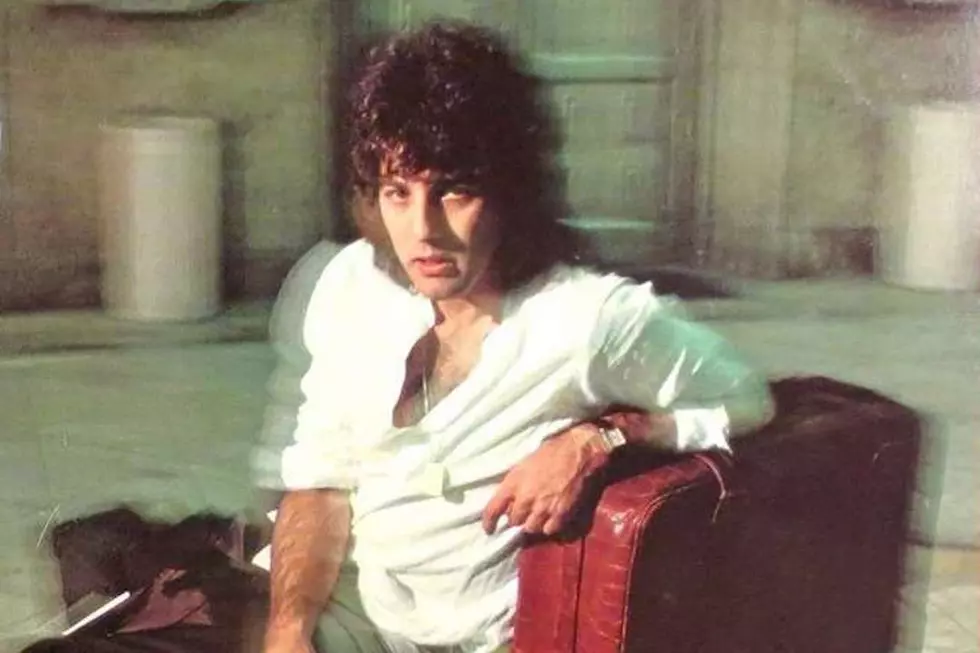 How Robert Fleischman Began Journey's Pre-Steve Perry Transition
Arista
Robert Fleischman might have made a perfectly serviceable singer for Journey. He possessed an AOR-style voice that was then in vogue and the songwriting talent to co-compose such late-'70s band favorites as "Wheel in the Sky" and "Anytime."
Then came Steve Perry, and Fleischman was reduced to footnote status.
No matter who held the mic, something had to give. Journey had earned a loyal local following as a road-hardened and instrumentally focused heavy fusion band, but they'd made virtually no commercial headway. In fact, over three early albums, the group's best-performing release was 1977's Next – which could get no higher than No. 85. "Wheel in the Sky," though it later became a concert staple, was Journey's first-ever charting single – and it stalled at No. 57.
Their label stepped in with a message: Journey needed to find a new sound.
"You look at the charts and it's Donna Summer, Saturday Night Fever, Grease, 'Disco Inferno' by the Trammps. I mean, it was as clear as ringing a bell that era was gone and basically Columbia Records said that: It's over," Journey manager Herbie Herbert told Melodic Rock in in 2008. "They were gonna drop the act. So, there was a scramble to do something to modify what we were doing. I said we'll change it; we'll go commercial. I'll put in a lead singer."
No, not Steve Perry – though he'd get the lion's share of the credit for Journey's platinum-era transformation into a stadium rock band. In reality, Fleischman – though his tenure was over before it ever really got going – played a huge role in setting their new course.
"Journey and the record company, CBS, got on the bandwagon," Fleischman told Dave Golland in 2003. "It was, 'We got this great band, we need a lead singer. We need a personality up front.' And that's what was going on: There was Foreigner, there was Boston. These bands were coming out, and they were making a large impact. The record company wanted to sell more records."
Once the frontman for a Los Angeles band called Staggerwing, Fleischman first drew the notice of label representatives during a Chicago talent showcase. Denver concert promoter and manager Barry Fey made the introductions.
Listen to Journey's 'Wheel in the Sky' Demo With Robert Fleischman
"The CBS execs told me they had a band called Journey who were a jazz-rock fusion band and asked if I would be interested in writing and being the lead vocalist for the band," Fleischman told Legendary Rock Interviews in 2012. "I knew nothing about them, but my brother knew who they were and said they were great musicians. So, a couple days later, I went to San Francisco and was picked up by their manager Herbie Herbert, who took me to S.I.R. rehearsal studios where the band was set up in this huge sound stage. I was introduced to everyone, we played for a couple hours, and the rest is history."
They immediately began writing for Journey's next studio effort, and even recorded some early demos in summer 1977. Fleischman received composing credits on "Winds of March," too. "Robert was pretty well in the band," Herbert told Melodic Rock, "and [Journey guitarist] Neal [Schon] loved Robert Fleischman."
In some cases, Fleischman said, the songs just flowed. "After rehearsals one day at [keyboardist Gregg Rolie's] home," he told Legendary Rock Interviews, "he started playing what was to be 'Anytime,' and I started singing the melody. Soon, the lyrics started coming. We grabbed a piece of paper, and wrote it in 15 minutes."
The backstory of "Wheel in the Sky," meanwhile, illustrated just how big an impact he was already having. "Everyone in the band was giving me lyrics, asking me if I could do anything with them," Fleischman added. "One day, [Journey bassist] Ross Valory came in with a poem that his wife wrote. I didn't care for the poem, but there was a line in it – "The wheels in my mind keep on turning." So, I changed it to "wheel in the sky keeps on turning; don't know where I'll be tomorrow," and wrote the rest of the lyrics."
A subsequent tour found Journey supporting Emerson, Lake and Palmer, but Fleischman admitted he struggled at first to connect with audiences that had become accustomed to the proggy excursions of Journey's early years. "Journey was a cult; they had the cult thing going," Fleischman told Golland. "They had a really strong fan base. So, all their fans would get front row seats and start flipping me off every night, but they'd usually come around by the end of the show."
Herbert still wasn't satisfied. Soon, Journey's manager began orchestrating Fleishman's exit – though how this came about has been a matter of contention. Herbert has consistently claimed that he heard a Steve Perry demo tape – specifically, the song "If You Need Me, Call Me" – and was smitten.
Listen to Journey's Demo of 'Anytime' With Robert Fleischman
"We were okay," Herbert told Rolling Stone in 1980. "We had Fleischman out there. But I was scared by what I'd heard on the tape." Eventually, Herbert said he decided that they had "a heavy job to do. We gotta get rid of Fleischman, and then we gotta get this guy."
In other interviews, however, Herbert insisted that he'd long known about Perry, and that Perry had inquired about the possibility of singing with Journey much earlier.
Fleischman's exit was ultimately chalked up to internal differences. The liner notes for the 1992 career-spanning Time3 box set claimed he was fired for being too demanding. Robyn Flans' 1983 bio Journey asserted that the departed singer's arrogance led to a falling out. Later, Herbert told Matt Carty that Fleischman was a "pompous little poodle, and really tough to deal with."
His final days were filled with a similar amount of intrigue, as Herbert brought Perry out on the road while Fleischman was still part of the lineup.
Perry was spotted at the side of the stage during a performance at Chicago's Soldier Field, then he was actually brought up to sing during a soundcheck before a concert in Long Beach, Calif. Herbert made sure Fleischman was otherwise occupied. When they were finally introduced to one another, Fleischman said Herbert told him that Perry was cousins with John Villanueva, a member of the band's management team.
He'd learn soon enough just who Perry really was. That fall, Journey entered the studio to begin work on 1978's Infinity with their new singer, and "Wheel in the Sky" was released with Perry's lead vocal. Fleischman moved on to a career that eventually included a stop in former Kiss member Vinnie Vincent's band. He later did work in television, including music for That '70s Show and SpongeBob SquarePants.
The only officially released Journey track featuring Fleischman's vocals is "For You," from Time3, but Fleischman remained in contact with his former bandmates over the years. His 1979 solo album, Perfect Stranger, includes a new version of that song, and features Schon and Rolie. Fleischman was also invited for the unveiling ceremony for Journey's star on the Hollywood Walk of Fame in 2005.
Journey Albums Ranked
Journey have been through their share of incarnations over the past four decades.
See Neal Schon Among Rock's Forgotten Supergroups