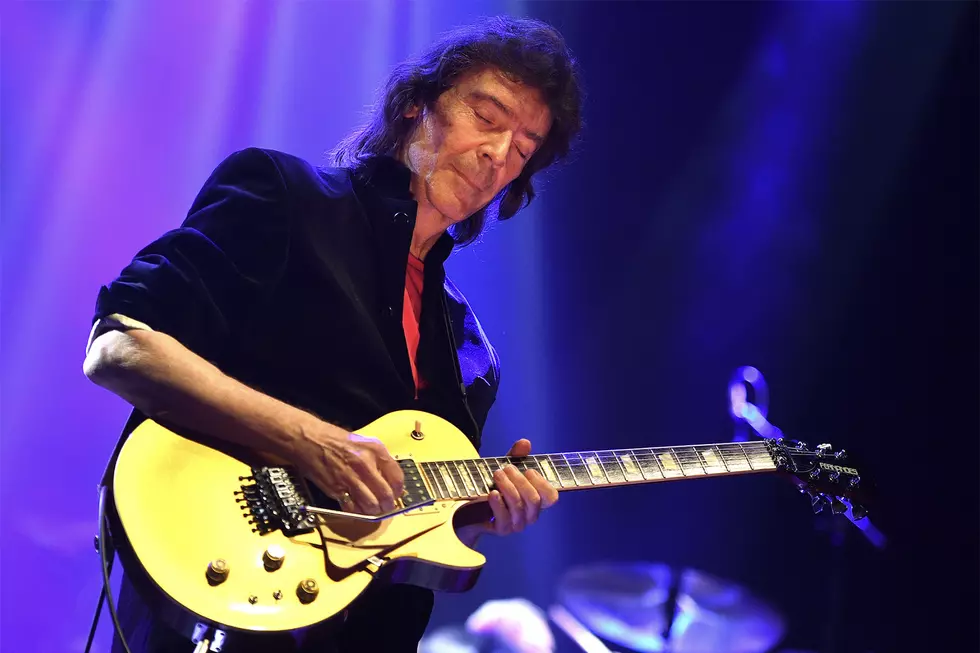 Steve Hackett Bringing Genesis' 'Foxtrot' Tour to North America
Lee Millward
Former Genesis guitarist Steve Hackett announced North American tour dates for his Foxtrot at Fifty show.
He'll perform 29 concerts, kicking off in Montreal on Oct. 3 and winding up in Los Angeles on Nov. 18. Along with a complete performance of Foxtrot, the shows will also feature a selection of "Hackett highlights."
"Foxtrot was a hybrid of a lot of different styles," the guitarist recently told Ramzine of the 1972 album, the first Genesis LP to make the Top 20. "At the time, Genesis were a band pulling in a lot of different directions as we all had so many different influences. Tony Banks was into Vaughan Williams, Phil [Collins] was interested in big bands, [Peter] Gabriel was into soul music, [Mike] Rutherford was into folk and Led Zeppelin and I was into blues and baroque music."
He added that "We were a young struggling band without much in the way of a clear sense of direction, but knowing we wanted to do something exceptional. And I think we pulled it off. Foxtrot was a terrific achievement for Genesis at the time. There's not one weak track on the album, they all have their strong points and I'm looking forward to performing the whole album live."
Tickets are on sale now. You can see the dates below.
Steve Hackett, 'Foxtrot' at Fifty North American Tour 2023
10/3 – Salle Wilfrid-Pelletier, Montreal, QC
10/5 – Massey Hall, Toronto, ON
10/6 – State Theatre, Ithaca, NY
10/8 – The Forum Theatre, Binghamton, NY
10/10 – Hart Theatre, Albany, NY
10/12 – Wilbur Theatre, Boston, MA
10/13 – Grade Arts Center, New London, CT
10/14 – Town Hall, New York, NY
10/15 – Whitaker Center, Harrisburg, PA
10/17 – The Strand, – Providence, RI
10/19 – Scottish Rite Auditorium, Collingswood, NJ
10/20 – Scottish Rite Auditorium, Collingswood, NJ
10/21 – Scottish Rite Auditorium, Collingswood, NJ
10/24 – Carolina Theatre of Durham, Durham, NC
10/26 – Charleston Music Hall, Charleston, SC
10/28 – Center Stage, Atlanta, GA
10/29 – Ryman Auditorium, Nashville, TN
10/31 – Taft Theatre, Cincinnati, OH
11/1 – Goodyear Theater, Akron, OH
11/2 – Copernicus Center, Chicago, IL
11/3 – The Pabst Theatre, Milwaukee, WI
11/5 – Hoyt Sherman Theatre, Des Moines, IA
11/9 – The Moore Theatre, Seattle, WA
11/10 – Historic Elsinore Theatre, Salem, OR
11/13 – Golden State Theatre, Monterey, CA
11/14 – Palace of Fine Arts Theatre San Francisco, CA
11/16 – Balboa Theatre, San Diego, CA
11/17 – Lobero Theatre, Santa Barbara, CA
11/18 – Orpheum Theatre, Los Angeles, CA
Genesis Solo Albums Ranked
Projects recorded apart from one another allowed members of Genesis to explore areas of their songcraft that might have gone forever undiscovered.