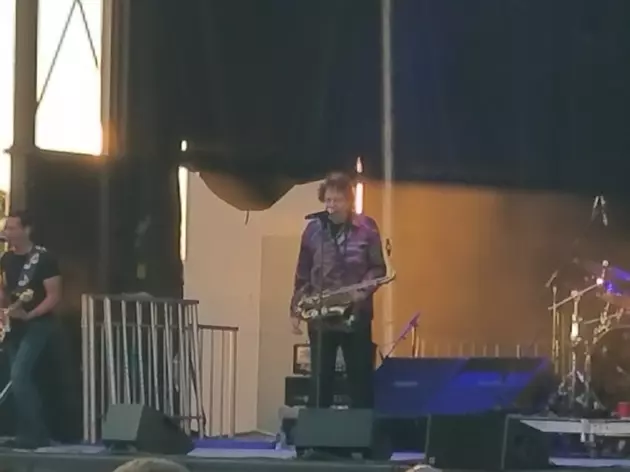 It Has Been A Year Since Eddie Money Passed Away
Eddie Money @ Tioga Downs 6/28/2018. Jim Free Photo
Time passes by so quickly. It's hard to believe it's been a year now since Eddie Money passed away. Eddie died in Los Angeles on September 13th, 2019 of complications from cancer.  He was only 70 years old.
Eddie made several trips to the Binghamton area, playing at Spiediefest a few times and his final trip was at Toga Downs in Nichols on June 28th, 2018. Jim Free and his wife Chris, attended the show, and said it was a great performance.
Eddie was born in Brooklyn in 1949 and when he turned 18, decided to join the career path of some of his family, as a police officer. We all know that didn't work out, and it was for the best, since music was in his blood.
He produced may great rock songs during his career, including 'Two Tickets To Paradise', 'Baby Hold On' 'Shakin', 'Take Me Home Tonight' and 'Think I'm In Love' among others.
Eddie also dabbled in television work during his career. Remember when he appeared in that GEICO commercial back in 2012 where he ran a travel agency? I always got a laugh out of that.
I have fond memories of when we brought Eddie Money to Spiediefest. He was great to work with, and spend a lot of time with us at the hotel and backstage. Some artists aren't quite as cordial. Eddie was also great with the Whale listeners we brought backstage as well.
I think Eddie really enjoyed performing at venues in the Binghamton area including Spiediefest, Tioga Downs, and if memory serves me correctly, he was at the Magic City venue when it was located in Johnson City. I know we always had a great time when returned to rock our town. RIP Eddie.
Enter your number to get our free mobile app
CHECK THEM OUT: States With the Best and Worst Commutes