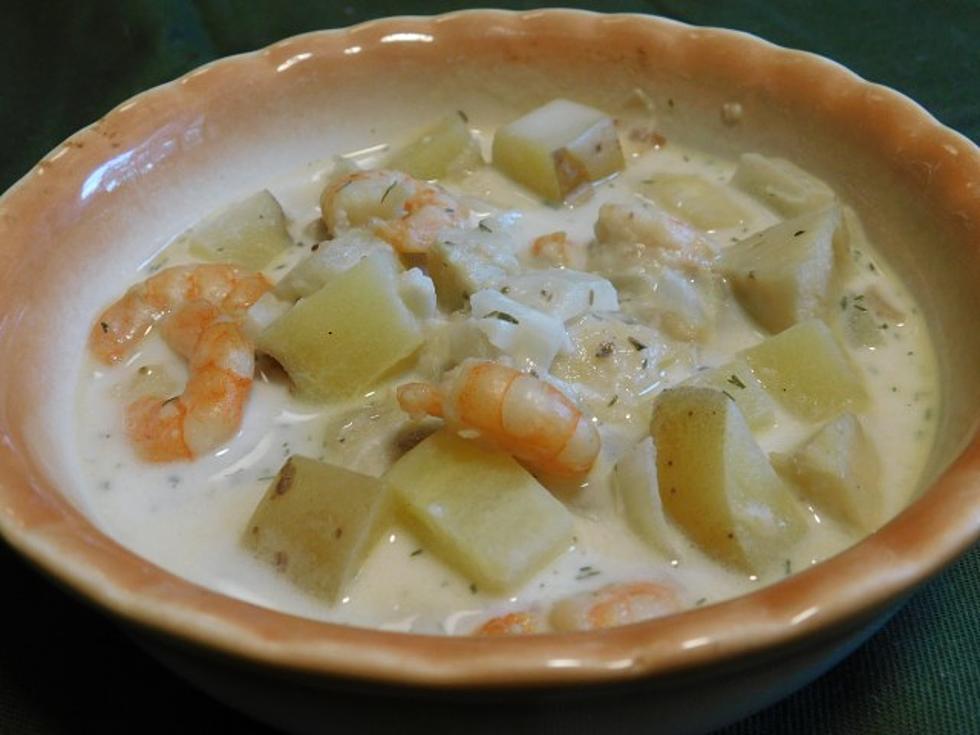 Foodie Friday Slow-Cooker Seafood Chowder
Kathy Whyte/ WNBF News
You can have a warm, filling meal without heating up the kitchen. For example: a nice dinner chowder made in the slow-cooker.
Enter your number to get our free mobile app
Seafood Chowder (prep time 10 minutes plus 4+ hours in the slow cooker.  8-12 servings depending: cup or bowl)
3 large cloves garlic, finely diced
2 medium butter or Yukon Gold potato, bite-size dice
1 tsp. cracked black pepper
12 oz. cooked salad shrimp
½ pound cod cut into bite-sized chunks (a little bigger than you would think since the fish will shrink when cooked)
Put all ingredients except for the milk, butter, olive oil and flour in a slow cooker and stir together.  Set cooker to low and leave for at least 4 hours.  About an hour before serving, melt butter in a small sauce pan on the stove along with the olive oil.  Whisk in the flour until smooth and continue to cook over medium low heat until the roux begins to turn a light golden color. Slowly pour in the milk, whisking rapidly to keep lumps from forming. Follow with the heavy cream, continuing to whisk and scraping in the corners to make sure no flour is accumulated in the creases.  Heat for about 3 minutes, stirring constantly.  Slowly stir into the chowder in the slow cooker.  Continue to cook on low until ready to serve with a salad, crusty bread and oyster crackers.